Destiny launch day live report
Catch up with today's livestream - or maybe just run off home and play the game yourself?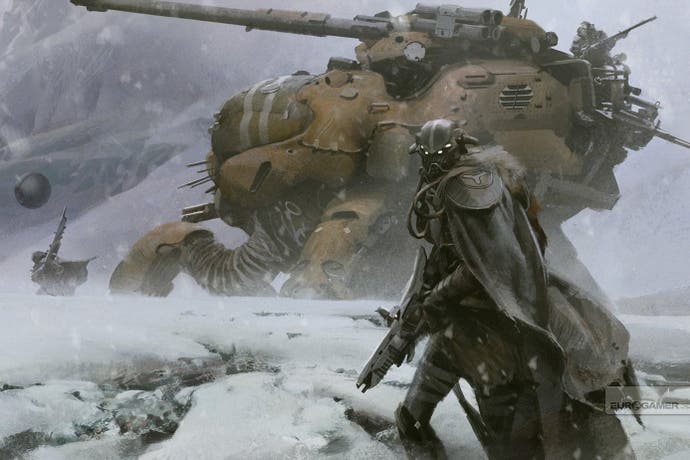 The night of the supermoon is almost upon us - and either Activision's pretty canny at picking out release dates, or its insane ability to burn money knows no bounds as it alters the elliptical orbit of Earth's satellite in order to see off the release of Bungie's new game with a bang.
We're going to be marking the launch day of what's quite possibly the year's biggest game with an afternoon of updates, some of your impressions of Destiny and a livestream to see us through to 5pm - when we can all saunter home and actually play guilt free.
Our live coverage of this event has finished.
*ahem* Hello? We're going to get this up and running in about five minutes - good to see a few of you here already!
Hey hey! So for the next couple of hours we're going to be bringing you some updates around the launch of Destiny, plus a nice meaty livestream for a couple of hours to take us through until 5pm when we can all actually go and play the game for ourselves.
I've just partaken in some EXTREME Destiny purchasing.
And the nice chap behind the counter was kind enough to show me photos on his phone of the midnight launch last night - the queue went all the way to the Wetherspoons. Impressive!
bobfish09: You sure that wasn't the Wetherspoons queue going all the way to Game?
Ha! I took his word for it, but it was a rugged looking queue. It's Lewisham at midnight, though, so I guess it's to be expected.
Skinja: I can't wait for PSN to crash.
It's been surprisingly sturdy so far - I was on a couple of hours this morning, Ian's been playing most of the day, and there have been no problems. Whether it can deal with the pressure as America wakes is another matter, though.
Sammoore: There's word of technical issues on Ian's side. Are we sure we won't get a repeat of the GTAV incident?
The technical issues were his PC eating itself this morning. Should be fixed now - and we've got Twitch for back-up should it decide to go boom again.
The biggest question I have right now is has anyone unlocked McCartney yet?
For reasons too boring to disclose, I just went into Lewisham GAME to pick up a copy in full make-up. No-one seemed too fussed, thankfully.
You might have missed
the story earlier in August
that McCartney's doing the theme tune for Destiny - yet no-one seems to have heard it yet.
I'm hoping for some spunky Live and Let Die number - and I'm guessing it's over the end credits. The world rushes to unlock it!
It's like an amazingly expensive version of Noby Noby Boy as everyone races past the moon, Venus and Mars to unlock McCartney.
Maybe it's some McCartney 2-esque excellence. I love that photo - what's Paul seen?
Or what's he just smelt, for that matter.
I skipped the Lewisham midnight launch last night to go to the launch event, where I was completely lost as to who any of the celebrities were. Quiz time! See if you can name any of this lot.
(and bear with my awful internet upload speed)
thedaveeyres: Des Walker and Gary Mabbutt.
We have a winner! Next...
I take it you're all either stumped or, perhaps, utterly starstruck.
podgek293: i'm clearly busy in work, all this typing makes it seem that way to the boss
Glad to be of service!
bobfish09: Those last two look thrilled to be there!
That's actually me and Wes! (It actually isn't)
Mox: Dr. Ben Goldacre and the cadaver of Kenny Everett?
And we have a winner here too! Your prize is in the post.
Our stream is going live in 30 seconds time....
A few people are asking about the review - I'll point you towards
Oli's blog the other day
which explains the situation.
One last bonus picture for you. Who could it be?
That's right! It's Janet Ellis and Shep the Dog!
Uncompetative: ian has a lovely relaxing voice
I get him to talk me to sleep at night. He still hasn't complained to HR about it, which is nice.
Some stories from Destiny's launch day that you may have missed.
Technoishmatt: Dammit, chrome slow te refresh :)
You missed out on the most exquisite prize by mere seconds.
Sammoore: trying to follow both, martin and the video itself is blagging my head
Multi-task!
sjmlondon: Has Sophie got a new album out? Is there any other reason for her to be there?
She just loves games. Also, presumably, appearance fees.
My favourite thing from across the web so far for Destiny's launch (aside from that awesome Microsoft Destiny fragrance story) was this
heroic live report
from Tescos at the stroke of midnight last night on CVG.
Has anyone had a chance to actually play much yet? Has anyone been truly heroic and taken the day off work, or - even better - called a sickie?
Sammoore: One of the fellows in the YT comments says he's finished the story in one 18 hour session.
Looking into it, around 10-12 hours seems about the time it's taking people to see through the story missions.
Of course, clearing the story missions is only the start in a game like this (or it should be, at least).
The end-game's super important, which is why we're holding off for review until we've seen all we can of it.
I personally stormed through the first five story missions and pretty much everything on Earth in under two hours this morning.
But mostly that's because I've gone through that mill three or four times beforehand in the beta.
As we've just been reminded, 9/9 was a date that was once significant for another reason in video games.
If you don't know why that date's significant, we can't be friends anymore.
(It was the launch of the Dreamcast, some 15 years ago).
simplesimonsays: Anyone else fool enough to get the Ghost Edition? I did and got a nice torn box, money well spent :(
Booo. I gave up on Collector's Editions some time ago - I went for Game's Vanguard edition, which was just a vanilla boxed copy with some pretty pointless DLC thrown in.
Dinomo: Excuse my genuine ignorance, but how is Destiny and different to Borderlands?
It's a legit question. The social/MP stuff is woven in much tighter in Destiny, from what I understand. Borderlands has more guns though!
I personally have never got on with Borderland's humour, art and shooting. So most of it, really.
karlo87: So how's the content looking? Is it obvious they're gonna milk it with DLC or are the planets nicely fleshed out with lots of stuff?
Most people - on the EG team anyway - have only got to the limits of what we saw in the beta, which is about two hours of game. It looks like a run-through will take around 10-12 hours for a single character to the end-game, which seems fair enough.
Dinomo: Thanks Martin and @Sammoore for your answers! I must say I'm tempted to dive into next gen for it! Maybe wait until Christmas...
Apologies for the sales pitch, but if you get a current gen version now you can upgrade to next gen for free a bit further down the line.
Uncompetative: Dreamcast failed in Europe because Sony announced the PS2 on 3/99 and everyone waited a year for it to turn up. Dirty trick.
It's crazy how big the gaps were between other consoles in previous generations. Looking back at the year or more between Xbox 360 and PS3, it's no wonder Microsoft mopped up.
melnificent: Martin, that's inaccurate at present. The cross-buy on Playstation is completely non-functional. I pre-ordered yet nothing is showing as paid. Guardian Edition has just vanished into the ether
Sorry to hear that - I saw your comment earlier, and it's something we're looking into for a report on the site.
melnificent: Martin, that's inaccurate at present. The cross-buy on Playstation is completely non-functional. I pre-ordered yet nothing is showing as paid. Guardian Edition has just vanished into the ether
Also it totally sucks not being able to play on launch day. Our condolences!
Some quick early impressions from a couple of hours with the game - and from the team's general observations.
The level gap between players has been a bit of a problem with a few of us here, and even this early on people are feeling left behind and unable to really play alongside higher level characters.
And as Chris pointed out, having grenades as an unlock is pretty dumb (even if they do unlock relatively early).
Beyond that, I'm happy with what I've played so far. Looking forward to going beyond the beta content later tonight.
Who's rolled what class? I've gone a human female Warlock, who's already looking pretty mean.
binky: human female Hunter for me. Looking forward to actually playing it tonight, rather than just setting up a character and falling asleep like last night.
Ha, I love when big game launch excitement clashes against the reality of actually trying to stay up past midnight (especially if, like me, you're of a certain age)
Wes, the champ, played through 'til 3am. My strategy was getting up at 6am for a quick blast.
melnificent: Martin, I've got unedited screenshots of my email and the store as it displays at the moment.
I'll send you a PM in a moment.
Sammoore: did anyone other than Ian get an early review copy?
Copies seemingly went out to some people over the weekend, but it's all for nought anyway as servers didn't go live until yesterday.
Oceadge: Played it for about 25 minutes and then suddenly I got a screen saying: "ERROR Removed from the game world. Please try again. There may be a problem with your Internet connection." I rejoined the game and it put me right back to the start. Sigh. Not going to bother playing it again today.
Welcome to the wonderful always online future! It can be kind of awful sometimes.
Given how far and wide the extended universe of Halo went, it was surely only a matter of time before there were tie-ins for Destiny.
If anything I was surprised that when I went to Game earlier there were only Destiny-branded mugs being sold alongside the game.
It was to my absolute horror that I was actually tempted to buy one. I'm the worst. I am the enemy.
IcemanAFC - Bungie to return to Mac after that near-miss 15 years ago? Oh, and maybe a new phone or something.
Uncompetative: Do you think it should have opt-out proximity voice and press X to party up like in Halo 3?
I haven't really tinkered around enough with Destiny's options to know whether I miss it or not right now I'm afraid.
simplesimonsays: I'm quite surprised that more hasn't been mentioned regarding the damaged Ghost Editions that have been sent out by Game. With no chance of replacements due to stock having all been sold through, surely this is quite a big issue?
If it's a widespread problem we'll definitely look into it. It's an awful lot of money to hand over and then get a damaged product.
Uncompetative: @simplesimonsays Surely you just need to hold Square to Revive Dead Ghost!
Too soon!
Important question time! What's everyone's strategy for tonight?
One thing I've noticed playing through the opening of Destiny - all the money in the world doesn't mean your expensive voice talent won't be audibly dismissive of video games in their performances.
IcemanAFC: Well Martin my strategy is to watch some football and then dive in to the FIFA demo. All this while I much on prawn crackers and indulge in some fine Chinese dining ;)
That's... That's not what I was asking. But it's legit.
binky: Tonight's Strategy: 1) Wait for wifey to allow me access to the TV in order to play video games. 2) Fall asleep due to being up too late yesterday evening. 3) Spend all Wednesday F5ing EG reading other people's experiences of Destiny.
Also legit, if a little depressing.
I can't exactly be disparaging about anyone's Destiny strategy, though. There's nothing heroic in grabbing some beers, microwave pizza and planting myself on the sofa.
Mojopriest: My ps4 Destiny bundle (procured for the tidy sum of £329 - thank you Amazon preorder price guarantee) is due to arrive between 6 and 7 so I'm heading home now, I'm hooking up a saline drip and molding a chair out of neuro-tactile gel which will prevent me from developing bedsores and then rollicking all over Destiny for 127 hours.
*salutes*
For those clock-watching (and I'm not, honestly) there are now two minutes to go...
simplesimonsays: My strategy is trying to play through all the content I completed during the Beta (again) and then wait until my next day off from work so I can play new content and feel like I've actually bought a new game.
You can do it in around 90 minutes - I did this morning.
It is now 5pm. Leave your desks. Stroll out of those office doors. Run down that street. Go home and play Destiny.
Thanks for sticking with us through some of the technical difficulties with the stream, and thanks to Oli and Ian for playing.