Destiny beta release dates, expansions announced
UPDATE: £150 Destiny Ghost Edition exclusive to GAME in UK.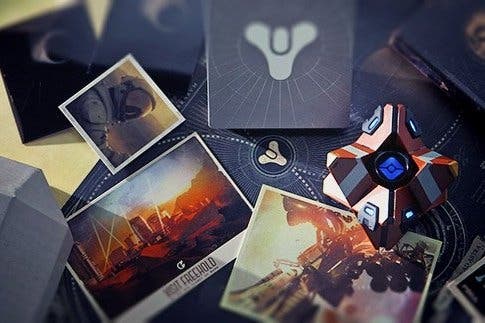 UPDATE 08/07/2014: The £149.99 Destiny Ghost Edition is exclusive to retailer GAME in the UK.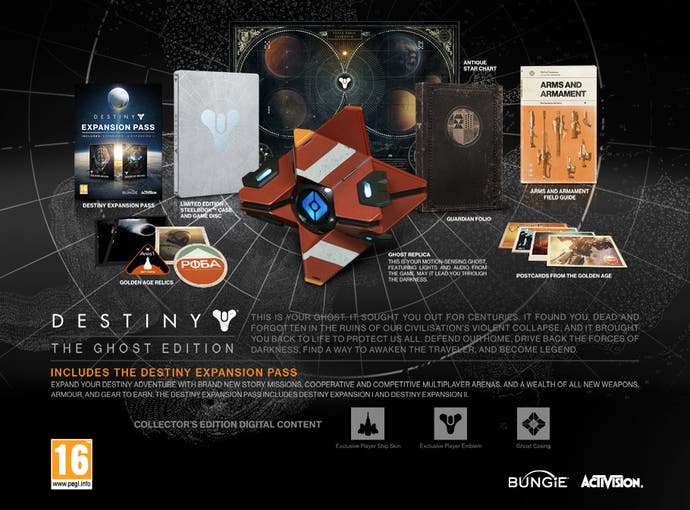 GAME also has a couple of exclusive pre-order bonuses. One is an upgraded Sparrow vehicle. This "prototype" version has a custom paintjob, upgraded initial acceleration and a higher top speed than the standard version, as well as enhanced armour plating.
There's a note to say you can gain the better acceleration, higher top speed and durability through gameplay.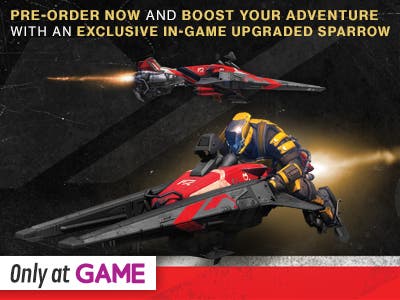 The other pre-order bonus is the Vanguard Edition, which grants early access to the Vanguard Armoury weapons and gear, as well as an exclusive Vanguard player emblem. In the UK the Vanguard Edition is exclusive to GAME. In Ireland it's exclusive to GameStop.
ORIGINAL STORY 07/07/2014: 7/7 is Bungie day and so the first-person shooter specialist has announced a raft of Destiny-related content, including beta release dates, expansions and collector's editions.
First up, the beta. It launches on PlayStation 4 and PlayStation 3 at 5pm UK time on 17th July. The beta begins on Xbox One and Xbox 360 at 5pm on 23rd July, meaning PlayStation platforms get a week's timed exclusivity.
The beta runs to 6.59am on 28th July. It's worth noting that the beta will be offline for scheduled maintenance on 21st-22nd July.
To get in on the beta you need to pre-order the game.
Meanwhile, Bungie and publisher Activision have announced three Destiny collector's editions, and alongside that two post-launch expansions.
The Destiny Ghost Edition (£149.99) and the Destiny Limited Edition (£94.99) both include:
Limited edition SteelBook Case and Game Disc
Early access to the Vanguard Armoury weapons and gear and an exclusive Vanguard player emblem
Guardian Folio: Arms & Armament Field Guide; Postcards from the Golden Age; Antique Star Chart
Collector's Edition Digital Content Pack: Unique Ghost Casing; Exclusive Player Emblem; Exclusive Player Ship Variant
Destiny Expansion Pass - this includes two post-launch expansions, which each include new story missions, coop activities and competitive multiplayer maps, and new weapons, armour and gear to earn. (The Destiny Expansion Pass costs £34.99 when bought separately. Both expansions will be priced individually at £19.99 when they launch.)
Expansion I: The Dark Below - Set deep beneath the surface of the Moon, fans will discover an ancient tomb that has been unsealed, and a dark god who has risen an evil army in the depths of the Hellmouth, the home of the Hive enemy race.
Expansion II: House of Wolves - details will be revealed later
There's also additional PlayStation exclusive content for The Dark Below and House of Wolves that Activision confirmed will remain exclusive until at least Autumn 2015.
The Destiny Ghost Edition also includes: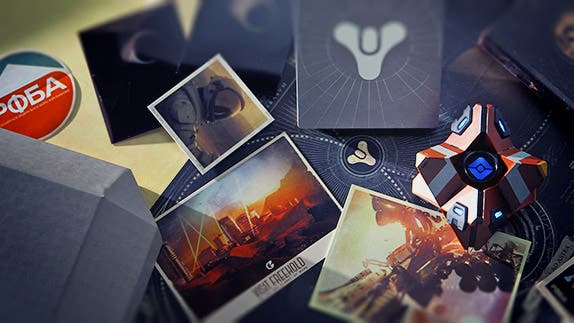 Ghost replica, featuring motion-activated lights and voice recordings from Peter Dinklage, voice of the Ghost character, the player's personal companion in the game
Letter of Introduction
Golden Age Relics, which include a Photo, Patch, Sticker and two Chrome slides of the Traveler
There's a Destiny Digital Guardian Edition (£84.99) too, which includes a digital copy of the game, the Destiny Expansion Pass and the Collector's Edition Digital Content Pack.
Destiny launches proper on 9th September 2014.