Destiny 2 Sparrows - how to get a Sparrow and speed up exploration in Destiny 2
You'll need a little luck if you want to get around on anything but your feet in Destiny 2.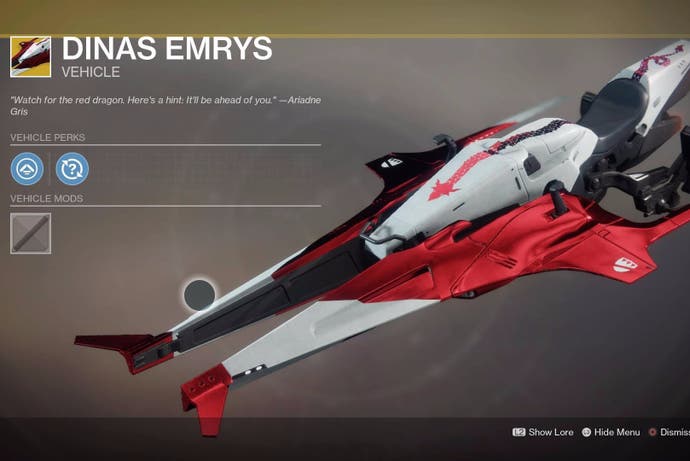 Destiny 2 Sparrows are a little rarer than we might have thought.
Back in the original Destiny, getting access to your Sparrow was par for the course, with the interesting stuff being based around the cosmetic changes to them that you could get from a vendor - and of course the Sparrow racing events.
But thing have changed in Destiny 2, and now they're far harder to find. Here, then, we'll be talking you through how exactly to get them, and sadly it might take a bit of time.
How to get a Sparrow in Destiny 2
From what we've played and discovered so far, there are just two ways to unlock Sparrows.
The first way to get a Sparrow in Destiny 2 is relatively simple: you need to complete the entire main story. A few spoilers, obviously, will follow here as we explain exactly how!
Here's a nice video with some detail:
How to get a Sparrow after completing the story in Destiny 2
After completing the story, the old Tower will be rebuilt. Head down to the Hanger once you're there, and talk to Amanda Holliday.
She'll have three fairly basic Sparrows for you to choose from, for free.
You can only choose one, but there are still others you can get - from Everis again, who'll have a free gift Bright Engram box for you after you complete the story that has a chance of containing either a Legendary or Exotic one, too.
---
The Season of the Deep is here alongside the Into the Depths quest. You can know go fishing too! Don't forget to keep an eye on the Lost Sector and King's Fall challenge rotation schedule!
---
The second is via opening Bright Engrams, Destiny 2's loot chests, and crossing your fingers for a little help from RNJesus. We know.
This requires you to unlock a specific vendor in The Farm social space, and reach level 20. It means you can technically get them before compelting the story, but you'll need to do some grinding, and finger-crossing, to do so. Below is exactly what you need to do to get one, step by step.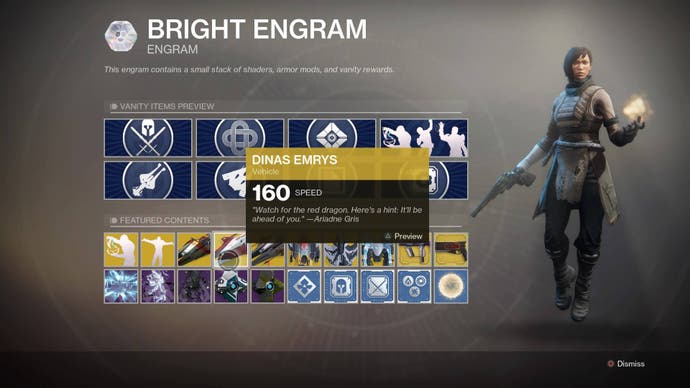 How to get a Sparrow with Bright Engrams in Destiny 2:
Finish the opening mission, Homecoming.
Gain access to The Farm social space by continuing the story.
When Tess Everis arrives, after the Spark mission, you'll have access to her shop, Eververse, and can now preview (but not buy) her Bright Engrams.
You can buy Bright Engrams from her, but only once you reach level 20, where you will receive three for free.
If you don't get them in your free batch, Bright Engrams can be purchased with in-game currency Silver, or from each level up following the cap of level 20. Eventually a Sparrow will drop - but this relies on a random number generator, so it could be right away, or take a fair bit of time!