Destiny 2 PC launch calendar, PC specs, graphics options, Battle.net accounts and everything else we know
What's coming next to Destiny 2's PC version.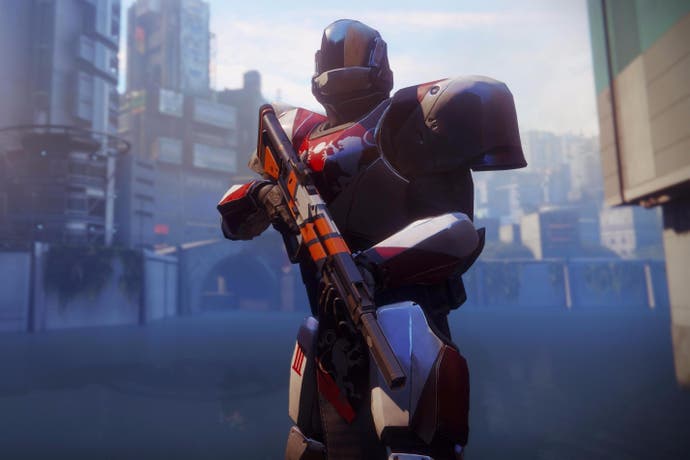 Destiny 2 on PC opens up a whole new audience for one of the most talked about console shooters of the past few years. And with each character's loot and progress wiped from the first game, it's also an attractive proposition for those previously playing on PS4 or Xbox One and fancying a switch.
Though the game didn't release on PC come September 8 alongside its console counterparts, it's finally here now, and below we've covered all the crucial questions, on things like the require specs, below.
Destiny 2 PC launch calendar
Like on console, Destiny 2 on PC won't launch with every mode available, giving players chance to level up before tackling end-game content. Bungie has outlined when things will drop on the following dates: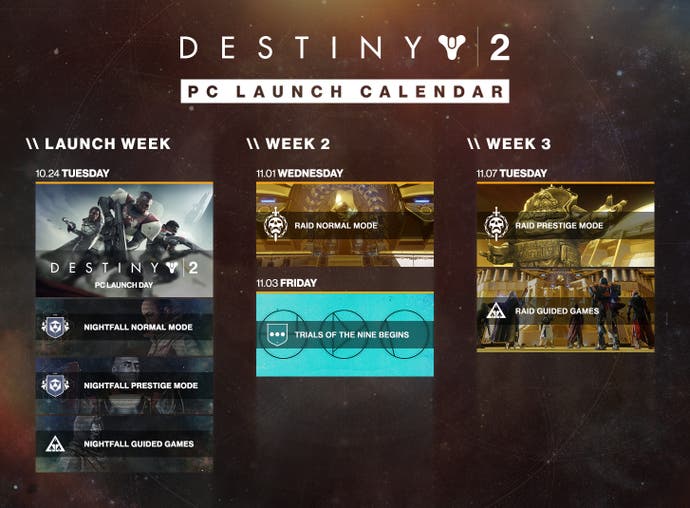 Destiny 2 PC specs and graphics options
The big question following the confirmation of the PC version was - what are the system specs, and will the graphics options be compared to the locked 30 frames per second output of its console counterpart? Here's what we know:
Recommended specs:
CPU: Intel Core i5-2400 3.4 GHz / i5 7400 3.5 GHz, or AMD Ryzen R5 1600X 3.6 GHz
GPU: Nvidia GeForce GTX 970 4GB / GTX 1060 6GB, or AMD R9 390 8GB
RAM: 8GB
Hard Drive: 68GB available
Minimum specs:
CPU: Intel Core i3-3250 3.5 GHz / Intel Pentium G4560 3.5 GHz, or AMD FX-4350 4.2 GHz
GPU: Nvidia GeForce GTX 660 2GB / GTX 1050 2GB, or AMD Radeon HD 7850 2GB
RAM: 6GB
Hard Drive: 68GB available
Modes and features:
Uncapped framerate
4K resolution support
Mouse and Keyboard support
Controller support
Custom key mapping
Text chat
Adjustable field of view
21:9 monitor support
Mouse controls:
Look Sensitivity
Vertical Inversion
Horizontal Inversion
Aim Smoothing
Graphics settings:
Graphics Quality
Texture Anistrophy
Ambient Occulsion
Motion Blur
Anti-Aliasing
Texture Quality
Foliage Detail
Environment Detail
Character Detail
Shadow Quality
Depth of Field
Foliage Shadows
Lighting Shading Detail
Local Light Shadows
Wind Impulse
(Thanks to Gamer Network's Arekkz and DualShockers for fleshing out the above list, the latter which lists some additional accessibility and gameplay options that also appear in the console editions of the original Destiny.)
Thanks to the beta in August, Digital Foundry put the PC version to the test and came out with some very positive things to say, calling it "one of the most technically accomplished PC versions we've seen to date, adapted skilfully to accommodate the unique strengths of the platform."
"30fps is a doddle on PC and even 60fps gameplay is easily attainable," Rich continued in their dedicated article, "and we'd say that modern i3s and older i5s going back to the classic 2500K should be capable of delivering that crucial doubling of frame-rate over the console experience.
If you want thoughts of how it plays, Eurogamer deputy editor Wesley Yin-Poole described the PC version as "impressive" in his hands-on, who discussed the feel of mouse and keyboard and the lack of auto-aim compared to using a controller on console, while Digital Foundry has 4K and at 60 frames-per-second gameplay:
Destiny 2 on PC will use Blizzard's Battle.net
Perhaps the biggest surprise as part of the game's May gameplay reveal was Destiny 2's exclusive home on Blizzard's Battle.net service.
It's an interesting prospect for two reasons; one, it won't be appearing on market leader Steam or other popular services like GOG and Origin, and two, it'll be the first non-Blizzard game to appear in the client, sitting alongside World of Warcraft, Overwatch, Hearthstone and other Blizzard-only titles.

Don't expect any more non-Blizzard games on the way, though: "It's important to us to maintain our quality standards for any experience or service we're putting in front of our players, which represents a big investment of time and effort on our part, so this is not something we're jumping into lightly," the publisher said in a statement following the news.
If you are interested in playing on PC, you'll need to download the Battle.net client and create a Battle.net account. In preparation of the beta in August, you are able to link your Bungie account to one Battle.net account (the same way you could do with one PSN and on Xbox Live account).
At the game's reveal it was noted noted Blizzard account authentication as a log-in method isn't yet available, and PC players who wish to use the Bungie forums will also need to create a Bungie account either a PSN or Xbox Live log-in.
---
The Season of the Deep is here alongside the Into the Depths quest. You can know go fishing too! Don't forget to keep an eye on the Lost Sector and King's Fall challenge rotation schedule!
---
Everything else we know about Destiny 2 on PC
Here's a few extra things we know about Destiny 2 on PC:
PC release date: Bungie has finally committed to a Destiny 2 PC release date of October 24th (you can pre-order it already in the UK in standard and limited editions). Fortunately that's not too long after the console versions (they release on September 8th), so hopefully you fellow PC guardians can hang in there!
No cross-saves or cross-play: Bungie has confirmed there will be no cross-saves or cross-play between console and PC versions, meaning you cannot start a character in Destiny 2 and continue playing on PC, and vise versa, or play a Raid with users on other platforms.
And some things we don't know about:
Character transfers from the original Destiny: There is currently no confirmation whether Xbox and PlayStation users of the first game can transfer their characters over to the PC edition. In one sense it's logistically possible - apps and Bungie.net plug show full stat tracking of your characters from the first game, meaning it could be straightforward to pull that data across - but the implementation and whether Bungie (or platform holders) want players to jump ship is a different story.
Destiny-themed Blizzard skins: Will pre-ordering Destiny 2 on PC give you a Ghost-themed Hearthstone card back? Okay, we're half-joking, but it wouldn't surprise us there's some kind of bonus for existing Blizzard games as the first non-Blizzard game to be available through the client.