Destiny 2 - Trials of Osiris start date: When will Trials of Osiris be back, Season 15 changes and rewards explained
Bloodsports.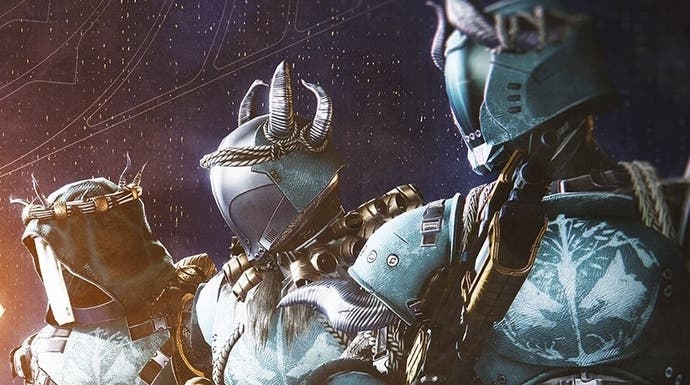 Trials of Osiris returns to Destiny 2 with a revamp. Here's what we know of the Trials of Osiris start date as well as changes and rewards.
Trials of Osiris returns to Destiny 2 in Season of the Lost.
With the premise of being more approachable to newcomers as well as offering better rewards and some quality of life changes, Trials of Osiris introduces itself after a while with a modest revamp.
This page will cover the Trials of Osiris start date and when Trials of Osiris will be back, as well as all Trials of Osiris changes and Trials of Osiris rewards that you can expect in Season 15.
On this page:
What is the Trials of Osiris in Destiny 2?
If you've found yourself on reddit or played Destiny 1 or earlier Destiny 2 seasons, you'll know that Trials of Osiris are the pinnacle of Player Versus Player.
For the uninitiated, Trials of Osiris is a competitive mode wherein two teams, formed of three players, fight with a limited number of lives in the Elimination format. The event starts every Friday after reset and continues through the weekend until reset on Monday.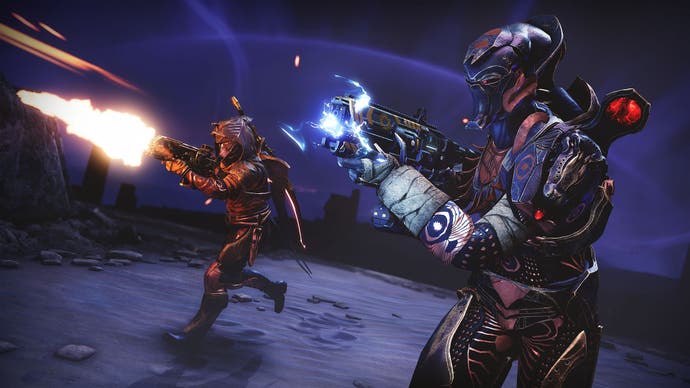 At the start of every run, players are provided with a card. Three losses on this card means that your run will come to an end. Thankfully, you can pick up as many cards as you like during the event.
The real key is to score a 'flawless' card which requires players to rack up seven wins without a single loss will be rewarded by going to a prestige social space known as 'The Lighthouse'. As the game mode matches players based on their current card, this means that reaching this coveted zone is incredibly difficult and not for the foolhardy.
Trials of Osiris start date: When will Trials of Osiris be back in Destiny 2?
Trials of Osiris is coming back for Season of the Lost, and we know when the event is kicking off.
If you've been eager to return, you'll be happy to know that Trials of Osiris returns on Friday, September 10 at the following reset times:
UK: 6pm (BST)
Europe: 7pm (CEST)
East Coast US: 1pm (EST)
West Coast US: 10am (PST)
How to unlock Trials of Osiris in Destiny 2 explained
Trials of Osiris can't be played right away - instead, you'll have to complete a few steps beforehand.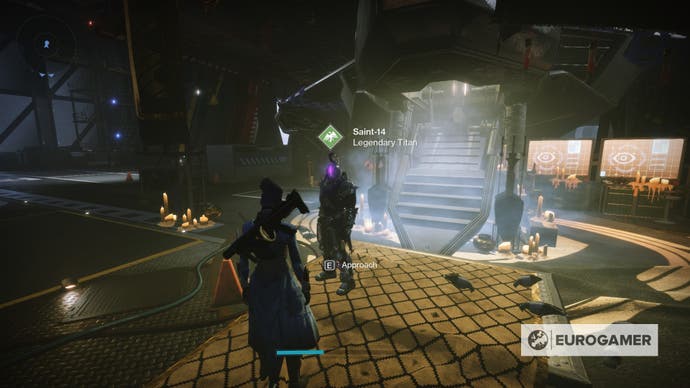 Thankfully, it's a quite simple process. In order to unlock Trials of Osiris, the steps are as follows:
Speak to Saint-14 in the Tower
Get to at least 1260 Power Level
Reach Valor Rank Legend
Defeat 50 opponents in Elimination
The only downside is that these steps can be rather time consuming, so you'll find yourself in Crucible more often than not. If you were planning to do so already, think of it as a goal in the horizon.
Once you've completed the aforementioned tasks, talk to Saint-14 again and you'll be all set.
What are the Trials of Osiris changes in Destiny 2 Season 15?
While Trials has returned, there have been quite a few tweaks. Under the philosophy of making this a far more approachable mode for everybody, changes target everything from Passages to ruleset and rewards. At a glance, these are the following:
Schedule:
No Trials in Week 1 or before Raid World First - Your first lost does not count as a loss on your Trials card
No Trials during Iron Banner
Access:
Requirements for the Trials Access quest to life lifetime Valor ranks and kills have been reduced
Trials now allows both matchmaking and queuing without a full fireteam
Trials of Osiris now requires the annual expansion to play
Ruleset:
Round time is reduced from 120 to 90 seconds
Emotes stay in first-person camera and Swords can't be equipped unless you have ammo (this change takes place in Elimination and Survival as well)
Special and Heavy ammo is no longer carried over between rounds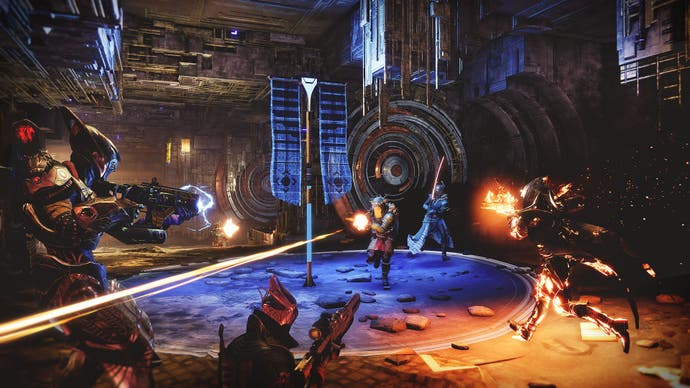 Rewards and Reputation:
Trials tokens have been retired. Saint-14 will now host new Trials ranks, reputation and a rewards track
Reputation is obtained at match complete, based on the number of rounds won on your ticket
Ranking up gives you a Trials engram
Passages:
Passages will no longer track losses, and either be Flawless or not
Passages track up to 20 rounds won
Passages have also been re-ordered (for example, Mercy is not useful unless you're trying to go Flawless), as well as having their prices significantly reduced
Passages are now account-wide, so you can play and earn rewards on any of your characters with the same Passage
Two weekly pinnacle challenges for Trials: Win seven matches total on a given weekend and win 50 rounds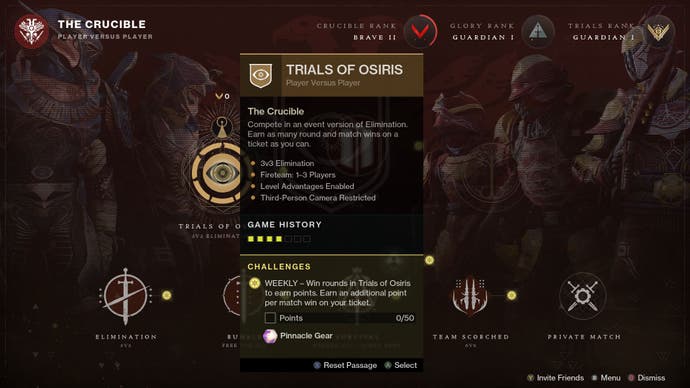 Matchmaking:
Matchmaking begins with players that have the same number of wins on the card and with similar Trials game performance of the given week
If matchmaking takes too long, the 'similarity' is widened until it finds enough opponents for the match to start
Trials Labs:
Capture/Elimination hybrid
Trials Freelance: A separate node where only solo players can queue
No Intro Quest: One weekend where players who have never played in Crucible can play
The above labs don't have a firm date as of yet, but developer Bungie said it will be announced at a later date ahead of the corresponding weekends for each.
---
The Season of the Deep is here alongside the Into the Depths quest. You can know go fishing too! Don't forget to keep an eye on the Lost Sector and King's Fall challenge rotation schedule!
---
Destiny 2 Trials of Osiris rewards
Expanding on the announcement regarding upcoming changes to rewards, Powerful Trials engrams now show up every three rank ups before your first reset of the Season. Similarly to other ritual reputations, there are other rewards every three ranks. According to Bungie, Trials ranks has one of the unique Trials weapons at Rank 10 and Rank 16 for each of the first three resets of Season 15.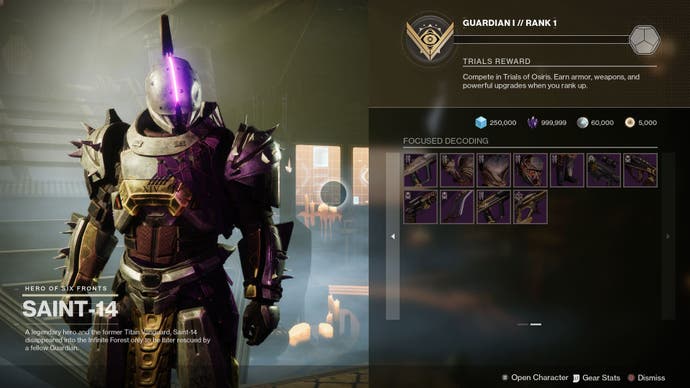 Trials engrams will now decrypt to a random selection from current armour and non-Adept weapons. You don't need to unlock a piece of gear or weapon before it appears in the engram.
Plus, you can focus your engrams with Saint-14 to decrypt specific items that you have already received. If you've gone Flawless during that week, you can focus additional drops of the weekly Adept weapon. Just expect it to be pricey.
And that's everything you need to know about unlocking the Trials of Osiris and what you get for successful runs!