Destiny 2 Unexpected Guests and Road Rage - how to find and defeat Iraz, Eye of Savathȗn and Viadon, Inquisitor Mind
Everything you need for tackling the Io-based Destiny 2 Adventures.
Unexpected Guests and Road Rage are two upper mid-level Adventures you'll unlock in Destiny 2, and are available to play from the Io planetary area once you've maid a fair bit of progress through the main story.
Here on this page, we'll give you a rundown of exactly how to unlock and then complete the two adventures, as well as a note of what rewards you can expect for doing so.
Before diving in though, note that for more of the same, and a general overview of how Adventures work, you can take a look at our Destiny 2 Adventures hub, with a list of various other Adventures and links to their respective guides, too.
Destiny 2 - Unexpected Guests
Unexpected Guests is an upper mid-level Adventure, and can be found on the planet Io.
Prerequisites: Complete the Asher Mir mission.
Recommended power: 120
Reward: Upgrade Point.
Here's what you need to do to complete the Unexpected Guests Adventure and tackle Iraz, Eye of Savathȗn:
Confirm Ikora's Intel - Follow the waypoint. It's quite a trek, so if you've got a Sparrow to ride, now's a good time to use it.
Secure the area - There are a lot of Taken lurking around, but they will keep respawning so just keep killing them until the objective updates.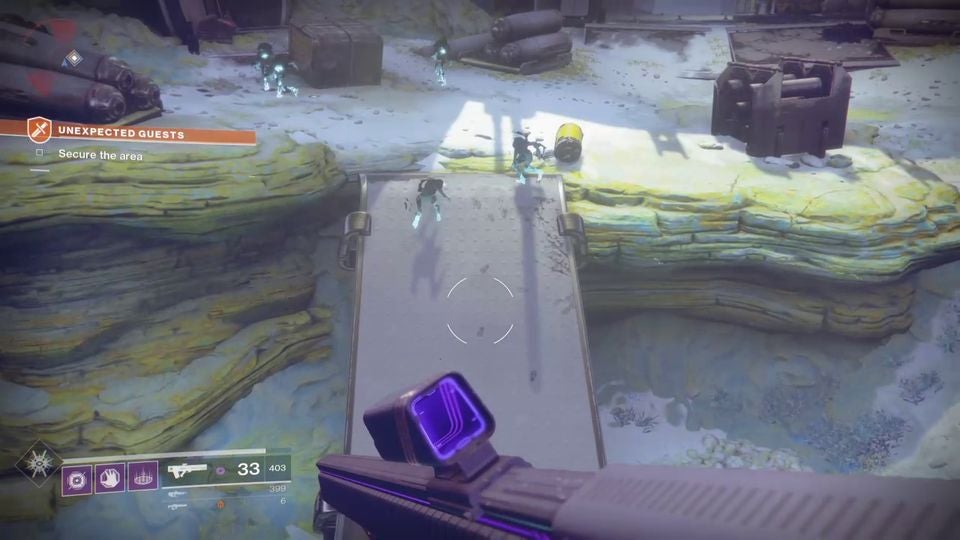 Pursue the Taken - Follow the Taken (or the waypoints) into the cave - they'll ignore you, and there's a never-ending stream of them, so if you want to grind for kills or loot this is as good a time as any. Examine the strange black fountain, and then keep following the Taken.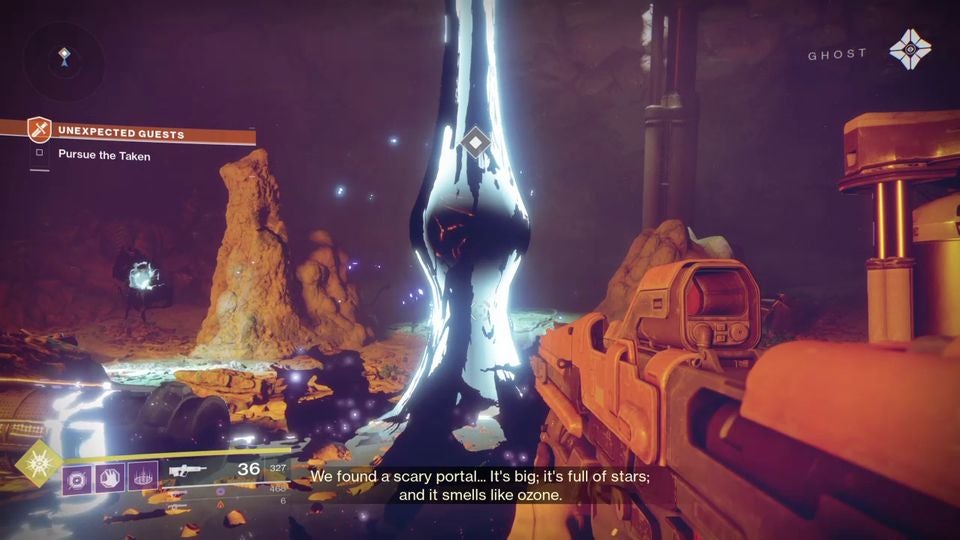 Collapse the portal: first energy charge - The first energy charge is sat out in the open - grab it, then run back to the portal and place it in the marked spot. While you're holding it you're defenceless, so keep moving!
Collapse the portal: second energy charge - Follow the waypoints to the second charge. There's an endless supply of Taken in here, so we'd recommend just grabbing the energy charge and getting out of there as quick as possible.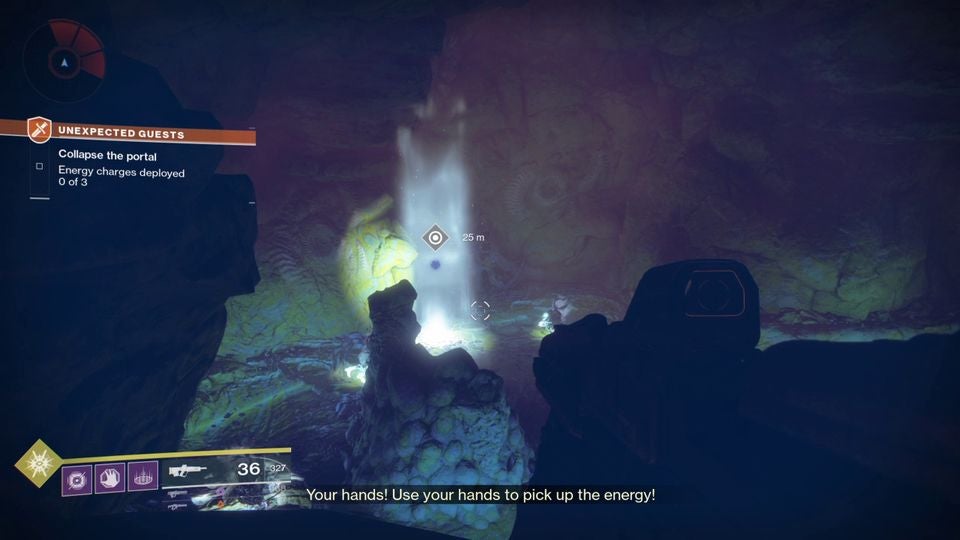 Collapse the portal: third energy charge - It's a long trek to the third and final charge, and the route is packed with Taken. Stopping to fight them all will take a long time, so we'd suggest only engaging them when there's no way around them. Once you've grabbed the charge follow the waypoint for a much shorter route back to the portal.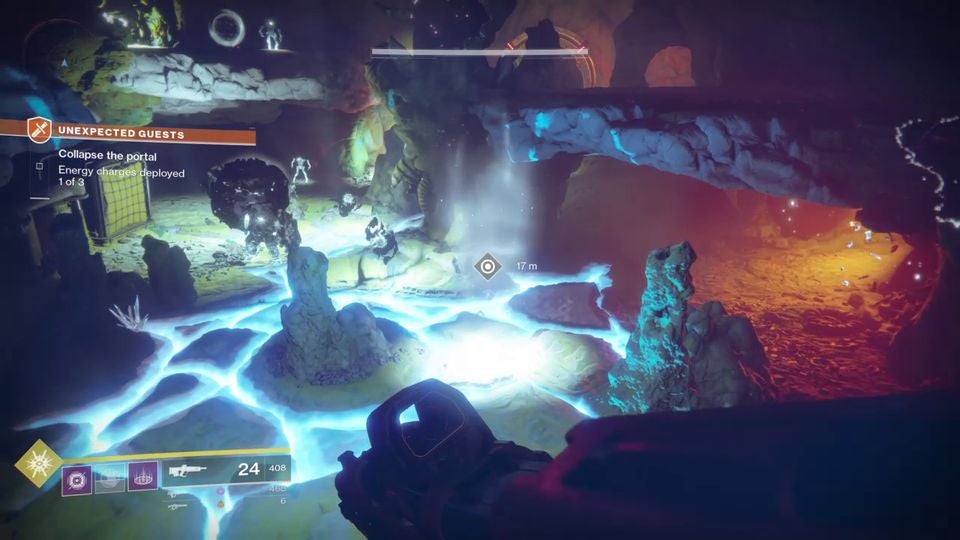 Eliminate Iraz, Eye of Savathȗn - Iraz, Eye of Savathȗn is a formidable foe - he's quick, well shielded, and will summon additional Taken to distract you from the fight. Because of his rapid movement he can be difficult to keep a bead on, so we had much more luck using a Void (purple) energy weapon to drop his shield and then punching him.
---
The Season of Plunder is here! New additions include the Sails of the Shipstealer quest, Treasure Coordinates and Map Fragments, Cryptic Quatrains and Quicksilver Storm. Meanwhile, there's the arrival of King's Fall and King's Fall challenges such as Devious Theory and Gaze Amaze, plus weapons including Doom of Chelchis and Touch of Malice. Elsewhere, we've seen the return of Allied Demand in Iron Banner this season. Get up to speed with our levelling guide ahead of tackling the Duality dungeon, and learn how to collect Calus Bobblehead locations, Calus Automaton locations and find all Opulent Key chests. For The Witch Queen, learn how to get Exotics including Dead Messenger and Parasite.
---
Destiny 2 - Road Rage
Road Rage is a upper mid-level Adventure, and can also be found on the planet Io.
Prerequisites: Complete the mission Asher Mir.
Recommended power: 120
Reward: Rare (Blue) loot.
Here's what you need to do to complete the Road Rage Adventure and tackle Viadon, Inquisitor Mind:
Acquire a Red Legion Interceptor - Head to the marker and board one of the Interceptors from the garage.
Destroy the Vex - Eliminate the Vex from the local area. There's a Public Event spawn here which can muddy the waters a bit, so if one starts it's worth moving the Interceptor over to the Taken and using it to wipe them out then returning your attention to the Vex.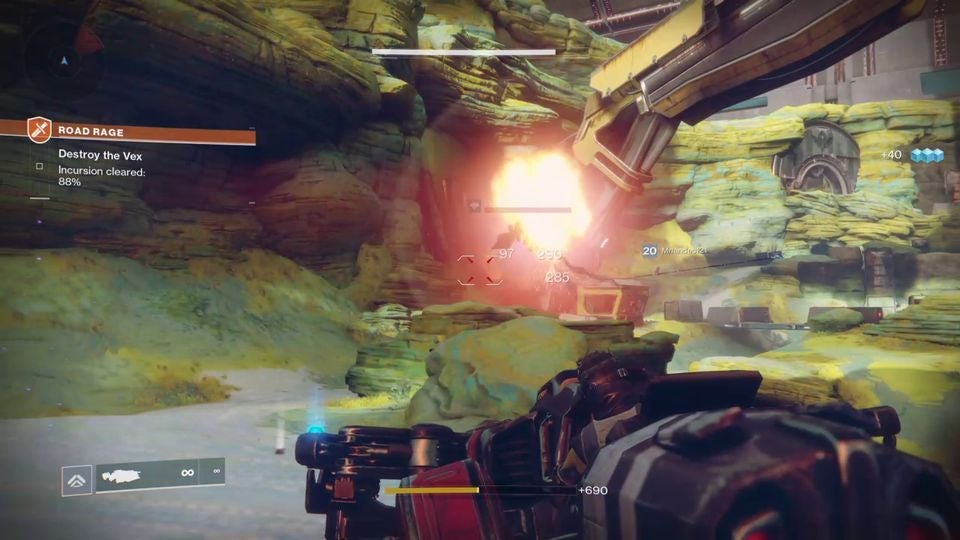 Hunt down the Vex - Stick with your Interceptor, and follow the waypoints.
Destroy the Vex - Wipe out as many Vex as you can find; there are a couple of Interceptor "dispenser" points in the area if yours is looking a little worse for wear.
Hunt the Vex - Follow the waypoints.
Eliminate the Hydras - There are three Hydras to track down, and your Interceptor should make short work of them.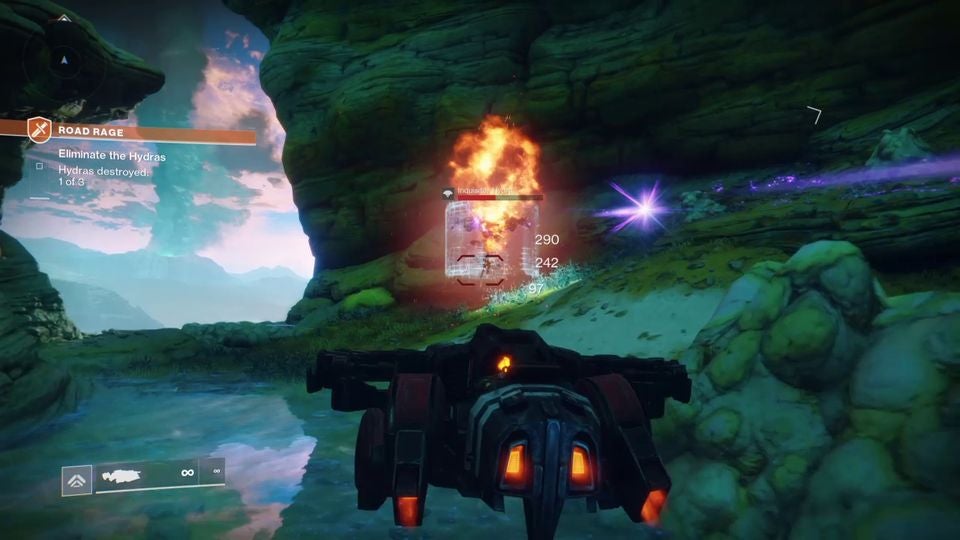 Hunt the Vex.
Eliminate Hiadon, Inquisitor Mind - Viadon, Inquisitor Mind is a large Hydra, but with your Inquisitor he's a fairly soft target - circle-strafe around him firing constantly and you should be able to keep lined up with the gap in his shield whilst also avoiding most of his attacks.
With that, you're all done! Head back to our hub for Destiny 2 Adventures if you're looking for more on these.
Otherwise, nicely done, Guardian.