Delightful wooden train set simulator Tracks gets planes, scuba divers in latest update
Plus bikes, rocks, controller support, and more.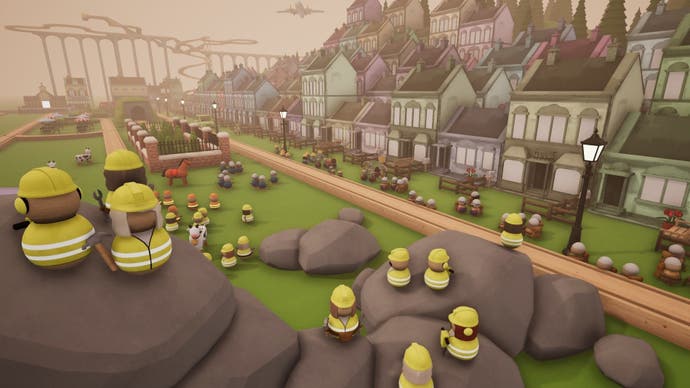 Wonderfully serene wooden train set simulator Tracks has just received another big update, this time adding an array of new building blocks, from rocks and planes to scuba divers and bikes, alongside very welcome controller support.
Tracks, if you've yet to be introduced, is a genteel, locomotive-themed sandbox experience, inspired by the classic wooden train sets created by the likes of Brio.
In its present early access state, Tracks is mostly about the simple pleasures of placing down track then using the game's ever-expanding collection of charmingly designed buildings, scenery, and props to bring the world around it to life. You can even hop on a train and view your creation in first-person, picking up passengers and tooting your whistle along the way.
Tracks' latest update isn't quite as dramatic as past efforts, which have brought such delights as a nighttime mode, wintery scenery, even fireworks and music tools. Instead, its newest patch expands the core pool of props, with a fire station, new vehicles - including cars, vans, and helicopters - as well as climbers, skydivers, scuba divers, and a pleasing selection of rocks.
Less flashy but no less notable is an overhaul of the game's wooden track parts, helping them slot together better and reducing the chances of accidental derailment in the process. Additionally, the update includes a first pass at controller support, which hopefully means that developer Whoop Group is at least eyeing up the possibility of a release on other platforms.
You can see some of Tracks' newest additions in the typically gorgeous trailer above, and full details of the latest update can be found in Whoop Group's patch notes on Steam.