Definitely not on rails
Post-Molyneux, Fable and Lionhead enter the next generation.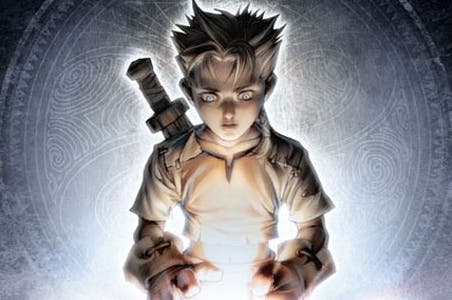 It's a grey January morning and the rain batters the windows of the taxi taking me from Guildford train station to Surrey Research Park. Typical English weather, then, as I head to the home of a developer which has been making typically English video games for a decade.
1 Occam Court is an unremarkable medium-sized building surrounded by wet grass. A nearby lake adds a whiff of the countryside to the place, despite it being down the road from Guildford Town Centre. Inside over 100 staff beaver away on the Xbox's premier exclusive role-playing game series, among other things.
This is my first visit to Lionhead, which I am ashamed to admit. No time for moping; there's a form to sign and a trophy cabinet to admire. A couple of Interactive Achievement Awards; three BAFTAs; four custom Xbox 360 consoles; a special disc to celebrate 1m sales of the first Fable game; a special edition that was never released because of a manufacturing problem; and a giant coin behind a smaller coin, the former a treasure once hidden as part of a promotional stunt, the latter the reward for fans who found it.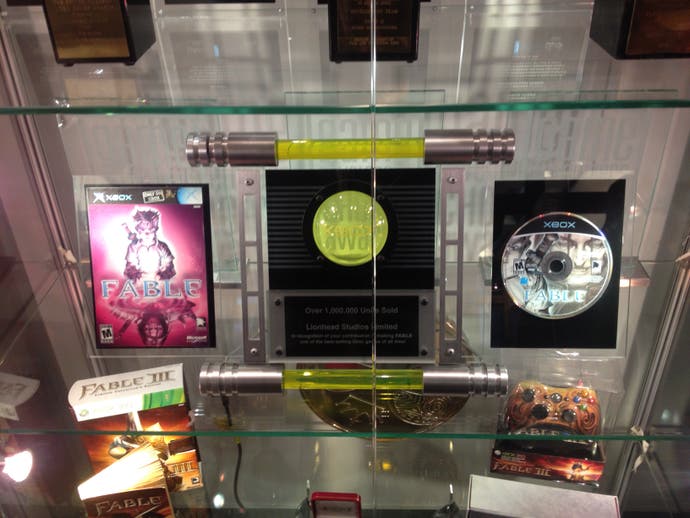 The Fable franchise has an impressive history. In September 2004, after nearly six years of development, the original Fable launched on the original Xbox. It was a global hit, going on to shift 2m units. 2008 saw the release of the hotly-anticipated follow-up, Fable 2, for the Xbox 360. It was an even bigger hit, selling 3.5m copies. Two years later, in 2010, Fable 3 turned up, but it failed to hit the heights of its predecessor. In 2012 we had the downloadable spin-off Fable Heroes, and then, later that year, the disappointing Kinect-exclusive Fable: The Journey.
This September Lionhead celebrates the tenth anniversary of the Fable series. To mark the occasion, next month it will release the appropriately-named Fable Anniversary, a high definition remake of the original game, powered by Epic's Unreal Engine 3 and due out on Xbox 360. It is, according to its creators, a labour of love for the studio. For me it's one hell of a nostalgia trip. Listening to Oakvale's remastered music and admiring the Heroes' Guild's gorgeous HD visuals rekindles memories not just of my first foray into the lush world of Albion, but all those original Xbox games I spent so many hours playing.
It's also a fitting send off for the old-school Fable, that traditional, single-player role-playing experience whose days, it seems, are numbered. The next full-fledged Fable game is Fable Legends, an online, multiplayer-focused Fable game built using the fancy Unreal Engine 4 for the Xbox One. If Lionhead has been going through a transition over the last couple of years, then 2014 marks the point of no return, and Fable Legends, whenever that comes out, will signify its end.
Through the lobby and past a Demon Door lift is what has been dubbed Memory Lane. It's a corridor with red carpet and a wall with vinyl prints of images lifted from all the Fable games ever released. There's even a picture of one of Fable's infamous male prostitutes. On the other wall is the machine used to press the first Black & White disc way back in 2001. It hasn't been used since.
Memory Lane is new and incomplete. More images will be plastered on the wall, and other walls, throughout the studio as its long list of games inches ever longer. Ted Timmins, the enthusiastic, passionate lead designer of Fable Anniversary, tells me Lionhead's white wall space is an endangered species. Soon, there will be pictures of Fable everywhere. There can be no doubt: this is the home of Fable.
"When you think of the original Xbox, you think of Halo and Fable. They're the two Microsoft games that stand out."

Fable Anniversary lead designer Ted Timmins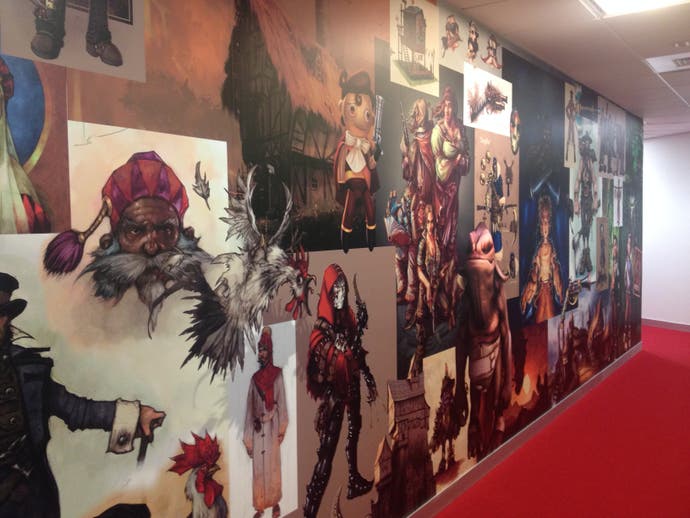 There's more new stuff to see. Lionhead's recently had a state of the art audio facility installed. It's made up of five sound design rooms, each set up to support the Xbox One's 7.1 surround sound capabilities. Lionhead's dining room has table tennis and foosball tables for its hundreds of designers to unwind with. On one wall are photographs entered into the Microsoft-wide Photo Club competition. Lionhead artist Adonis Stevenson won last year, I'm told. On the other wall a smorgasbord of Fable fan art, a visual reminder of what this is all about.
I'm not allowed upstairs, where developers are making Fable Legends and other, unannounced games, so instead head outside of 1 Occam Court into the drizzle (Ted has a Resident Evil Umbrella umbrella picked up at PAX last year to hand, just in case) and toward Alan Turing building, the other half of Lionhead Studios. This is the home of Lionhead boss John Needham's first-party publishing business, and Lionhead Incubation, where new game ideas are massaged in advance of full production.
I'm shown Lionhead's motion capture studio, installed to improve animations for Fable: The Journey. On the wall are pictures of mo-cap work done for the cancelled Kinect game Milo & Kate. On a cabinet sits a stray cuddly toy dog: Kate in the physical world, sad and alone. It's another visual reminder; no attempt to erase Lionhead's highest-profile failure from memory here.
Upstairs, I'm surprised to discover there's a room where Minecraft for Xbox is published. Around the corner is Lionhead Learning, a set of PCs on desks where Lionhead developers share their ideas, discoveries and excitement with the rest of the company. When it's not being used for learning, Ted explains, it's often where Valve's free-to-play shooter Team Fortress 2 is played. In the corner sits a drum kit. That's for stress relief, I'm told.
This is Lionhead in 2014. It's a very different place to the one Peter Molyneux co-founded in 1996. It's also a very different place to the one that released the first Fable game 10 years ago. Then, still an independent studio, Lionhead was just one floor of 1 Occam Court. When Microsoft swooped in to - in the words of one former Lionhead developer - save the company, it expanded to encompass the second floor and the building on Alan Turing Road.
So much has happened since then. There have been as many outs as there have been ins. Fable's original creators, Simon and Dene Carter, alongside Fable franchise art director John McCormack, technical director Guillaume Portes and executive producer Jeremie Texier left to found Another Place Productions (Simon Carter later rejoined Microsoft at Lift London). Then the big one: Molyneux, for years the face of Fable, left to go it alone at 22cans.
After the release of Fable: The Journey in October 2012 I feared for Lionhead's future. I worried about the viability of the Fable franchise as the next generation of consoles approached. In my mind, Fable's star was shining less brightly than it did on Xbox and, with Fable 2, on Xbox 360. But seeing Lionhead up close, and the investment Microsoft has made recently into its facilities and headcount, it's clear Fable, and Lionhead, are going nowhere.
"For Lionhead, it's always about trying to do little experiments and something new and different," Lionhead studio director Stuart Whyte tells me.
"We're really proud of what we did with Fable: The Journey. I know there was some mixed feedback with it, but as a team, we loved that experience. It's a creative medium and sometimes you have something the audience loves and sometimes you don't.
"We still get fan mail for all of our games, including The Journey. I know critically, not so much, but that's the way it goes I guess."
Ted says that in July 2012, after work on Fable: The Journey was complete, the studio found itself in the strange position of having some time to consider its next move. Coincidentally, Lionhead's second Creative Day (the first spawned Fable Heroes, which Ted also led development on) was approaching. He thought it would be an appropriate time to pitch a remake of the original Fable. Using Unreal, it wasn't long before a working prototype was up and running. All of a sudden, around 25 people were involved. The game was presented on a huge cinema screen at Guildford Odeon. The reaction was positive.
Ted wrote a short design document which included the features he wanted to add, such as Achievements and SmartGlass integration. Producer Craig Oman helped pitch it to the leadership team, and, with the sales forecast showing the right numbers, the green light was shone.
"It just felt like the right time, didn't it?" Ted says. "We were approaching the 10 year anniversary. Halo Anniversary had come out and really set the bar high and done a fantastic job. When you think of the original Xbox, you think of Halo and Fable. They're the two Microsoft games that stand out.
"There's this lovely nostalgic trip. It takes you back to 10 years ago and all the things that were happening back on the original Xbox. And when we got that reception from everyone internally, it was just a buzz. It felt exciting. It was a great time." Now, nearly a year and a half after that Creative Day, Fable Anniversary has gone gold.
Thoughts inevitably turn to Fable Legends, the Xbox One exclusive announced at Gamescom last year. It's obvious it's a very different Fable game. It's not Fable 4, for a start, as many had thought it would be. Nor is it yet another single-player Fable role-playing game. It's set 400 years before Fable 1 and has four-player co-op. The point, it seems, is multiplayer.
Even though its development began before current studio boss John Needham arrived in May 2013, Fable Legends represents the future of Lionhead and the vision the former MMO specialist has for the studio.
"Our vision - and it's rather corporatey - is to connect the world with fantastic games," Needham tells me in his office. "That's the lens we look at everything through. Connected experiences, games as a service - that's where we're pivoting the studio.
"It's taking what's made Fable great and modernising it and adding online features to it and making it a living and breathing service."
"It's the capability of the Xbox One," he continues, explaining why connected experiences are so important. "All of the cloud services available to us and the online features we can build around that, that will connect players. A connected experience just brings you closer to the product, right, because you have shared experiences with your friends in-game, and it adds an engagement layer people expect these days. Most of your game experiences are connected, if you think about it."
Is Fable: Legends an MMO, I wonder? Is Lionhead now an MMO developer? Not so, Needham insists. "It's not about MMOs. It's just about having games that people can play together." Rather, the appropriate term to use is "connected games".
"Games as a service." "Connected experiences." These are buzzwords I've heard countless times by video game executives who are managing the transition to our inevitable always-online future, and it's hard to put your finger on what it all means for something like Fable. The Xbox One improves "the things we can do in the cloud with Fable and the things we can do with matchmaking and different online modes", Needham says, mentioning Dark Souls and Journey. "I always mention this, but I love Dark Souls, where you're invading other people's worlds, and games like Journey, where people are organically coming in and out of your game world. Having that kind of infrastructure behind the Xbox One gives you a lot of flexibility to do highly innovative online.
"They definitely inspire us, for sure."
More of Legends will be revealed in the coming months, but right now it's easy as a player to be sceptical. It's easy as a developer to be sceptical too, it seems. Needham says his first job as boss of Lionhead was "selling the studio on games as a service and the power of online".
"That was goal number one, and rallying the studio around, look, we can make a fantastic Fable experience online. This is not an IP that has to be a single-player experience. That was the number one message I wanted to deliver to the studio. We made great strides getting to Gamescom, having something playable, having something that was really fun for the studio to play. It's really sold everyone on the concept."
He admits there was a "certain amount of reluctance and worry" about "how is this going to really be Fable?", but it seems that reluctance is being dealt with. "We're sorting through that now as we iterate on the game and we play it more. But our top priority is to make this the next big Fable game and make it bigger with online."
"I love Dark Souls, where you're invading other people's worlds, and games like Journey, where people are organically coming in and out of your game world. Having that kind of infrastructure behind the Xbox One gives you a lot of flexibility to do highly innovative online."

Lionhead boss John Needham
When Stuart Whyte joined Lionhead in 2004 it was an independent developer working with EA, Activision and Microsoft. He says the biggest change he's witnessed since then was the acquisition by Microsoft and, despite the ups and downs, is happy with the impact it has had on the company.
"That marriage between us and Microsoft Studios worked really well for what Lionhead is," he says.
"We're always about trying to do ambitious and innovative stuff. That ambition is great, and it's really exciting for us, but it's really hard to do that as an independent studio, because if just one thing goes wrong you're under before you know it.
"Having the support of Microsoft behind us, and being able to partner with Microsoft on things like Kinect and SmartGlass and Xbox Live, really matches what Lionhead is about. It's been great since then."
Managing the relationship with the powers that be at Redmond is a tricky balancing act. On the one hand you have a fiercely passionate development house buoyed by advancements in new technology and the opportunity to work on next-generation hardware. On the other hand, you have a Microsoft-owned developer that is just one cog in the Microsoft Studios machine that includes Kinect Sports studio Rare, Lift London, Soho Productions, Halo maker 343 Industries and more.
"I don't want to get it across that it's them and us, because we're Microsoft," Whyte says. "We're all part of the Microsoft family. But we're also Lionhead. It's important for any dev team, irrespective of who they're owned by or who they're not owned by, to have their own cultural identity. And we've very much got that. But we also benefit from being a part of a much larger organisation, which has got so much to offer and works well for us.
"Like anything, you can't just go rogue and do your own thing. Even if you're independent you're still beholden to investors or someone. When you make a game, ultimately you've got to sell it to consumers, but you've got to sell it to the press and retailers before that. And even before that you've got to sell it to the wider organisation. That's selling it to the management, but also it's selling it to the people who are working on it. There's nothing worse in this world than to be working on a game you don't believe in. It's that's small nub of belief like Ted had with Fable Anniversary. That infection of enthusiasm radiating out. And sometimes it'll go somewhere and it'll end up with where we are now, and other times not so much.
"You can look at some of the games we've worked on over the years, and even some of the games that haven't released, and you can see very much that our identity has very much tried to come out with those games. We're still going to keep pushing the innovation and see what happens."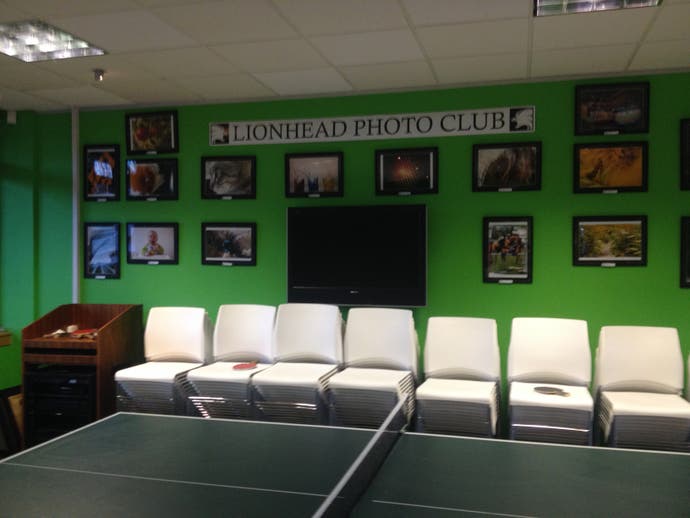 Fable Anniversary art director Jim Vale joined Lionhead in early 2010 to work on Fable 3. For him, even in that short time Lionhead has changed. "The Microsoft Studios feel more like one whole than they did," he says. "When I first started it was just at the tail end of old-school Lionhead when it was very much a studio in Guildford that happened to be owned by Microsoft."
"Back then we couldn't even have dreamed of having the audio capabilities we have, or the mo-cap room," Ted, who started at Lionhead as a tester on the original Fable 10 years ago, interjects.
"We want to be one of the best studios in the world, and we want to attract the top talent as well," Craig Oman, who joined in June 2011, offers. "So we try to make an environment that's relaxing, creative and exciting. We've improved on that since I've been here. That's one of the big changes I've seen."
"Actually," Jim says, "the biggest thing for me is the table tennis table."
For Whyte, Lionhead has "grown up". "I'd say the culture of the industry has changed. I started in the 90s and then most of the teams were small and in their 20s. You worked hard. You played really hard. Over the years people have settled down. They've got families. They've got kids. That does change it.
"But there are a lot of passionate people here. I've worked in companies where it's much more tickbox drone type stuff - a production line almost. And I've worked in companies like Lionhead where there's a lot of passion and creativity.
"There are challenges with that. Passion and creativity, if you can harness it you can do some amazing things, but it is challenging. But if you can get it right it really pays off."
Lionhead has matured as it turns its attention to Xbox One, Whyte believes. "We're still going through a transition. We're continually trying to change. You've got to adapt and change. With new platforms and Xbox One, we're going through that process again, now. It's exciting."
When I ask what has been the biggest change at the studio over the years, no one mentions the exit of Molyneux. I don't ask about it, just to see whether he'd come up unprompted. There are no shrines to the divisive developer, no pictures of the man who invented the god game - that I can see, anyway. He was hugely influential, of course, and many staff remain fond of him (Ted tells me he has a lot of time for Lionhead's ex-chief, who he worked with on many occasions), but life goes on. He was just one man, at the end of the day, who hasn't worked at Lionhead for two years. Fable must continue. Although - and this I find hilarious - Molyneux set up 22 Cans across the road from Lionhead in the same Research Park. He doesn't visit, I'm told, but he's always watching.
"We're still going through a transition. We're continually trying to change. You've got to adapt and change. With new platforms and Xbox One, we're going through that process again, now. It's exciting."

Lionhead studio director Stuart Whyte
Anniversary will be Lionhead's sixth Fable game released over the course of the series' 10-year history. It's not exactly pumping out Fable games, but it's spent a lot of time working on the franchise. I wonder, after all this time, is Lionhead not sick and tired of Fable? Doesn't it fancy making something else?
Needham says Lionhead is the Fable studio, but it's working on other, unannounced, non-Fable games, too, which is great to hear, not because I think Fable has run its course, but because I would love to see this talented studio try its hand at something else. Something less role-playing, perhaps.
But for now Fable is still very much the focus. "It's always interesting," Needham says.
"At the end of the day, what we have to do within Lionhead is maintain and strengthen the Fable IP so we can create other IP. That's what we're trying to do in my publishing group as well. That's our role. Building and generating new IP for Microsoft."
Is there pressure to turn Fable into an annualised series, like Call of Duty?
"I don't think it's about volume," Needham counters. "It's about quality and games we're proud of. Games we want to play as a studio. So I don't think a lot about volume and getting a game out every year as much as I do, are we building something that's connected? That's high quality? That's fun?
"Look, there's always pressure to get games released. It is a business. But we want to release games that we're proud of and are high quality."
"We've worked on a number of Fable games," Whyte says. "But we did The Movies. We did Black & White. We're not just a Fable studio. Judging by where we are at the moment we've had a lot of Fable games in recent times, but I wouldn't say that we're just Fable. I can't really say any more at this point!"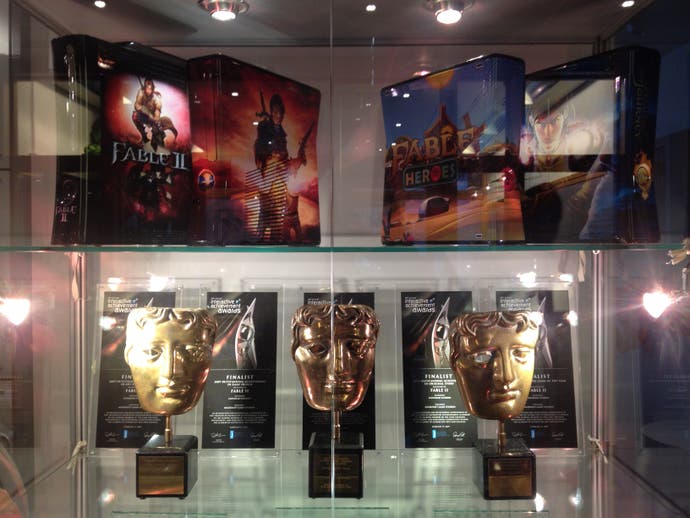 Speaking with Ted, Craig and Jim, who have all worked on remaking the original Fable in time for its tenth birthday, it's clear a passion for Fable remains burning at Lionhead. But the key, perhaps, is that development on Fable goes on alongside other things. That's what the Creative Days are about. That's what Lionhead Incubation is about. Albion dominates the walls of Lionhead, but experiments go on inside of them.
And experiments, the developers say, go on inside Fable. "With Fable Legends we're doing new stuff," Whyte says. "It's a new take on it again. The important thing is not to get stuck in a rut of just doing an annualised sequel which isn't too different to the year before. That's not what we're going to get into, because that would be quite soul destroying I suspect."
"Fable can be so many different things," Ted says. "Maybe if it was Barbie Horse Adventures I'd be fed up by now," he laughs, pointing at Jim, who, you guessed it, worked on Barbie Horse Adventures.
"We never make a direct sequel. Even though it's Fable 1, Fable 2, Fable 3, it's not just the game before but with something a little more on it. We try and add new features , make it exciting and change it up. It's a real risk to do it like that, because you're not going to make every fan happy. But it keeps us creative."
One of the Achievements Ted put into Fable Anniversary is called Definitely Not On Rails. You get it for either visiting every region in the game, or increasing your waistline so you don't have to. It's a playful dig at the controversy surrounding Kinect exclusive Fable: The Journey, which Peter Molyneux famously declared was "definitely not on rails" after the game's disastrous E3 presentation. It's also a sign that Lionhead, despite the upheaval over the last few years, hasn't lost the dry English wit that served the Fable series so well for so long. As I get the taxi from 1 Occam Court to Guildford train station I notice it's stopped raining. Lionhead and Fable have survived the storm.