Deck-building dungeon-crawler Hand of Fate 2's The Servant and The Beast DLC is out now
Alongside the free Combat Reforged update.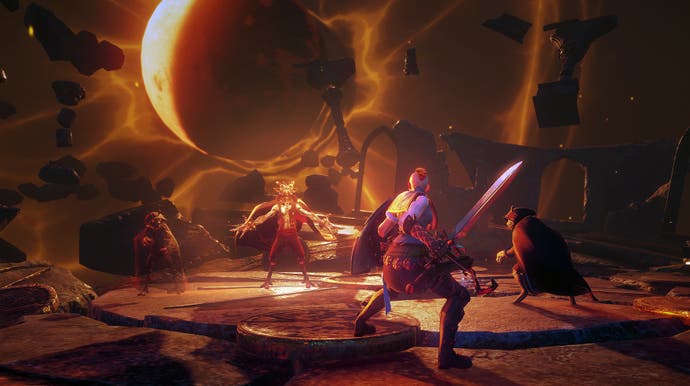 Defiant Development's excellent deck-building dungeon-crawler, Hand of Fate 2, has just received its second helping of paid DLC, known as The Servant and The Beast.
This latest DLC offering is out now on PC, PlayStation 4, and Xbox One (it will be released on Switch "soon"), and adds a new campaign challenge and companion character to the core game, this time in the form of Veles the Shadow Beast.
"In the depths of despair," reveals Defiant, "you struck a bargain with a strange new ally: your blood for freedom. But now your captors seek to drag you back to their cruel fighting pits, and the monstrous beast you serve demands more and more of you in order to achieve his ultimate goal - revenge against his conspirators and the reclamation of his throne."
As a companion character, Veles will join players on quests and in battle, and is imbued with a range of "dark and terrible" powers - including the ability to vanquish downed opponents. There's also a "vengeful" quest chain, which features new encounters and a selection of new gear to unlock for use in later adventures.
Hand of Fate 2, for the uninitiated, is an old-school dungeon-crawler, albeit one in which everything - the map you'll explore, the locations you'll visit, the stories you'll uncover, the enemies you'll confront, and the weapons and items you'll accrue - is determined (and, in fact, visually represented) by a deck of cards.
Most of the game is spent in the company of the mischievous, gravelly voiced Dealer, who'll form each new adventure by doling out cards from your slowly burgeoning deck. Each successfully completed campaign missions unlocks new cards to experience on later journeys, expanding your options and story possibilities further.
It's all extremely compelling, in no small part thanks to the wonderfully evocative but economical writing, and the brilliantly voiced, frequently droll interjections from the Dealer.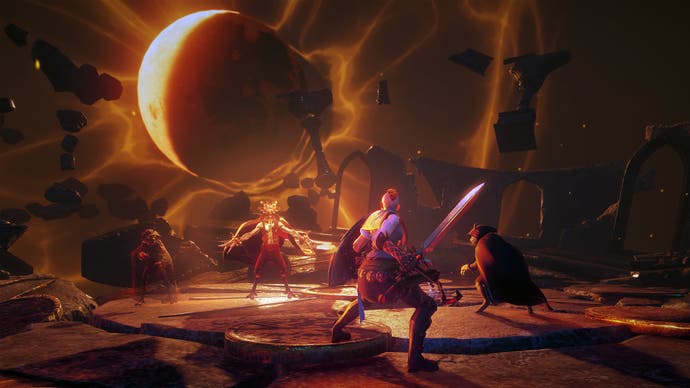 Hand of Fate 2's The Servant and The Beast DLC arrives alongside a free new content update for all players, known as Combat Reforged. This "dramatically" overhauls the game's battle system, promising enhanced fighting mechanics, plus rebalanced enemies and equipment.
The Servant and the Beast is out now and costs £4.99/$6.99 USD. That's also the price of Hand of Fate 2's Outlands and Outsiders DLC, which initially launched on PC back in June and is available from today on Xbox One and PlayStation 4.