Dead Rising 3 revealed with giant open world
Due later this year on Xbox One.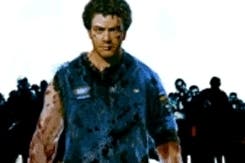 Capcom announced Dead Rising 3 at Microsoft's pre-E3 press conference moment ago. It will be due this "holiday season" exclusively on Xbox One.
You play as a grease-monkey named Nick Ramos, as he tries to survive a zombie apocalypse. While the first two Dead Rising Games were set in a relatively small mall setting, this one is set in a much larger city environment with several hundred zombies being rendered at once.
Crafting has returned, so you can combine a handgun with a flashlight or strap a chainsaw to a shovel.
Dead Rising 3 also supports Smartglass integration. The only example of this we saw was using the phone app to send an artillery strike against a sea of the undead in the main game.
Check out the developer walkthrough of Dead Rising 3 below.