David Braben explains Elite: Dangerous £100 premium beta
"It looks like a terribly capitalist way of doing it."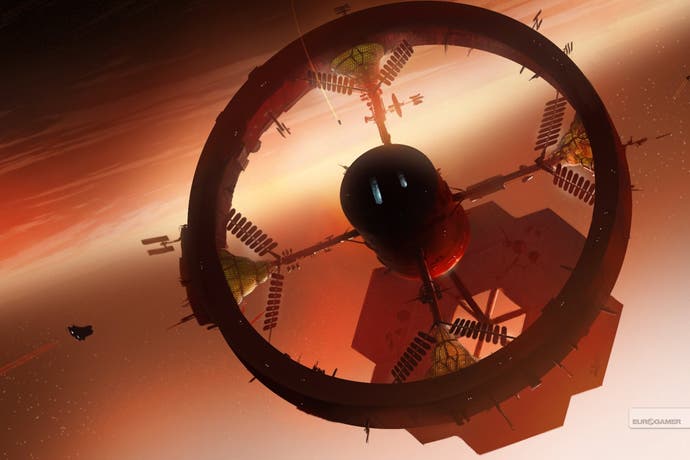 Frontier Developments raised eyebrows when it charged £200 to get in on the alpha for space game Elite: Dangerous, and did so again when it launched the Elite: Dangerous premium beta for £100.
For those who backed the £1.5m Elite: Dangerous Kickstarter, the prices did not come as a surprise as they correspond to the alpha and premium beta tiers - and Frontier was keen to avoid undercutting those who helped the game become a reality in the first place.
But for those not involved in the game's crowdfunding effort, Elite: Dangerous came across poorly, with some accusing Frontier of charging customers £100 for the privilege of being a beta tester.
At the Develop conference this week Frontier boss David Braben told Eurogamer the prices were set so high in part to keep player numbers low during the alpha and beta phases of the game.
"We've taken flak for it," he said. "But the important thing for the alpha is, for it to be a genuine alpha, we didn't want huge numbers. Maybe we shouldn't have restricted it by price but it seemed like a logical thing to do. It seemed like a fair thing to do.
"And we're also making sure the people who backed at the higher levels are getting ongoing benefit even when alpha finished. And all the people who backed the at premium beta, which is finishing soon, as part of that they get all the expansions. So there are still benefits to these things."
Right now, to play Elite: Dangerous you have to pay £100. That's for the premium beta. The standard beta launches on 29th July for £50, a price Braben said was "closer to the price of a shrink-wrapped game - and an awful lot of the Xbox One games I've bought are that price". And then the full digital copy of Elite: Dangerous costs £35. That'll launch be the end of 2014.
On top of this, there's an Elite: Dangerous expansion pass, which costs £35. This gets you all major downloadable expansion packs for the game, which have yet to be announced. Both the Elite: Dangerous alpha and premium beta includes an expansion pass.
"It's the way we're doing it," Braben said. "We've planned it this way for sound reasons, and part of that is going towards backing the game. We don't have a publisher here. That backing helps financially."
In hindsight, Braben admitted Frontier could have approached the release of the early versions of the game differently.
"We could have thought more carefully about that," he said. "The intent was actually to keep the number of players down. But it looks like a terribly capitalist way of doing it. That's the trouble. I mean it in the nicest possible way. It's when you think about it you think, oh yes, that does look a bit bad. But it's because what we've got is a group of people who really care about it. And that's been so helpful.
"We've gone into this not knowing exactly how the process would pan out as well. We were one of the first people to use Kickstarter in the UK. I didn't know how it would pan out."
There are around 30,000 people playing Elite: Dangerous right now, Braben confirmed. Over 50,000 people backed the game. Braben said those not playing backed to get the game when it is finished.