Darkest Dungeon 2 is going 3D, entering early access next year
Initially launching on the Epic Games Store.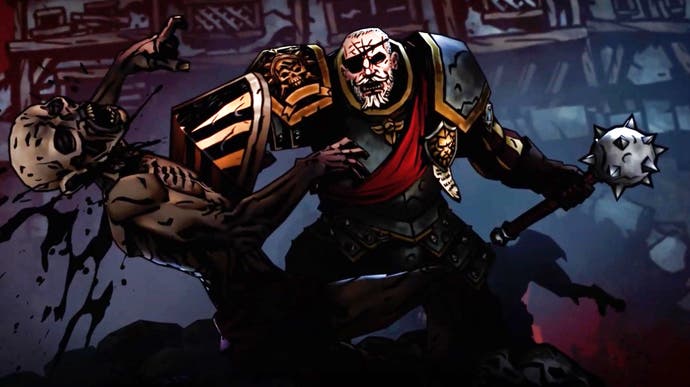 It's been well over 18 months since Red Hook Studios unveiled Darkest Dungeon 2, the sequel to its brilliant but brutal Lovecraft-inspired RPG, and now, after a tortuous wait, the game has resurfaced, along with the news that it's entering early access via the Epic Store next year.
The original Darkest Dungeon, which released in 2016, pitted players against an army of Lovecraftian horrors, battling in turn-based fashion across numerous trap-infested environs. It's biggest thematic trick came in the form of slowly encroaching madness, which would eventually send party members over the edge, imbuing them with (usually) negative quirks that made future excursions that much harder.
The resulting balancing act between deeper exploration and hero preservation managed to be both immensely stressful and unquestionably satisfying, earning the experience a huge following and plenty of critical acclaim.
When Red Hook announced its follow up last year, the developer explained it would "have its own creative and thematic identity", offering "a glimpse of the supernatural apocalypse twisting and distorting the world beyond the estate [setting of the original]". It also promised a turn-based combat system with a "significant [mechanical and presentational] tune-up", but with "a completely different metagame structure".
Red Hook has now returned with a fresh Darkest Dungeon 2 update on its website, exclaiming, "Our familiar companions band together for another journey into oblivion - this time in stylised 3d!". It goes on to explain that its new teaser "was captured straight out of Unity, and uses the in-game character models and rendering techniques from the game itself."
Darkest Dungeon 2, which will offer "fresh monsters, bosses, and challenges", will follow a similar development trajectory to its predecessor, initially launching in early access - albeit this time grasped by a flailing Epic Games Store tentacle and hoovered up into an ever-churning maw of antediluvian (and indeterminately lengthed) exclusivity.
A more fully formed rendition of Darkest Dungeon 2 will presumably make its way to other PC store fronts and consoles when it is innards are deemed sufficiently ripe at a later time.