Dark Souls - Firelink Shrine strategy
Everything you need to know about the Firelink Shrine in Dark Souls.
Exploring the Firelink Shrine for the first time
So you've made it out of the Undead Asylum and into the iconic Firelink Shrine, where NPCs you find in the world will gather and slowly populate. It's pretty important that you save these NPCs and talk to them if you want to advance their stories.
Now that you're here, you'll want to spend those Souls that you got from the Asylum Demon.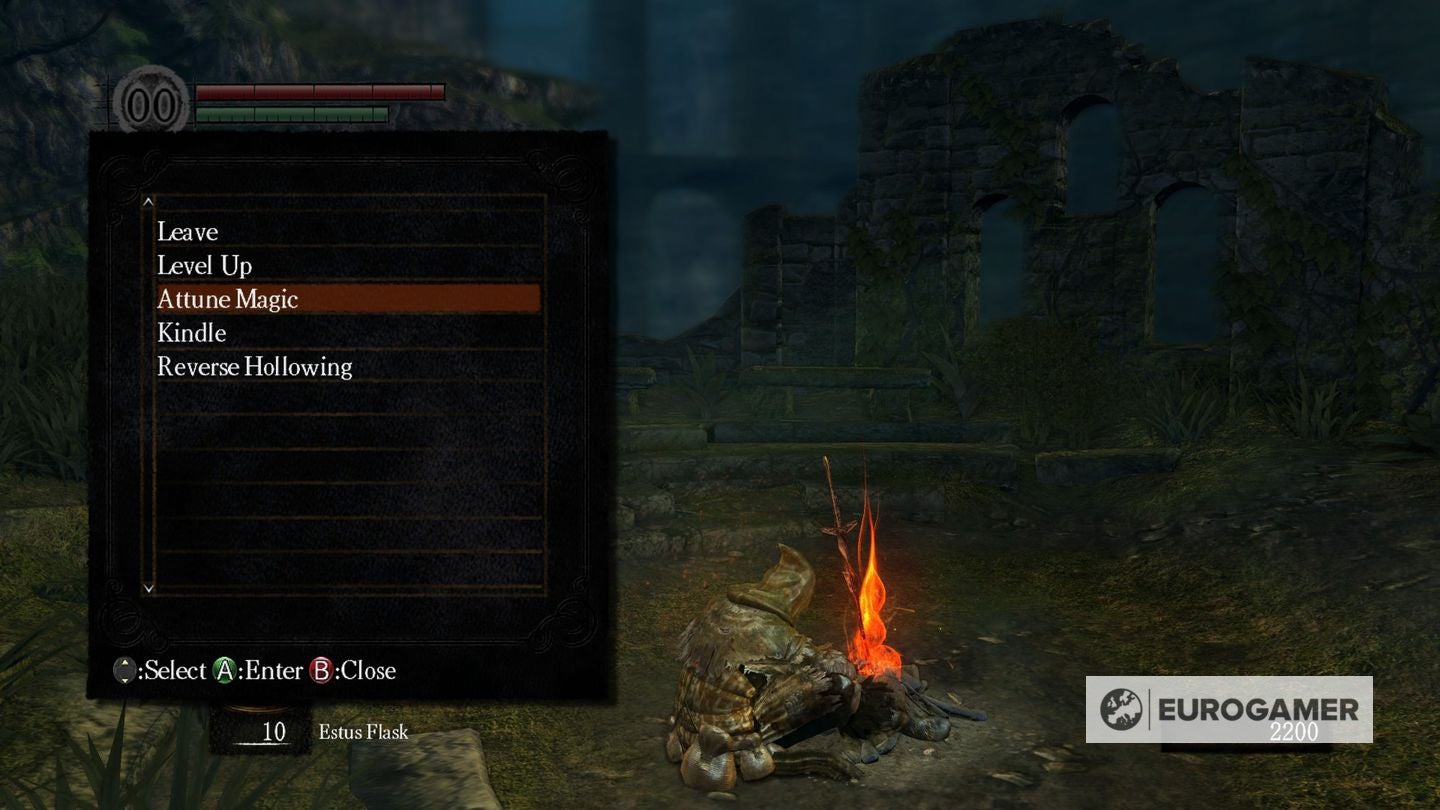 Now that you've got to Firelink Shrine, it's only polite to chat to its residents. Like the...um, dead glowing hollow next to the well. Pillage this corpse in order to get 3 Humanity. Keep these for later, or reverse hollow if you want to get your humanity back to summon in players if you're in a pinch.
From here, you'll want to chat to the Crestfallen Knight ahead of you, who will tell you that there are two bells to ring. One up, and one down. Easy, right? Think again.
Firelink Shrine connects pretty much area of Dark Souls together, and if you have picked the Master Key, you'll be able to access a lot of them pretty much immediately. If you head forward and past the pool of water and hug the left, you'll be able to find one of your first options, the big graveyard with some nasty skeletons. Ignore this for now, and head back to central firelink.
If you look at the door to the right of the pool, you'll be able to find Petrus of Thorolund. Talk to him a few times, and he will then ask you to join a Covenant. Do so if you wish, and you'll gain access to his shop, which sells miracles and talismans.
Go back yet again to central firelink, and down the stairs behind the big tree. Here, you will find the firekeeper, who will come in handy later. On this platform, there is another staircase that leads down and towards a lift. This will take you to New Londo Ruins. Again, ignore this and head straight back up to Firelink, and remember the placements of these locations for later.
---
If you're looking for more help, our Dark Souls walkthrough and guide can help with all other areas of the game, including the dreaded Taurus Demon, Capra Demon, Ornstein and Smough bosses. Meanwhile, we have explainers on how to access DLC Artorias of the Abyss, the best gift and best class in Dark Souls, Dark Souls' best weapons, Dark Souls Covenants, Dark Souls Estus Flasks locations, Dark Souls Titanite Slab locations and NPC quests including Lautrec of Carim.
---
Where to go first from the Firelink Shrine
Finally, head back up and you will find another big tree, and behind it is a staircase leading upwards. This is our first goal. Head up the stairs when you're fully prepared and get ready for your first real battle.
Once you're up the stairs, you will be greeted by two sword hollows, lure these down the stairs and take them out. You'll see some loot up ahead, guarded- it might be tempting right now but slowly proceed up the stairs, dodging the firebombs heading your way.
As you approach the stairwell up to the firebomb hollow, you will once again be ambushed. Take this one down and make your way up to the walkway, and towards the end you'll find a Soul of Lost Undead. Head inside the archway.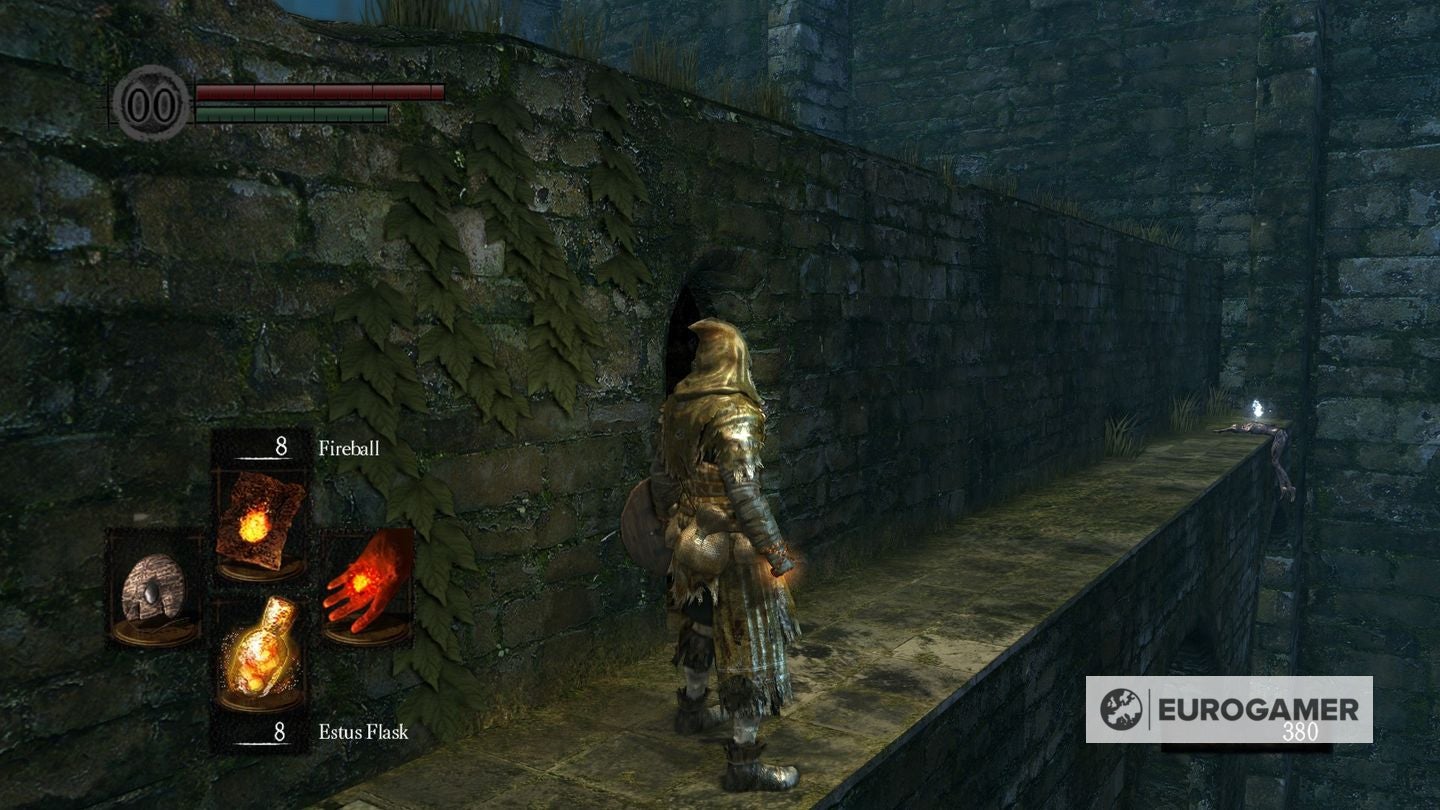 If you head immediately left, you'll find a rat guarding a Soul of Lost Undead. If you head all the way down, there's a door that can't be opened from that side, and if you go through the other arch and up the stairs, you'll find our next area, the Undead Burg.