Dark and Darker developer uses ChatGPT AI tool in bid to prove it hasn't infringed copyright
Following removal from Steam.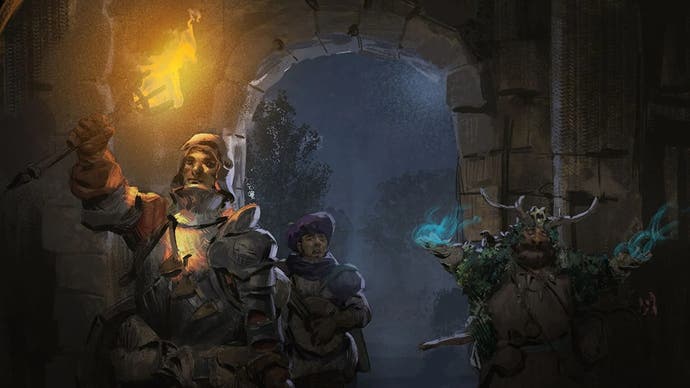 Ironmace, the Korean developer behind upcoming looter Dark and Darker, has used ChatGPT to try and prove it hasn't infringed any copyright claims. This follows an accusation from Nexon, another Korean developer and one which several Ironmace employees used to work for, which claimed its game (P3) was used as a prototype for Dark and Darker.
Over the weekend, Ironmace stated it had been served a cease and desist letter and DMCA takedown by Nexon, something the developer said is "based on distorted claims". As a result, Dark and Darker was removed from Steam.
At this time, Ironamce asked for "understanding" as it worked to get the game back on the site, noting that "due to the sensitive legal nature of this issue" it has to be "careful with [its] statements so as to not jeopardise [its] position".
Now, in a further and extensive update (via Reddit), Ironmace has penned a statement which is "intended to address the serious allegations of Copyright Infringement and Misappropriation of Trade Secrets that have been levied against us in the recent DMCA 'Takedown Notice' from Nexon Korea Corporation"
In an amusing defence, Ironmace included a segment from ChatGPT within its statement.
The developer used the AI chatbot to show how the "premise of adventurers delving into dungeons full of monsters and treasures in their quest to seek riches, is so generic and common that it can be broadly be applied to numerous other fantasy games".
This is what ChatGPT came up with when the developer asked it to create a "description for a generic PvP Dungeon Crawling game", like that of Dark and Darker and Nexon's P3:
"Certainly! Here's a generic game description for a PvP dungeon crawling game: In this PvP dungeon crawling game, players compete against each other in a dangerous and mysterious dungeon filled with traps, puzzles, and monsters.
"Players choose their characters from a variety of classes, each with unique abilities and playstyles. They must navigate through the dungeon, fight off waves of monsters, and solve puzzles to progress deeper into the dungeon.
"However, in addition to battling monsters, players must also face off against each other in intense PvP combat. They can attack other players to steal their loot or gain an advantage, but they must also be careful not to get caught off guard by enemy players.
"Along the way, players will collect loot, weapons, and magical items that will help them in their quest. They can also trade items with other players or buy and sell items from NPC shops.
"The gameplay involves strategic decision-making, as players must decide when to attack other players and when to focus on advancing through the dungeon. They must also manage their resources carefully, as they have a limited supply of weapons, spells, and health.
"The ultimate goal of the game is to reach the deepest level of the dungeon and defeat the final boss, all while outsmarting and defeating other players. This game offers an exciting and competitive experience for players who enjoy both PvE and PvP gameplay."
Following this insert, Ironmace stated the "shared characteristics of the two games" can be "easily explained by conventions found commonly in the shared game genres and are found in many other similar games".
Additionally, Ironmace spoke further about the former Nexon employee, who Nexon reportedly fired for leaking company data and assets
Ironmace claimed this employee "decided to leave" Nexon due to "a breakdown of trust with one of his superiors" as well as "the uncertain atmosphere at the company". When Nexon got wind of this, it then allegedly fired the employee based on "unproven claims".
Ironmace's statement goes on to say this former employee had his project "unceremoniously cancelled", despite it being well received during a "milestone presentation in 2020". Reportedly, several other projects at Nexon were also cancelled "during this time".
Before his departure from Nexon, the former employee reportedly said "he'd likely pursue a project in the same genre as P3 Project [the game he was heading up development of at Nexon]", but "explicitly clarified that any development would be made completely from scratch".
"This fact has been noted, in witness testimony collected by the police, investigating a separate personal lawsuit filed against the accused member, by Nexon," Ironmace's letter reads.
Ironmace also acknowledged the several members of Nexon's team that left the company to join Ironmace.
"The fact that nine of the twenty-plus P3 Project team members voluntarily left Nexon, out of their own free will to join Ironmace - despite the inherent risks of joining a startup - shows the trust that the accused member instils in his peers," the statement reads.
Ironmace said it has proof it has done nothing untoward during the development of Dark and Darker, despite Nexon's claims.
The statement closed: "Given the information presented, it is difficult to believe that Nexon, in good faith, could reasonably believe that Ironmace has infringed on the copyrights for their P3 project. They also provide no actual evidence that Ironmace misappropriated Nexon's trade secret information in the creation of Dark and Darker, but instead base it on circumstantial claims.
"Finally, they accuse Ironmace of a flagrant breach of Valve's SSA and SOCR, restricting our ability to provide our game to players on the largest mainstream PC game platform and severely obstructing our ability to do business. Ironmace requests that Nexon renounce their baseless claims.
"If they would like to compete on merit, we welcome Nexon to promptly accommodate the comparison of source code, custom assets, and design documents with the police to quickly and decisively put an end to this matter."
We will keep you abreast of future developments.