Ahead of Cyberpunk 2077's PlayStation Store return, there's a big performance and bug-fixing patch
Keep calm and Kerry on.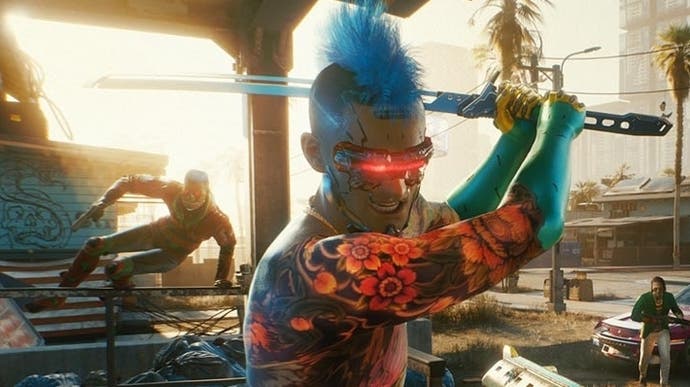 Well, another Cyberpunk 2077 patch has arrived, and although this one doesn't bring any spectacular gameplay additions it does promise further bug fixes and stability improvements.
Patch 1.23 is now live on all platforms, and sorts out a number of quest-specific bugs and general performance issues. The patch itself is apparently rather chunky, with console users reporting a download size of 30GB (my Steam download was a rather more modest 3.45GB).
Of note is the paragraph on stability and performance, which says the patch will provide "numerous crash fixes in animations, UI, scene, physics and gameplay systems". The patch also promises a reduction in the number of crashes through "memory optimisations and memory management improvements in various systems". There's also a vague mention of "various console CPU optimisations".
The timing of this patch is interesting, given the recent news that Cyberpunk 2077 will return to the PlayStation Store on 21st June (albeit with a warning for those brave enough to play it on PlayStation 4). The game was removed from the store back in December after players encountered numerous performance issues on base last-gen consoles.
Sony told Eurogamer earlier this week that "users will continue to experience performance issues with the PS4 edition while CD Projekt Red continues to improve stability across all platforms". It's possible that the improvements in patch 1.23 were enough to convince Sony to let Cyberpunk 2077 back onto the store - but I imagine there's still plenty more work to be done to get the game running adequately on PlayStation 4 in the long-term.
The rest of the patch notes are largely dedicated to fixing platform-specific problems, and a number of quest bugs. Highlights include fixing an issue where "dropping a NPC's body caused too much destruction," and a Maelstromer has finally been told to stop T-posing. Mercifully there are also numerous fixes for the problems in 8ug8ear gig Getting Warmer which had been... bugging me for ages. It's been a long week.