Cyberpunk 2077 gets new gameplay trailer as CD Projekt talks music, Keanu, and more
And expect special in-game items through GOG.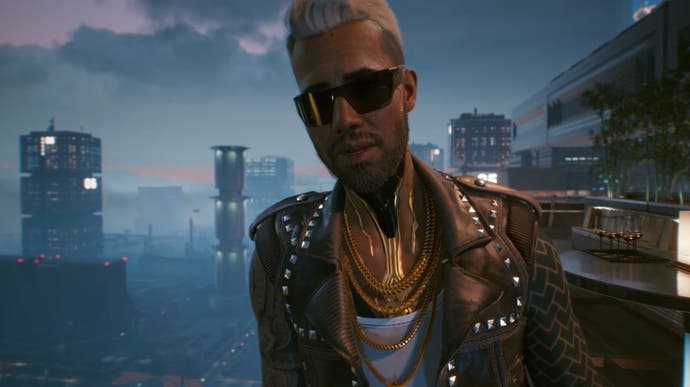 We're exactly three weeks away from the 10th December launch of Cyberpunk 2077 (fingers crossed), and CD Projekt has marked the occasion with a new five-minute gameplay trailer, as well as a look at its music, star performer, and more.
All of today's new information comes via CD Projekt's latest Night City Wire livestream, which was admittedly rather light on the juicy stuff compared to previous offerings. Keanu did, however, pop up to discuss his role as Johnny Silverhand (and to look dashing in a motion-capture ping-pong suit), and we got a brisk but informative delve into Cyberpunk's music - both its original score and soundtrack.
On the original score front, CD Projekt says it has around seven and a half hours of music in-game, all inspired by the likes of rave, industrial, and IDM to deliver some electronic "90s flair". Those eager to introduce their ears to Cyberpunk 2077's score can do so from today, courtesy of a 6-track EP which will be made available across a variety of streaming services.
As for the soundtrack, it's said to feature over 150 "custom genre-bending tracks", and will include music from the likes of Grimes, Gazelle Twin, Rat Boy, and Run the Jewels. CD Projekt notes Cyberpunk will include a special mode to replace certain tracks with alternative music, so those wanting to stream their time in Night City won't get stung by copyright claims.
Elsewhere, CD Projekt offered a brief look at Cyberpunk 2077's procedural lip syncing technology, used to support voice work in ten different languages, and there was mention of a number of in-game rewards - including the Wolf School Jacket - that can be claimed by linking to a GOG account. Gwent and Witcher players also get unique items in Cyberpunk, and Cyberpunk players can get items in other CD Projekt games too.
That just leaves the five-minute trailer, which offers a surprisingly thorough introduction to Cyberpunk's world and story, the various activities players will be able to embark on in Night City, alongside a look at a number of its gameplay systems.
Cyberpunk 2077, of course, comes to PC, Xbox One, PlayStation 4 (it's playable on Series X/S and PS5 too), as well as Stadia on 10th December. And if you haven't yet seen the recent first footage of the game running on consoles, you can do so here.