Cult Classics: PlayStation 2
Part 5: Horror, bugs, puzzles and anger.
It is finished! Part five of the PlayStation 2 Cult Classics brings us to the end of our five-part journey [practically five-year -Ed] through one of the most extensive and enjoyable back catalogues in the history of console gaming. If you missed out on the others, check out parts one, two, three and four, and if you can't find something in there worth playing over a dull weekend, you're probably on the wrong website. Breathing the wrong air.
Mr Moskeeto
Publisher: Fresh Games (Eidos)
Developer: Zoom Inc.
Back in the summer of 2002, Eidos hit upon the idea of scooping up quirky Japanese games and releasing them under a specially-created Fresh Games label at mid-price. It didn't take long for minds to change, obviously, when games like Mr Moskeeto and Mad Maestro sold about eight copies between them, which is a shame, as Moskeeto had some great ideas. Played out from the perspective of a mozzie, it's essentially a flight-combat game where you were tasked with landing on specific parts of a resting human and sucking their tasty blood without alerting them to your presence. Of course it's not that easy, and the game often results in frantic chases where you're trying to evade your pursuer. It's clunky and it's tough, but it's mad as a lorry, and we love it despite all of its obvious deficiencies.
What we said: "It involves aerial acrobatic skills, stealth and cunning, quick reactions and, perhaps best of all, cute Japanese girls. But we'll try not to let that make our minds up... ahem."
Ebay price guide: Less than GBP 10
Kuri Kuri Mix
Publisher: Empire
Developer: From Software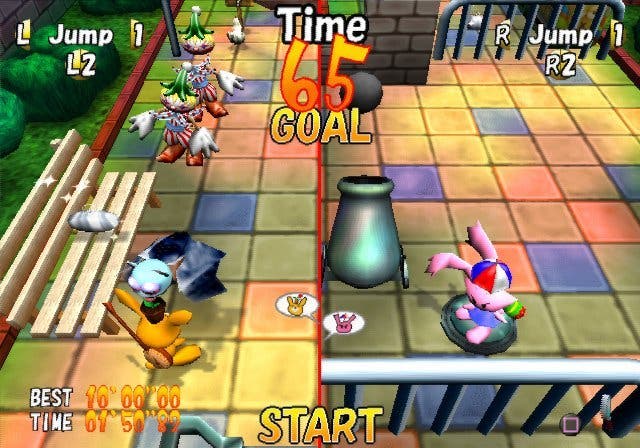 Released by Empire in the barren early days of the PS2, this eclectic Japanese puzzler received plenty of critical acclaim for its innovation and wacky aesthetics, but few bought it, and so it ended up being cruelly forgotten about. Known by the rather more sensible name of The Adventures of Cookie and Cream in the US, the game involved guiding two bunnies, Cookie (known as Chestnut in the European and Japanese versions, inexplicably) and Cream, from one side of a level to the other, via trap-strewn paths. The main curiosity was that in single-player mode you had to control both bunnies at the same time using one stick each, giving rise to plenty of hair-tearing coordination. Best played with a pal, it was a true co-op game that remains a real one-off, and well worth hunting down if you fancy something timeless and original.
What we said: Not reviewed. (A byproduct of doing a multiformat site with two people. -Ed)
Ebay price guide: Around GBP 5