Crowfall pre-alpha begins and footage emerges
20 weeks from Kickstarter to core playable deathmatch module.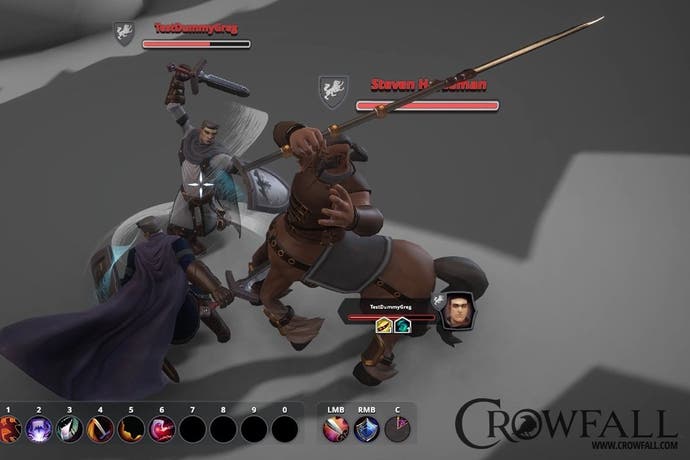 20 weeks after its Kickstarter campaign ended, PVP MMO Crowfall is playable courtesy of a Hunger Dome elimination deathmatch module. And as there's no NDA (non-disclosure agreement) in place, videos and screenshots of the action are, and will increasingly be, available.
People who backed the game at a tier promising Alpha 1 testing access will be invited to join in. Batches of invites are being sent out. There's no decided limit for participants nor a defined schedule for invites. There will be a limit on how many Hunger Dome matches you can play, to ensure everyone gets a go - something like 25 matches.
Do remember that while this is pre-alpha testing, we're still a long way away from an end-of-2016 final release date - which itself is optimistic. However, a lot of progress has been made in a short frame of time, which bodes extremely well.
The Hunger Dome is playable by up to 16 teams of up to three people each. The Hunger is a ring of pain that closes inwards. The last team standing wins. There are three class archetypes available to play: Knight, Confessor and Legionnaire.
This is a small glimpse at the overall Crowfall picture. This is an MMO that wants to be part throne war simulation strategy game and part PVP battleground. It's got experienced heads leading the project, and it has continued to raise money beyond the Kickstarter finish of $1.77m. The crowdfunding total is now past $2.3m, and ArtCraft, the developer, has also raised a further $1m. All project progress is discussed frequently and openly on the Crowfall website.