Creative Tension
Are publishers impeding the creativity of the medium?
Eschewing the gung-ho nature of its brasher cousins, Six Days in Fallujah was intended as a faithful recreation of one of the Iraq war's bloodiest urban skirmishes. Yet as soon as word of the game hit the mainstream press, many reacted with outcry, damning the title for "trivialising" a battle that had cost so much human life.
Rather than support the game on its artistic merits, Konami chose to downplay Six Days in Fallujah's aspirations. "We're not trying to make a social commentary," Konami told the Wall Street Journal as the controversy erupted. "We're not pro-war. We're not trying to make people feel uncomfortable. We just want to bring a compelling entertainment experience. At the end of the day, it's just a game."
Less than a week later Konami dumped the shooter entirely, leaving Atomic without a publisher. Tamte still bristles at the game's treatment. "For us, Six Days in Fallujah has always been much, much more than just a game," he says, "I am surprised by the large number of people in senior product positions in our industry who truly believe we sell nothing more than fancy toys."
This lack of understanding, coupled with financial and creative conservatism, is to the detriment of the industry. "Generally, I think the best decisions come from smart people arguing about tough stuff," says Tamte, "so a lot of the creative tension between publishers and developers is helpful. But the culture of most publishers is built on repeating what has already been successful. By definition, this eventually fails because new franchises are always created by offering something new."
It's not a situation that Tamte sees changing soon, either. "Unfortunately, publishers are getting even more cautious as games have become ridiculously expensive to build," he says.
So exactly how hard is it to get new, innovative games made in this environment? Nina Kristensen and Alex Evans, co-founders of Ninja Theory and Media Molecule respectively, are well placed to answer, their studios having earned a reputation for creating unique titles with strong support from publishers.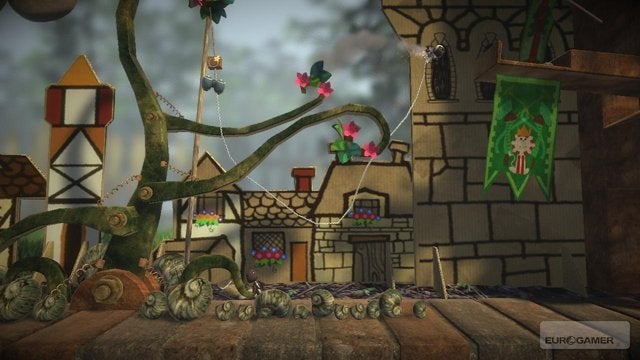 Kristensen believes that the right publishers are out there, and for an enterprising developer it's just a case of finding them. Ninja Theory secured funding for Enslaved unusually late in the development process for exactly this reason. After a long search for someone willing to offer the financial support and creative freedom they felt the game deserved, the developer ended up pairing with Namco Bandai. "If you're working on an original IP, a publisher is only going to sign up your game if they believe in its vision," says Kristensen.
Evans agrees. "For us, I think the success of our LittleBigPlanet pitch came down to the amount we had to show, and our experience, but above all, [then Executive Vice President of Sony Computer Entertainment Europe] Phil Harrison's receptiveness to our vision," he says, "He really got it straight away. We had the odd disagreement, as any passionate bunch will, but we couldn't have done it without his support."
Those disagreements Evans mentions are part and parcel of a fruitful creative relationship. "As long as it's a discussion, with both sides listening, it doesn't matter who wins in each particular battle," Evans says, "The relationship, and potential for antagonism, goes both ways. It's hard making games, and we have undoubtedly caused plenty of ball-ache for each other. But in the end, it's worth it," he adds.
For Kristensen, the problems only begin if the lines of communication are not established properly. It's then that devs are pushed into creating more formulaic experiences.
"It has to fit into their portfolio," says Kristensen, "if your game isn't an exact match you can get into the realm of being pressured to tick boxes. These things aren't terribly surprising but it does mean that you need to think carefully when picking your partners."
Will you support Eurogamer?
We want to make Eurogamer better, and that means better for our readers - not for algorithms. You can help! Become a supporter of Eurogamer and you can view the site completely ad-free, as well as gaining exclusive access to articles, podcasts and conversations that will bring you closer to the team, the stories, and the games we all love. Subscriptions start at £3.99 / $4.99 per month.