Crash Bandicoot 4: It's About Time officially announced with debut trailer
Mask on.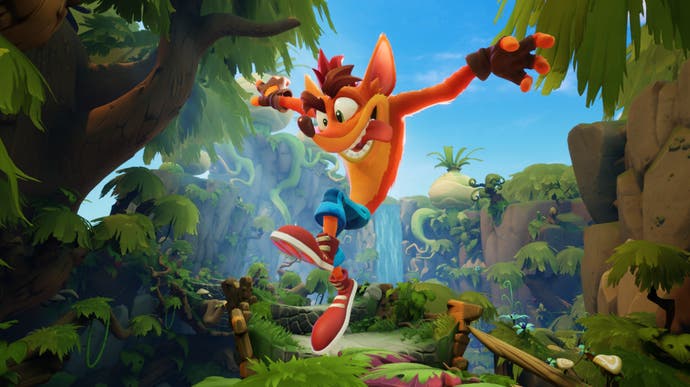 Activision has announced (officially this time) Crash Bandicoot 4: It's About Time - the first brand new Crash game in a decade.
Developer Toys for Bob said Crash Bandicoot 4: It's About Time is set after the end of the original Naughty Dog-developed Crash trilogy, when Neo Cortex, Dr. N. Tropy and Uka Uka were stranded on a distant planet, and features playable Crash, Coco and Neo Cortex, among others.
You can choose between playing as Crash and Coco at any time (both bandicoots share the same moveset). At some point you can play as Neo Cortex. The mad scientist uses inventions and a ray-gun, which has the ability to transmogrify hazards and enemies into platforms - a static, solid platform or a bouncy platform that gives him access to higher levels.
The game features four quantum masks scattered across the universe. The two unveiled now are the time mask and the gravity mask. The time mask grants the ability to slow down time to a crawl. The gravity mask lets the player flip the direction of gravity to, for example, walk on the ceiling.
You might have noted the new art style. Here's the official blurb: "Toys for Bob is excited to introduce a fresh visual direction for Crash that maintains the zany spirit of the franchise while also breathing unique personality and charm into it. Fans can expect wacky new worlds, lush epic vistas and an absurd variety of enemies and hazards."
Crash Bandicoot 4: It's About Time is due out 2nd October 2020 on PlayStation 4 and Xbox One. PC and Nintendo Switch versions were not mentioned.