Contraption builder Scrap Mechanic's very long-awaited Survival mode finally out in May
Base defence! Bad robots! Farming! More!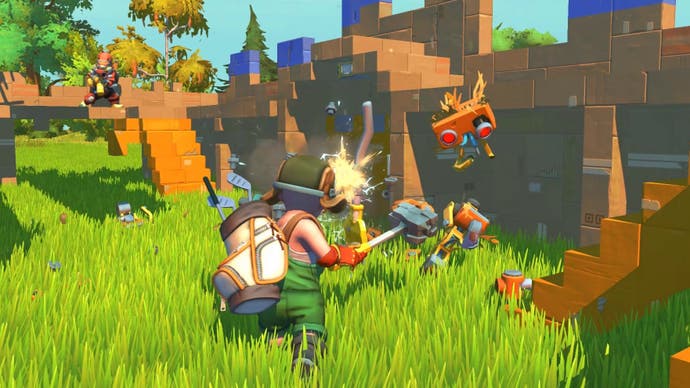 Scrap Mechanic, developer Axolot Games enormously enjoyable vehicle construction sandbox game, is finally getting its extremely long-awaited Survival mode next month, on 7th May, and there's a first look at its more structured hijinks in a brand-new trailer.
Scrap Mechanic initially entered Steam early access in 2016, and delivered a pleasingly flexible multiplayer sandbox experience built around the idea of constructing elaborate machines, be they vehicles or other oddities, from a core selection of building blocks and some surprisingly powerful tools - including the likes of pistons, thrusters, sensors, logic gates, and engines.
It's grown tremendously since its inception, introducing a whole range of new gadgets and elements to muck around with, but its long-promised (and only occasionally glimpsed) Survival mode has remained elusive for far too long.
Now, though, Axolot has given Scrap Mechanic's Survival mode the big ol' reveal treatment, and it's not hard to see why it required so much time.
Taking the machine building core of Scrap Mechanic's existing creative sandbox, Survival mode fashions a considerably expanded experience for players to sink their teeth into, introducing a massive new wildlife-populated open world to explore, and a wealth of new systems, from scavenging and crafting, to farming and cooking, even enemy encounters and base defence - all designed to make the most of Scrap Mechanic's contraption tinkering as players build traps and vehicles to best tackle the problems at hand.
I picked Scrap Mechanic up on a whim years ago now and had a tremendous amount of fun just tinkering around with its toolset, so I'm genuinely excited to see how successful the team's attempts to flesh that excellent core out into a more structured, fully featured experience will be. All should be revealed when Survival mode heads to Steam on 7th May.