Combat Arms
Hands on with the beta - and more keys for it.
Doobic has built a variety of styles of map, including all the settings you'd expect: depots with shipping containers, a rail yard, locations with a Middle-Eastern flavour. Walkways, ladders, sewers and crawl-spaces are all present and correct. The maps range from small (Junk Flea) to large-ish (Grey Hammer) in scale, and all are reasonably well-designed to channel you into a choke point charnel houses of flying grenades, whizzing sniper rounds and sprayed shotgun pellets.
The game does offer a vague scenario involving a post-Cold War world where a Union has been formed to "to bring back order and piece [sic] to the era of chaos", then collapsed, bringing about new conflict. But frankly, in fast-paced multiplayer-only gameplay, narrative is the last thing on your mind. The bottom line is that it's modern warfare, and it features all the old faves in terms of kit: AK-47. M16A4 and sundry assault rifles, hoses like the M60, SMGs like the Uzi, a variety of sniper rifles, grenades, and a knife to ger stabbed in the back with when you're trying to mind your own business with a sniper rifle.
There's even a LAW (lightweight anti-tank weapon), though sadly there are no vehicles in the game, unlike the closely comparable free-to-play modern warfare FPS, War Rock. However, it's with the kit that things get really interesting with Combat Arms. The aforementioned ace involves extensive gear-modding opportunities. The in-game currency is GP (Gear Points), which can be earned from kills and levelling up (from Private to General). This can then be spent in the shop on new scopes, larger clips, silencers and all the goodies you'd want, though you don't exactly buy gear, it's more a case of rental; the more you pay, the longer you have the item for. One nifty feature is that while you can only equip a primary weapon and a secondary weapon, you can also carry a third alternative in your backpack - so a load-out could feature an SR-25 sniper rifle and a G23 pistol, but also something a little more in-your-face like the MP5A4 SMG.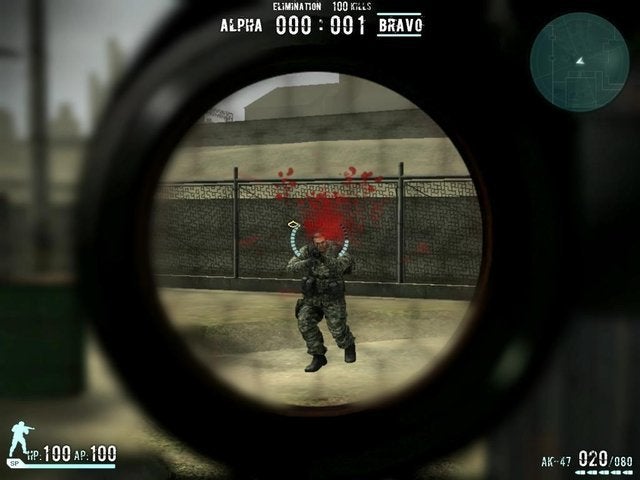 Now, we all know that free games generally involve some sort of revenue stream for the publisher, and such is the case here, where there's a "Black Market". Here you'll be able to buy items with real-world currency. Paid-for content in free games is notorious for creating a two-tier system, but Nexon are adamant that this won't be the case with Combat Arms. "Combat Arms is a skill-based FPS, so we take balance very seriously," its says earnestly on the game's site. "All weapons will be obtainable through in-game currency (GP). There will not be any super weapon that can only be bought for cash, meaning that even if you never buy anything from the Black Market, all weapons will still be available to you eventually." So what can you purchase with your hard-earned then? The functionality isn't live in the beta, but Nexon says Black Market goods "will primarily be cosmetic, convenience and community-based items - nothing that will unbalance the game."
Combat Arms is shaping up to offer some very nice, old-school FPS action, with meaty-feeling weapons and intense combat. It's no Call of Duty 4 - but Combat Arms is a freebie, so maybe we should give Doobic a little slack for bumping their foreheads on that high bar.
We have 10,000 more keys for the closed beta of Nexon's online FPS Combat Arms to give away. Head to the giveaway page to claim a key.
Will you support Eurogamer?
We want to make Eurogamer better, and that means better for our readers - not for algorithms. You can help! Become a supporter of Eurogamer and you can view the site completely ad-free, as well as gaining exclusive access to articles, podcasts and conversations that will bring you closer to the team, the stories, and the games we all love. Subscriptions start at £3.99 / $4.99 per month.