Clive Barker's Jericho
Knee deep in the dead.
Pity the poor publisher which tries to sell a first-person shooter right now. At a time when gamers are positively drowning in 10/10 games in the shape of Bioshock, Halo 3, the five-pronged Orange Box (and another half dozen highly impressive also-rans), anything that's scoring less than a 9 is likely to get short shrift from anyone with a wallet. Either Codemasters is supremely confident about Clive Barker's Jericho, or someone forgot to look at the release schedule.
And you know what? If Jericho sinks without trace, it won't be because the game didn't offer something new and inventive. Spanish developer Mercury Steam has evidently put a huge effort into differentiating the game from the tired masses of done-to-death sci-fi and military-themed titles, and deserves a lot of credit for that - even if sometimes the actual execution leaves a little to be desired.
The core premise for this squad-based horror title is to see off an ancient evil that has "broken through into our world". As with all ancient evils, it's, mwhahaha, determined to "spread its taint across the whole of the earth". Sent into 'ground zero' in a Middle Eastern city is a secret seven-man strike force called Jericho, which "protects government interests from paranormal threats". Schooled in arcane arts and military savvy, each member of the team has his or her own para-psychological speciality, and carries their own specific weaponry with which to take out the dark denizens that await.
Halls of the damned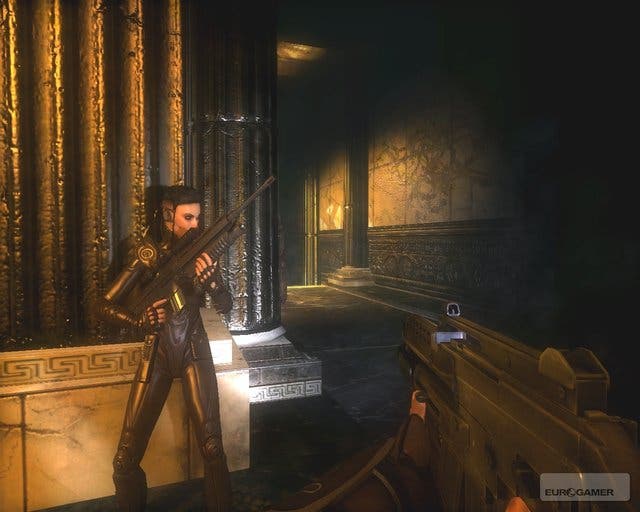 To begin with, you control generic grizzled squad leader Captain Devin Ross through the ruined streets of Al-Khali - a city destroyed by a massive sandstorm. With suspicions running high that a former Department of Occult Warfare agent known as Arnold Leach is behind the storm, you spend the first few hours of the game trudging through the doomed city in search of evidence of paranormal activity. Certainly, for the first six chapters or so, it's hard to find anything special about Jericho apart from a decent game engine. It really struggles to get into its stride, coming across as little more than a gory, overly linear fantasy shooter with gruesome enemies and the novelty value of fighting alongside six squad-mates.
But if you stick with it beyond the dreadfully tiresome early levels, something entirely unexpected happens in the plot (which we won't reveal here), and the game goes from boring, linear trudge through predictable encounters armed with an assault rifle, to gradually giving you an assortment of toys which freshen up the gameplay no end. The main change that we don't mind spoiling for you is how the game suddenly turns into a proper squad-based shooter, as opposed to a game where you and a bunch of other guys in black coats and American accents run around shooting scary monsters.
Okay, so that's still true when the game suddenly gives you the ability to play as the squad member of your choosing at any given moment (by cycling through a menu via the d-pad), but what soon becomes apparent is the dramatic impact each member's special abilities have on the amount of fun you'll have with the game.
Slough of despair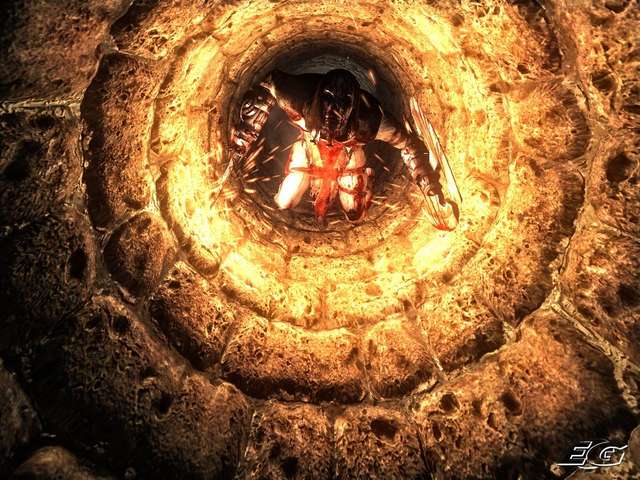 Take Lt. Black, for example. Armed with a sniper rifle, she boasts the rather nifty ability to telekinetically steer her bullets in slow-motion to their destination, and - better still - strike up to three targets with a single shot. Admittedly, games like Stranglehold have already allowed you to steer a bullet to its target, but Jericho manages to make the sickening process of popping demon skulls that little bit more satisfying. And then there's 'reality hacker' Corporal Cole, with her terrifically useful ability to slow down everything around her for a brief period - allowing her to get the jump on enemies and either pump them full of lead before they get a chance to attack, or throw a few well-placed grenades and leg it before time returns to normal speed.
Elsewhere, you can call on Sgt. Church with her blood magic abilities, which not only allow her to drain energy from any enemies in the vicinity by slicing into her own hands, but also set up a 'fire ward', which effectively sets any enemy on fire for a few crucial seconds. Not only does this help drain the energy of any incoming hordes, you can finish them off easily with your sword, which is nice. And while we're talking about fire, Sgt. Delgado's usefulness as a heavy weapons specialist is aided no end by the ability to unleash "creatures of living flame" - effectively parasites that reside in his arm, while he can also shield himself from fire and, you know, burning hot lava, because he's that hard. Cool wet grass cool wet grass...
And for the sake of completion, Captain Jones' ability to project himself into another host's body offers a new neat moments later in the game - even if, in general he's the least useful character alongside Father Rawlings - a 67-year-old pistol-wielding man of the cloth whose main talent is healing the rest of the squad en masse, as well as being able to inflict an energy-draining curse on enemies.
The shores of hell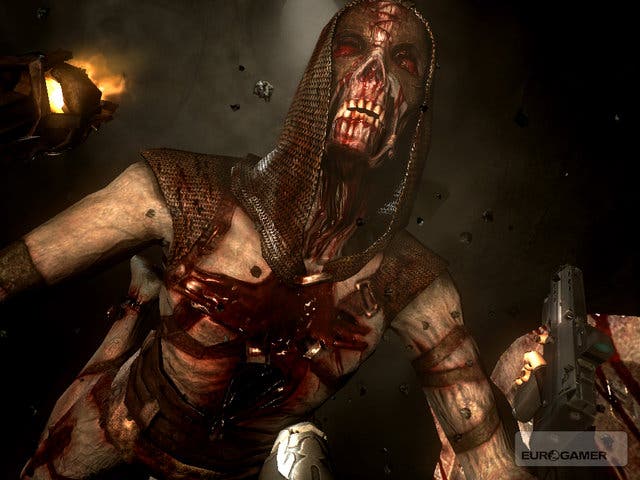 So, at the risk of sounding like the game manual, these abilities go some way towards making the gameplay very different from your average run and gun. The difficulty you might have to begin with is realising the importance of utilising these abilities as often as possible. Played as a standard shooter, it's quite likely you'll find yourself utterly overwhelmed by the speed and ferocity of the enemies that pour towards you. Merely emptying clip after clip into their fleshy innards isn't good enough to see off the odd one or two enemies - and backing away all-guns blazing only works if you're vigilant enough to remember to have reloaded, while also lucky enough not to have something else chasing you down.