Cliff Bleszinski announces closure of LawBreakers developer Boss Key
Radical Heights "too little too late".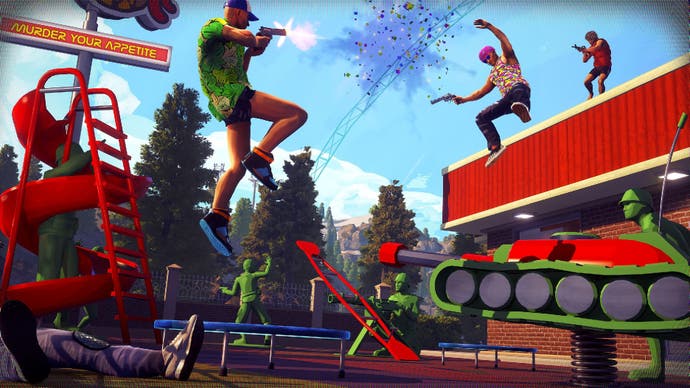 LawBreakers and Radical Heights developer Boss Key is closing its doors, according to a statement from studio co-founder Cliff Bleszinski on Twitter.
"As of today, Boss Key Productions is effectively no more", the statement reads. "Four years ago I set out to make a world class video game studio and I hired some of the best talent in the videogame industry. They worked tirelessly to produce quality products and, while we had our ups and downs, I'd like to think we had fun doing it."
Boss Key's first game, hero shooter LawBreakers, launched last August to solid acclaim but, as Bleszinski puts it, "failed to gain traction".
Despite low players numbers, Bleszinski initially remained optimistic about LawBreakers' future, telling Eurogamer in September that "We're going to continue to raise awareness, continue to support the product - if you look at the phenomenon that was League of Legends, it built off a Warcraft 3 mod then slowly but surely blossomed into this immense amazing thing".
Unfortunately, LawBreakers never found the success that Bleszinski sought and, shortly after publisher Nexon reported a $32.6m expenses hole as a result of the game's underperformance, Boss Key confirmed that it had moved onto "other projects".
"The fact is," the studio explained at the time, "LawBreakers failed to find enough of an audience to generate the funds necessary to keep it sustained in the manner we had originally planned for and anticipated". To that end, Boss Key revealed that it had "been working on something new and we can't wait to share more about it!".
That happened only a few days later when the studio unveiled Radical Heights, an 80s-themed free-to-play Battle Royale experience that launched in a notably early state of development - what Boss Key called "X-Treme Early Access". Unfortunately, Radical Heights proved to be, according to Bleszinski, "too little too late".
Bleszinski says that he now plans to "take some time off and reflect" following Boss Key's closure, "Video games will forever be a part of who I am and I hope to make something new again someday, however, I need to withdraw and take this time."
"To those of you who have supported myself and the studio these last four years," the statement concludes, "THANK YOU from the bottom of my heart and everyone who came to work for me."
Bleszinski notes that the Radical Heights servers "will remain up for the near future".