Check out playable Shuhei Yoshida in Super Time Force Ultra
Journey's traveler and The Order: 1886's Sir Galahad also appear.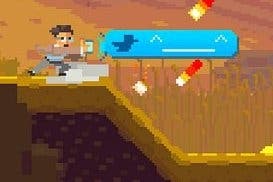 The PS4 and Vita versions of Super Time Force Ultra are getting some exclusive Sony love in the form of playable characters.
Chief among these is president of Sony Worldwide Studios, Shuhei Yoshida. As detailed on the PlayStation Blog, Shu will be armed with a weaponised smartphone and "relentlessly positive tweet rockets".
Furthermore, these PlayStation ports will get Journey's nameless traveler and The Order: 1886's Sir Galahad. The former will use their scarves and agility to slink through the game's mad fourth dimensional war, while the latter will be armed with a Luger pistol and arc rifle.
Super Time Force Ultra will launch on PS4 and Vita "very soon," where it will be a Cross-Buy title across both platforms.
Our Chris Donlan likened the original release of Super Time Force to "the last 30 minutes of Bill & Ted's Bogus Journey folded in on itself and then set ablaze" in his Super Time Force review. He recommended Capybara Games' latest, which he noted has "seriously elegant design".