Celebrate Pokémon Day with 25% off merch and accessories at the Nintendo Store
Plus a huge Pokémon prize draw!
Now that we know all about the upcoming Pokémon Sword and Shield thanks to today's welcome but brief Direct broadcast, the Official Nintendo Store is looking to capitalise on the excitement by offering a whole range of Pokémon goodies at 25% off.
Perhaps the most timely of these deals is this Pikachu-themed Nintendo Switch Battle Pad for £18.74. One for the Smash Bros. Ultimate players out there, this version of the classic Gamecube controller is fully compatible with the Nintendo Switch and plugs straight into the USB port on the console.
Sticking with the Nintendo Switch, you can also get a couple of carry cases as part of the sale. There's the Pokémon: Let's Go, Pikachu and Eevee Hard Pouch for £14.99 or the Poké Ball Hard Pouch for £14.99 too.
---
Even more Switch offers can be found over at Jelly Deals. Give us a visit to find the best power bank for Nintendo Switch, the best value SD card for Nintendo Switch and our top picks if you're after the best Nintendo Switch Lite case for your new console.
---
Meanwhile, multiple plushies are up for grabs if you'd like to show off your initial Pokémon choice from the classic games. There are Squirtle, Charmander and Bulbasaur soft toys with bonus Poké Balls all available for £17.24. Yeah, shout about the fiery dragon all you want but Bulbasaur is clearly the correct choice here.
As you scroll further down the list of offers you'll find a healthy range of clothing options available as well, including the Pikachu All Over Jumper for £22.49, Pokéball Snapback Cap for £11.24 and Trainer Socks for £4.49.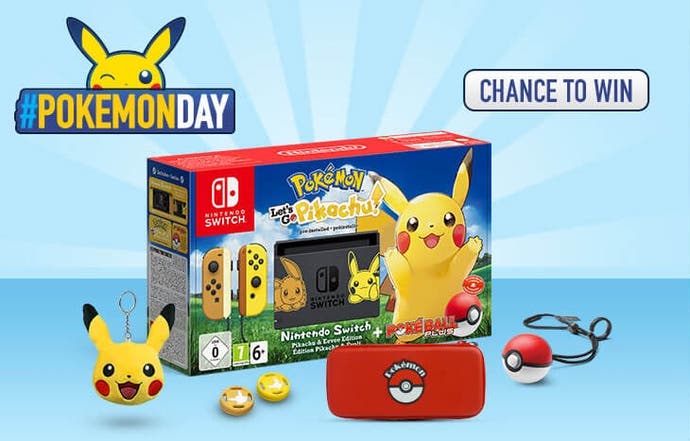 Elsewhere on the Nintendo Store today, you can enter a prize draw to win a bumper Pokémon goodie bag. Chuck in your email for a chance at catching a Nintendo Switch Pokémon Let's Go! Pikachu Edition, Nintendo Switch Poké Ball Hard Pouch Case, a Pikachu keyring and a set of Pokémon-themed analog thumb caps.
Good luck!