Castle Crashers tumbles onto Steam
System requirements detailed, announcement poem within.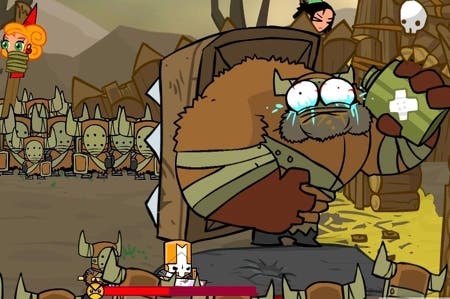 Co-op beat-'em-up Castle Crashers is coming to Steam, developer Behemoth has announced.
To commemorate the occasion, Behemoth's art director Dan Paladin wrote a poem about it where he noted the uncertain release date along with its Gamescom appearance.
"While BattleBlock has been churning, there's another wheel turning! And that wheel is Castle Crashers running on Steam!"
"It was accomplished by utilizing one of our programming teams! We always liked this platform so it's kind of a dream!"
"I'd say a release date but the future's unknown. If I make a mistake I shall never atone."
"If you're in Germany this weekend please say hi to John. He is presenting our Steam game at Gamescom. If you're extra nice maybe a hands on!"
"Schnell! Schnell! And Fare thee well!"
The Steam version of the wildly popular 2008 XBLA game will contain such features as:
Integrated voice chat
Steam Achievements
Gamepad support
Steam Cloud Support
Local and online multiplayer
Colourful hand drawn 2D visuals
Over 30 levels plus five arena modes
More than 25 characters and 40 weapons
Intuitive combo and magic system: Unlock an arsenal of new attacks as your character progresses through the game
Experience system: Level up your character and adjust Strength, Magic, Defense, and Agility
Animal orbs that add different abilities to aid you on your journey
Arena mode allows you to battle in free-for-all or team matches with four unique modes to choose from
Insane Mode
The minimum system requirements are as follows:
OS: Windows XP / Vista / 7 / 8
Processor: Dual Core Processor 2GHz+
Memory: 1GB
Hard Disk Space: 300MB
Video Card: Graphics: 256 MB dedicated directx 9.0c compatible card
Sound: DirectX 9.0 compatible sound card
Behemoth is currently hard at work on the much delayed multiplayer party game Battleblock Theatre, which Rich Stanton previewed a year ago after it had been pushed back into 2011.