Capcom/Sega/Namco crossover Project X Zone's demo is out now on the 3DS eShop
Another demo due in late June.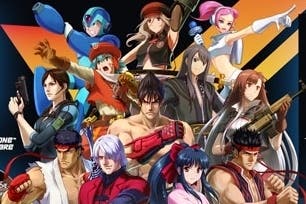 Project X Zone - the mammoth tri-publisher crossover between Capcom, Namco and Sega - has debuted its first demo on the European 3DS eShop.
The initial demo, "Lethal Surprise," is set in Sakura Wars' Imperial Theater stage and it features characters from Sakura Wars, Cyberbots, Space Channel 5 and Valkyria Chronicles.
Additionally, a second demo entitled "Dark Hours" has been announced for 27th June. It will be set in a Ghosts 'n Goblins-based stage.
Neither demo has been announced for North America, possibly to make up for the fact that Project X Zone comes out a week earlier over there on 25th June rather than Europe's 5th July.