Monster Hunter World: Iceborne dev video shares fresh info, teases Brachydios' return
Customisable rooms! Auto-difficulty-scaling! Hot springs sexiness!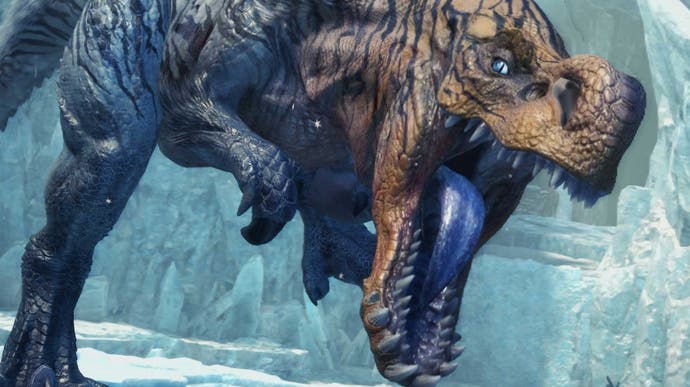 There may still be a few months to go until the release of Monster Hunter World's snow-themed Iceborne expansion, but that hasn't stemmed the flow of information spewing out from Capcom's enthusiastic maw. And we now have a whole bunch of new details to ponder over, courtesy of Iceborne's latest trailer and developer diary.
For long-time Monster Hunter fans, perhaps the most exciting revelation in Iceborne's new trailer is the tease that classic phallus-headed foe Brachydios, last seen in Monster Hunter Generations, is set to make a return in September's expansion.
Unfortunately, Capcom is remaining tight-lipped as far as any further Brachydios details go right now, although its latest developer diary does offer more concrete information on other new monsters heading to World as part of the Iceborne expansion.
First up is Glavenus, returning from Monster Hunter Generations with its fearsome sword-tail in tact - and who'll apparently receive new moves "fitting of Monster Hunter World".
Iceborne also introduces two new subspecies of existing World behemoths: there's the tiny-winged Fulgur Anjanath, a lightning-themed variant that's able to charge its body with electricity to strengthen its attacks, and the Ebony Odogaron, which has an affinity to the dragon element and is in a constantly powered-up state. Its new attacks feature a wider range.
Away from the new monsters, Capcom's latest developer diary also goes more in-depth about the new Gathering Hub, Seliana, located in Hoarfrost Reach. As you'll no doubt have spotted from the trailer, it's distinctly themed around a cosy group of hot springs. Here, hunters can relax beneath the water in full garb, or strip down to their delicates for a more immersive (and possibly more erotic) experience.
The area also contains an interactive sauna and foot baths, and there are new gestures for each, including floating and splashing, for a touch more interactivity.
Notably, the new hub has been designed for increased accessibility, moving all resources that hunters are likely to need between quests much closer together, making for a more streamlined, less faffy experience. There's still the occasional loading screen, but the smithy can now be accessed directly from hub (and layered gear can be changed), as can the resource centre, botanical research facility, canteen, and more.
Seliana also features its own hunter's room, which can now be fully customised. It's possible to switch a room's theme, its furniture, and its wallpaper, giving a greater sense of personalisation. New furniture can be gained by completing quests and deliveries (with more coming post-launch), and although positions can't be altered, each furniture type features a selection of colours and patterns to choose from. Capcom says it's adding the ability for friends to visit each other's rooms after Iceborne's release.
In the interim, hunters keen to show off their fancy digs might choose to take advantage of Iceborne's new View Mode. Accessible from the Start Menu, this enables players to freely move the camera around to take snapshots of memorable locations or moments. You're even able to change your pose ready for your photo, with new poses promised alongside the more movement-based existing gestures.
Elsewhere, Iceborne will introduce a new Squad Card feature to complement existing Guild Cards. These include details about a squad and can be created by squad leaders to send to others. The idea, says Capcom, is that recipients can check out squads in their own time and decide which is best for them. Additionally, squads will gain sub-leaders, who can also send out Squad Cards, accept requests, and edit squad emblems.
Once on a quest, hunters will be able to benefit from a brand-new difficulty setting. Come Iceborne's arrival, the current solo and multiplayer difficulties will be joined by a third designed specifically for teams of two players. Notably, difficulty will also scale up and down automatically as players join and leave parties.
Additionally, Iceborne will feature new Palico gadgets, including a decoy Shieldspire Stooge, a jar-like canon that shoots firebombs known as the Meowcano, and an enhanced Vigorwasp, cable of reviving players immediately in the middle of battle if they faint. High rank versions of the Plunder and Track gadgets are also promised.
Lastly, Capcom has shared word on multiplayer compatibility between the core Monster Hunter World experience and the new Iceborne expansion. Essentially, everyone can still play together, regardless of whether they own Iceborne - although only Iceborne owners can embark on the expansion's quests. Additionally, the publisher notes that Iceborne owners will be able to use all new expansion mechanics, even if they haven't finished the core game and can't enter Hoarfrost Reach as yet.
Monster Hunter World: Iceborne comes to PS4 and Xbox One on 6th September, and is scheduled to arrive on PC at a later date.