Capcom reveals Ada Wong's new look for the Resident Evil 2 remake
Eye spy.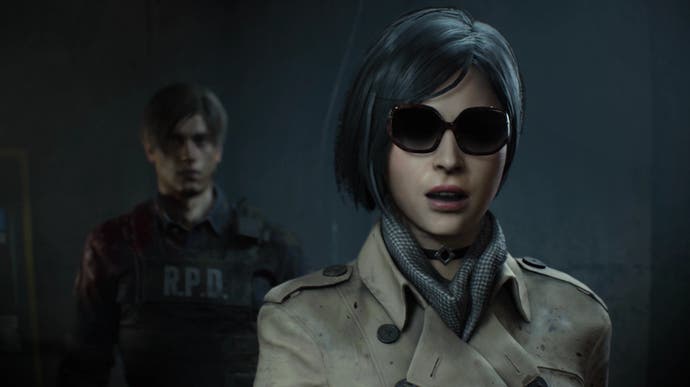 Capcom had teased a new look for fan-favourite character Ada Wong in the Resident Evil 2 remake. Now, to coincide with the Tokyo Game Show, the company has pulled back the curtain on her design for the upcoming game.
In the original Resident Evil 2, mysterious spy Ada Wong wore a red dress and high heels. In the Resident Evil 2 remake, however, she wears a beige trenchcoat and, criminally, sunglasses indoors.
Wong appears during Leon's path through the game (the Resident Evil 2 remake includes two campaigns: one for Leon and one for Claire). The video, below, shows the pair chatting as they fend off the zombie threat in the remains of Raccoon City.
At gamescom in August, director Kazunori Kadoi told Eurogamer's Aoife Wilson that Capcom ditched Ada's red dress for the Resident Evil 2 remake because it wasn't realistic.
"It goes back to the same thing of, what would look natural to be wandering around in a photo-realistic environment in?" Kadoi said.
"I think wandering around in that dress just getting on with your job as a spy probably doesn't look as realistic and believable as we want in this new game."
The Resident Evil 2 remake comes out 25th January 2019.