Capcom replaces Hong Kong flag with China flag for new Nintendo Switch game
History buff.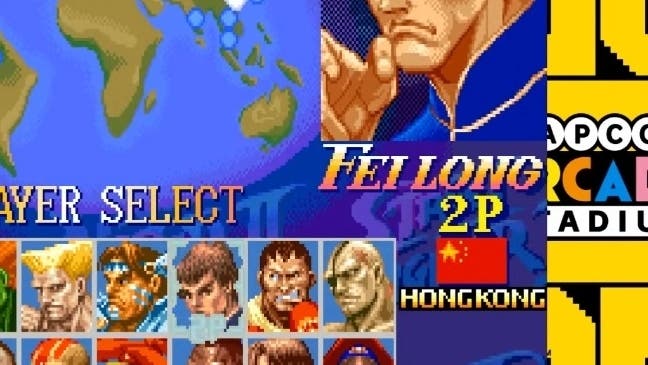 Capcom has replaced a Hong Kong flag with the China flag in a new Nintendo Switch game.
The recently-released Capcom Arcade Stadium includes a compilation of classic Capcom games, one of which is Super Street Fighter 2 Turbo.
Super Street Fighter 2 Turbo, which first launched in 1994, includes a Bruce Lee-inspired character called Fei Long who hails from Hong Kong.
In the game's character select screen, national flags are displayed to represent where the selected character comes from. In the original Super Street Fighter 2 Turbo, Fei Long's flag is the British Hong Kong ensign. This was later changed for subsequent versions of the game to the Hong Kong flag following the transfer of sovereignty in 1997.
The Hong Kong flag was then changed to the China flag for the 2018 release of Street Fighter 30th Anniversary Collection. And it has now also been changed for Super Street Fighter 2 Turbo's inclusion in Capcom Arcade Stadium, as noted by Twitter user Pomegd:
You can also see the flag in the video below, from dogmakazami on YouTube (skip to the 14 mins mark):
We've asked Capcom for comment.
China's influence over video game content and the actions of publishers has hit the headlines in recent years, most notably when Blizzard suspended professional Hearthstone player, Blitzchung, for expressing his support for Hong Kong on the Hearthstone Grandmasters stream.
As a result, long-time players threatened to boycott Blizzard games and employees staged walkouts with umbrellas, a key symbol of resistance in the Hong Kong protest. United States senators, Ron Wyden and Marco Rubio, as well as representatives Alexandria Ocasio-Cortez, Mike Gallagher and Tom Malinowski, signed a letter to Blizzard, requesting the ban be fully reversed.
In Hong Kong, anonymous developers were inspired to make games about being at the frontline of the protests against the barrage of attacks by the riot police.
In 2020, Animal Crossing New Horizons was banned in China after it became a haven for Hong Kong protesters. Players used it to host pro-Hong Kong signs and share designs for anti-Chinese protest clothing.
Superb horror game Devotion, developed by Taiwan studio Red Candle Games, launched on Steam in the spring of 2019, but after it was found to contain an unflattering reference to China's president, Xi Jinping, it sparked an outcry among Chinese players that led to the withdrawal of its Chinese distributors, the closure of Red Candle's account on Weibo, one of China's largest social media platforms, and the removal of the game from Steam. Check out our fascinating interview with Red Candle about what went down with Devotion, courtesy of writer Edwin Evans-Thirlwell, for more.
And, more recently, monster hit Genshin Impact censored a number of words, including Taiwan and Hong Kong. Genshin Impact is developed by Shanghai-based studio miHoYo.
The Hong Kong flag isn't the only change made to Street Fighter in Capcom Arcade Stadium. As Pomegd tweets, the Rising Sun design on the back wall of E. Honda's stage has been removed. The Rising Sun design is controversial for its use by Imperial Japan.
As many have pointed out, Street Fighter in Capcom Arcade Stadium continues to use the USSR hammer and sickle flag for Zangief.