Call of Duty's free-to-play battle royale mode Warzone officially detailed, out tomorrow
And there's early access for Modern Warfare players.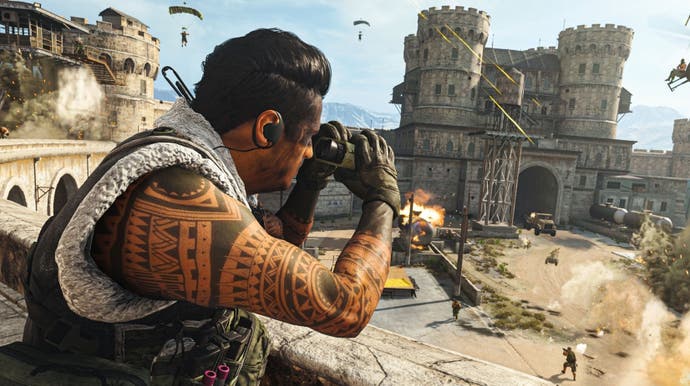 Following its premature unveiling via YouTube mishap earlier today, Activision has now formally detailed its free-to-play Call of Duty battle royale experience, known as Warzone, which launches tomorrow on PlayStation 4, Xbox One, and PC.
Warzone will feature two distinct play modes at launch: Battle Royale and Plunder. Battle Royale follows the usual last-man-standing formula, with 150 players in teams of three attempting to take out the opposition in a steadily shrinking play area, this time courtesy of a cloud of deadly gas. Plunder, also playable in three-person squads, is a race collect the most in-match Cash by looting the map, robbing downed enemies, and completing in-match Contracts.
A squad can have one Contract active at any time, with Scavenger Contracts challenging players to find and open a series of Supply Boxes, and Recon Contacts requiring players to secure a specific location. Alongside Cash (which can be used to purchase beneficial items from Buy Stations in Battle Royale mode), competing Contracts will provide loot and special rewards, such as the ability to see the next circle collapse location ahead of time.
Both Warzone modes utilise the same "expansive" Verdansk map, which, as outlined in Activision's blog post reveal, features "multiple named zones and well over 300 points of interest". Those looking to get around Verdansk in style can make use of a range of vehicles, including two-seater ATVs, four-seater Tactical Rovers and SUVs, Cargo Trucks, and helicopters.
According to Activision, Warzone will share Call of Duty: Modern Warfare's cross-play and unified progression systems, meaning Modern Warfare players will be able to carry all Battle Pass items, Operators, weapons, and customisation items over to Warzone, while all progress and items earned in Warzone can be carried over to Modern Warfare's multiplayer and Special Ops should players decide to purchase the full game at a later date.
The standalone, free-to-play version of Call of Duty: Warzone will be available on PS4, Xbox One, and PC from tomorrow, 10th March, at 7pm GMT/12pm PDT. Modern Warfare players can get stuck in a little earlier when the mode unlocks at 3pm GMT/8am PDT.