Call of Duty: Ghosts' second DLC pack, Devastation, due next month
Xbox Live users can try Ghosts' multiplayer free this weekend.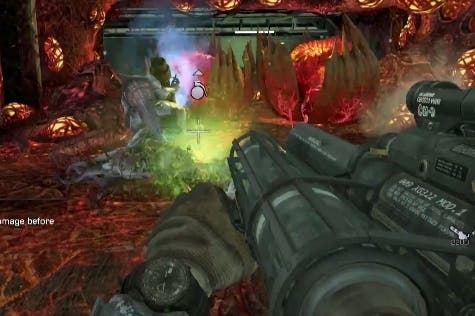 Call of Duty: Ghosts' second DLC pack, Devastation, will launch on 3rd April, exclusively on Xbox Live.
This second exapnsion will contain four new multiplayer maps along with Mayday, the second chapter of the aliens-based sci-fi story arc Extinction. This time out there will be a 100-foot tall boss called the Kraken.
Of the four new maps included in Devastation, Ruins is set atop a Mayan temple and focuses on long-range combat, Collision is set in a container ship pinned under a collapsed bridge in New York, Behemoth is set in an excavation platform in South America, and Unearthed is a remix of Modern Warfare 3's Dome map, in which players navigate an compact alien artifact dig site.
Today Season Pass holders on Xbox Live will also be able to download the new tactical 2-in-1 weapon, the Ripper, which can transform from a sub-machine gun to an assault rifle.
Get a glimpse at these new maps, Mayday, and the Ripper in the new Devastation trailer below.
Xbox Live users curious about Call of Duty: Ghosts will be able to try out its multiplayer for free this weekend in a demo running from 7th - 10th March. This demo will include three multiplayer maps (Strikezone, Warhawk, and Prison Break), three multiplayer modes (Team Deathmatch, Domination and Search & Rescue), and the original Extinction game mode, Point of Contact. This marks the first time Call of Duty multiplayer has ever been free to try, even if it only lasts for three days.
Inevitably Devastation will make its way onto PlayStation consoles and PC, but no release date has been announced. Like the previous Ghosts expansion, Onslaught, Devastation will cost $14.99 (about £11.59) ala carte, and it's included as part of the game's Season Pass (which retails for £34.99/ $49.99).