Call of Duty Black Ops 4's second beta includes new cash-snatching multiplayer mode Heist
Available to play from today.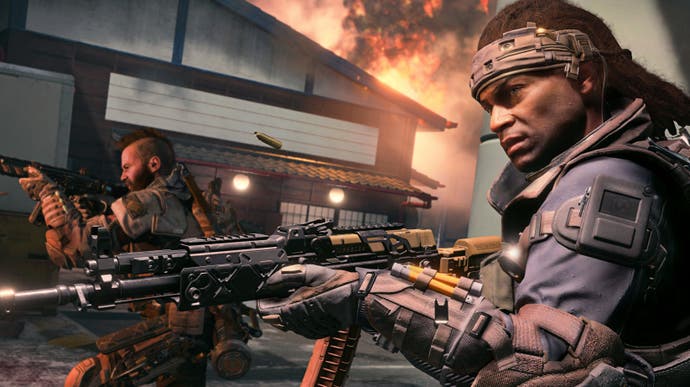 Developer Treyarch has unveiled Heist, a brand-new mode for Call of Duty Black Ops 4, which will be making its debut as part of the game's latest beta on Xbox One, PC, and PS4.
As it happens, there's very little time to wait until Black Ops 4's latest beta gets underway. This, the second beta weekend for PS4 players, and the first on Xbox One and PC, kicks off today, August 10th, at 6pm BST/10am PT on all platforms. It comes to an end on August 13th at 6pm BST/10am PT. On consoles, you'll need a pre-order to play.
Do note, however, that things are operating a bit differently on PC; those that have pre-ordered the game get a 24-hour head start and can play from today, while absolutely anyone can participate from tomorrow, August 11th at 6pm BST/10am PT, as part of the battle.net open beta. More details on how to get involved can be found on Activision's blog.
Black Ops 4's latest beta will include Team Deathmatch, Domination, Hardpoint, Search and Destroy, and Control modes. So far, so familiar, but new this week is Heist, which Treyarch describes as a balance between a party game and a deeper, more tactical competitive experience. It sets two teams of five players the task of locating a single bag of cash then transporting it to an extraction point, and lasts multiple rounds.
In Heist, health and ammo are limited, players only have one life (although they can be revived when initially downed, as in Black Ops 4's new battle-royale-style Blackout mode), and existing loads-out are forbidden from play. Instead, all participants begin with a lowly pistol, and can use the cash they rake in to purchase more powerful gear, weapons, and perks during a game - which should offer some tactical flexibility.
Treyarch's second beta will also introduce a raft of tweaks and changes across all areas of play - including spawns, movement mechanics, and weapons - based on feedback from last week's PS4 beta, as is more thoroughly discussed in the developer's latest livestream above. You'll also find some Heist footage around the 21-minute mark.
And if you need a reminder, Call of Duty: Black Ops 4 launches on October 12th on PC, PlayStation 4, and Xbox One.