Call of Duty: Black Ops 2 Multiplayer playable at Eurogamer Expo
COD almighty.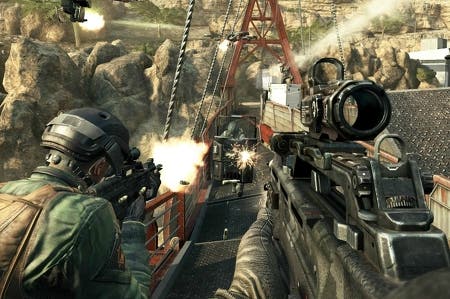 Fans of streaking rejoice! We're very happy to reveal that Call of Duty: Black Ops 2 Multiplayer will be playable at this year's Eurogamer Expo.
Yes, from 27th-30th September at Earls Court in London, you will be able to check out Treyarch's latest take on classic Call of Duty combat for yourself, and inspect new elements like score streaks and the developer's emphasis on eSports.
Tickets for the Eurogamer Expo are available now at www.eurogamerexpo.com, and while we recognise there are certain people who will only want to play Call of Duty, we're also pleased to have a lot of other things for you to check out.
On the show floor you can expect to play a huge range of this year's (and next year's) biggest games, including Assassin's Creed 3, Company of Heroes 2, Dishonored, FIFA 13, GRID 2, Halo 4, Metal Gear Rising: Revengeance, Need for Speed: Most Wanted, PES 2013, Resident Evil 6 and Tomb Raider.
There are still a bunch of developer sessions to announce, meanwhile, but we've already revealed that Hideo Kojima (Kojima Productions), Frank O'Connor (Halo 4), Criterion Games (NFS Most Wanted), Peter Molyneux (22 Cans) and a bunch of others are part of the line-up. We'll be able to reveal more later this week.
Plus, we're also hosting an expanded Indie Games Arcade, there's the GamesIndustry Fair and Career Sessions, and a bunch of other satellite events - including the Eurogamer and StickTwiddlers After Party on Saturday - to get involved with.
If you're going, we'll see you there. And if you're going and you play Call of Duty against us, we'll get shot by you in the head.