Buzz! Brain of the UK
Buzz off.
Buzz! did well for Sony during the PS2 era, the family quiz game selling bucket-loads and holding strong positions week after week in the UK charts. Moving on to PS3, Sony needed developer Relentless to harness the new generation's potential - wireless, online, pure grunt - quickly and effectively to push the console into the arms of an audience out of Microsoft's reach.
Buzz! Quiz TV, released in the middle of last year, was up for the challenge, and planted a seed ready to be nourished by Sony and the community until it grew into a fabulous online quiz flowerbed. Bouquet. Whatever. But despite a spattering of DLC packs and a Special Edition release last Christmas, the buds never opened.
So along comes Buzz! Brain of the UK - the relaunch on home turf, perhaps. Inside are 4000 questions about our funny-shaped island, where people drink tea, don't talk about sex, drink beer, don't talk to each other, drink gin, and apologise excessively. Questions all fall into existing categories. Where is this? That's Bath. Who drinks in the Nag's Head? Rodney Trotter. Press the buzzer when you see the Chancellor of the Exchequer. Where would you find someone wearing a sporran? Something about Wales. Something about Emmerdale. The Royal Pavilion in Brighton (represent). And so on.
Buzz - the eponymous host, voiced by Jason Donovan - has had a bit of a makeover, too, especially for you. He's wearing a Union Jack suit, and makes jokes in regional accents, the xenophobe. "It's all gone Pete Tong!" Finally, rounding off the new bits are flags for England, Scotland and Wales. Apparently Northern Ireland doesn't matter.
That's all very nice, but Buzz and his accents are actually pretty annoying, and his lips don't appear to have been re-synced to match his new way of speaking. And although 4000 is a lot of questions, they seem to lean heavily towards pop culture and sometimes veer off-region entirely, asking about Dutch Djs, or which picture displays the construction that borders Arizona and Nevada.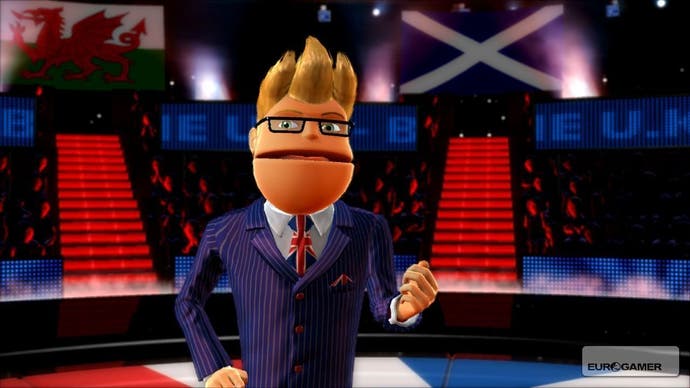 But really, the crux of the matter is that there's nothing else. Where are the new rounds, the new mechanics, the new features? How about having a big red London bus driving to locations we have to identify? Why can't we try and decipher thick Glaswegian or Mancunian or Geordie or Welsh or you-name-it accents? Why can't we throw tea over other contestants? And why isn't it raining? Perhaps these are rubbish ideas, but they are more ambitious than anything in Brain of the UK.
So really it's nothing more than a question pack, and our conundrum becomes one of value. Compared with the eleven packs of Buzz! DLC, which range from GBP 4 to GBP 6.50 and contain only 500 questions each, Brain of the UK's prospects look good. But would you really spend 20 pounds on DLC? Have you really exhausted the existing Buzz! Quiz TV questions? Can't you think up any of your own?
Buzz! Brain of the UK can be played whether or not you own Buzz! Quiz TV, but Sony no longer bundles wireless buzzers with Buzz! releases, which means forking out a further 30 quid if you don't already own a set. Consider that Buzz! Quiz TV - complete with buzzers - can be picked up for less than that (the nicely-boxed Special Edition is only GBP 35 on Amazon for some reason), and the idea of buying separate peripherals for Brain of the UK becomes ridiculous. If you already own a set, go back to the argument in the paragraph above.