Build your own Telltale Games bundle at Humble this week
Up to 80% off.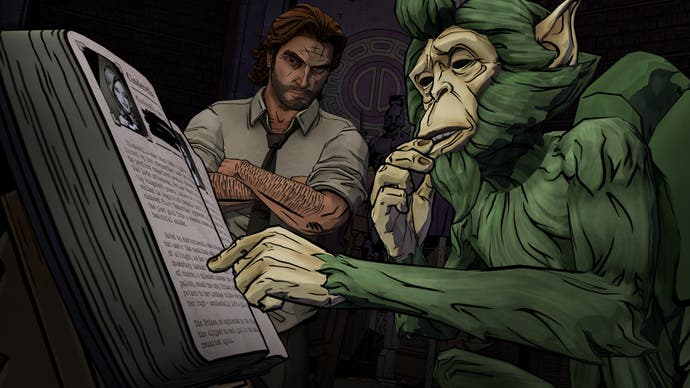 Fresh from the news that Telltale Games is finally doing away with its functional but rather ancient gaming engine, the folks at Humble thought it was a good time to give you the chance to reacquaint yourself with some of the company's titles.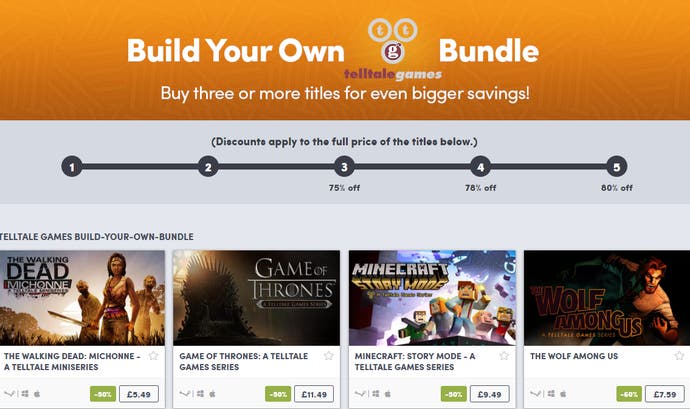 With that in mind, this week you can head to Humble Bundle and build your very own Telltale Games bundle, picking up to five games from a selection and getting an increased discount as you add more - up to 80 per cent off when you pick up five titles.
The range includes the still-fantastic The Wolf Among Us, in case you haven't managed to get this game by now, as well as the rather under-represented Puzzle Agent games - two of Telltale's lesser-known early games that take inspiration from Twin Peaks, Fargo and Professor Layton and present them as ultra-quirky small-town mystery thrillers.
The range to pick from is as follows:
The Walking Dead - Michonne
Game of Thrones
Minecraft: Story Mode
Minecraft: Story Mode Adventure Pass
The Wolf Among Us
Tales of Monkey Island Complete Pack
Tales from the Borderlands
Back to the Future: The Game
The Walking Dead
The Walking Dead Season 2
The Walking Dead: 400 Days
Jurassic Park: The Game
Poker Night at the Inventory
Poker Night 2
Puzzle Agent
Puzzle Agent 2
Sam & Max Season One
Sam & Max Season Two
Sam & Max: The Devil's Playhouse
If any of that strikes your fancy, picking up three games will net you a discount of 75 per cent off the bunch, four games will increase the discount to 78 per cent and you'll be getting the full 80 per cent when you choose five games. There are some real classics in here, but don't overlook both of the Poker Night games, which are deceptively addictive. Maybe stay away from Jurassic Park though.
Over at Jelly Deals, you can check out today's best deals, which currently include Titanfall for £4, some nice discounts on Nike sneakers, a Geforce 1060 for £255 and more. You can also check out the shiny new guide to the best fight stick available in 2018 so far. Don't forget that we're now less than a week away from Prime Day 2018 and we've got a guide ready to update with up-to-the-minute best games deals next week.