Bronze PSP Slim prepped for Japan
Along with cradle and microphone.
Sony has announced a special bronze limited edition PSP for release in Japan on 24th April.
Any references to Nintendo's silver and gold DS Lites here would of course be unkind.
It's going to be bundled into a Value Pack, which means it comes with a pouch, strap, cloth for wiping it down and a small Memory Stick.
You (so, the Japanese) also get a cable for plugging it into the TV for video out.
Bronzy will cost 23,800 yen, which is about GBP 115 / EUR 151 in old money.
Other new Sony PSP goodies include a USB microphone (19th March) and a cradle (also 24th April), so you can charge the PSP easily.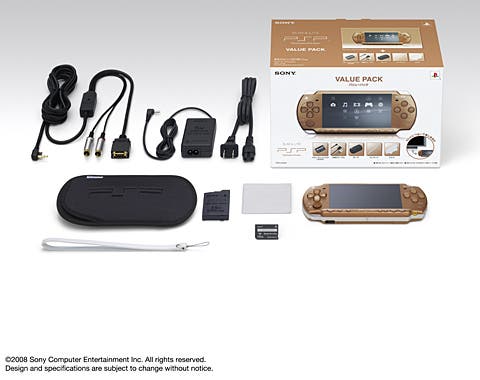 The PSP Slim & Lite is currently available in Piano Black and Ceramic White in the UK, with yellow (Simpsons) and red/black (Spider-Man) special edition colour schemes, while North America enjoys Ice Silver, Ceramic White, Rose Pink, Lavender Purple and Felicia Blue, with God of War's Deep Red inbound. Japan has, you know, others.
Among the most prized of those is the Final Fantasy VII edition, which is silver and has some black drawings on it. We held one once, but then the shop couldn't work out how to use our credit card, so we couldn't take it home. Japan's rubbish.