Borderlands 3 - Katagawa Jr. boss strategy
It's time to finally take Katagawa Jr out and we don't mean for dinner.
In Atlas, At Last, the ninth mission of Borderlands 3, is where the final showdown with Katagawa Jr. occurs.
He's got himself a fake Zer0 costume, which looks incredibly ugly in the Maliwan colours, and a fancy sword. Oh and he also has a determination to kill you. Can't forget about that.
Take out all of his clones to discover the true Katagawa Jr. and give him the justice he deserves.
On this page:
If you're looking for more help in the crazy galaxy of Borderlands 3, then check out our Borderlands 3 walkthrough.
Everything you need to know about Katagawa Jr. and his attacks in Borderlands 3
Katagawa Jr. is a Level 21 boss fight and does look rather silly in his fake Zer0 outfit.
His tactic is simple; attack you with a group of clones, making it impossible for you to tell which Katagawa Jr. is fake and which one is real.
Katagawa Jr. will duplicate himself four times, meaning there will be five Kawagawa Jr's on the battlefield.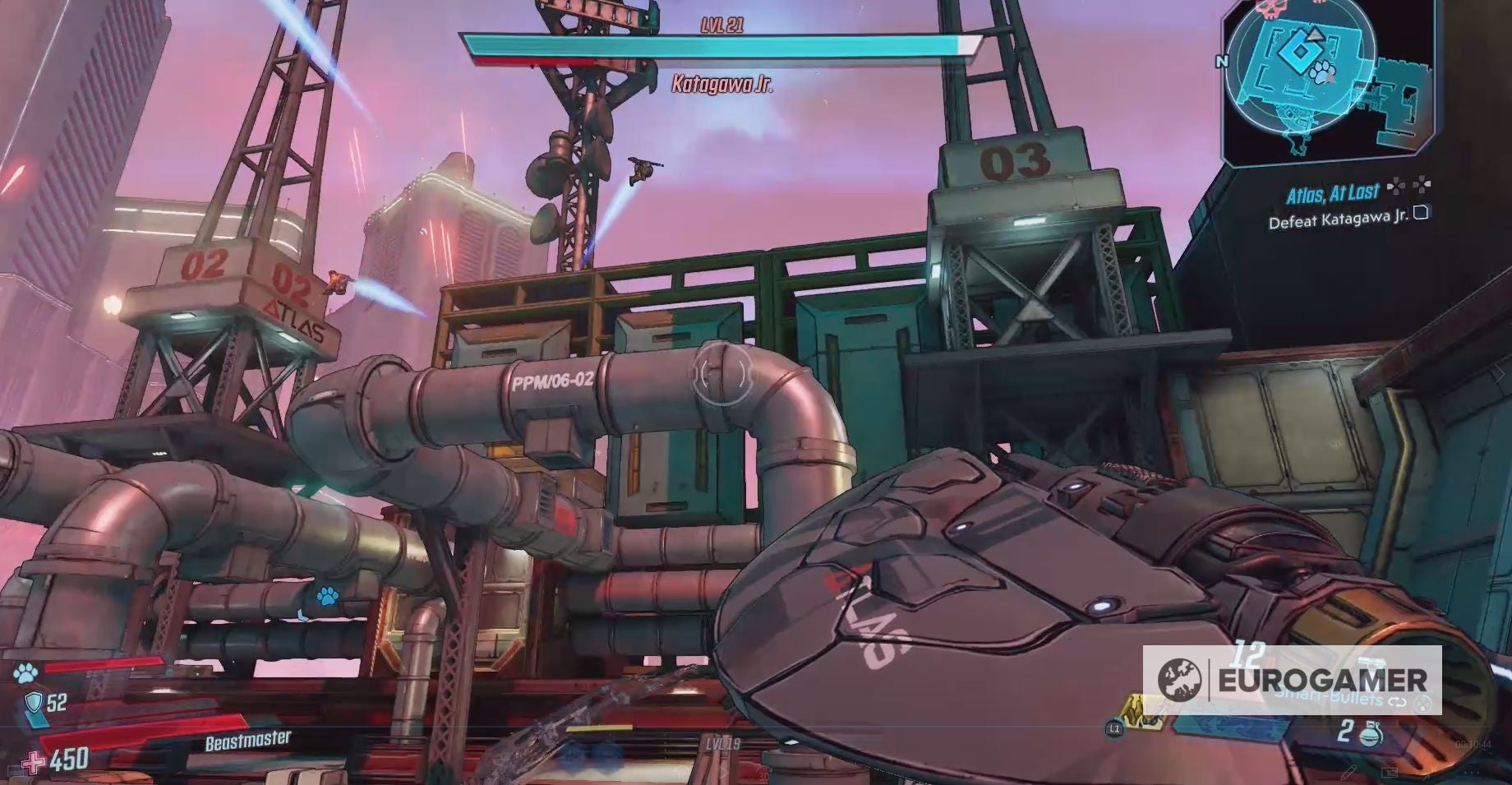 Two of these Katagawa Jrs will appear with you on the lower level and attack using melee damage, while the other three will use Sniper Rifles to shoot at you from three different positions around the map.
These Sniper Rifle clones will also appear in the same place. Two on the right-hand side of the battlefield and one on top of the pillar to the left.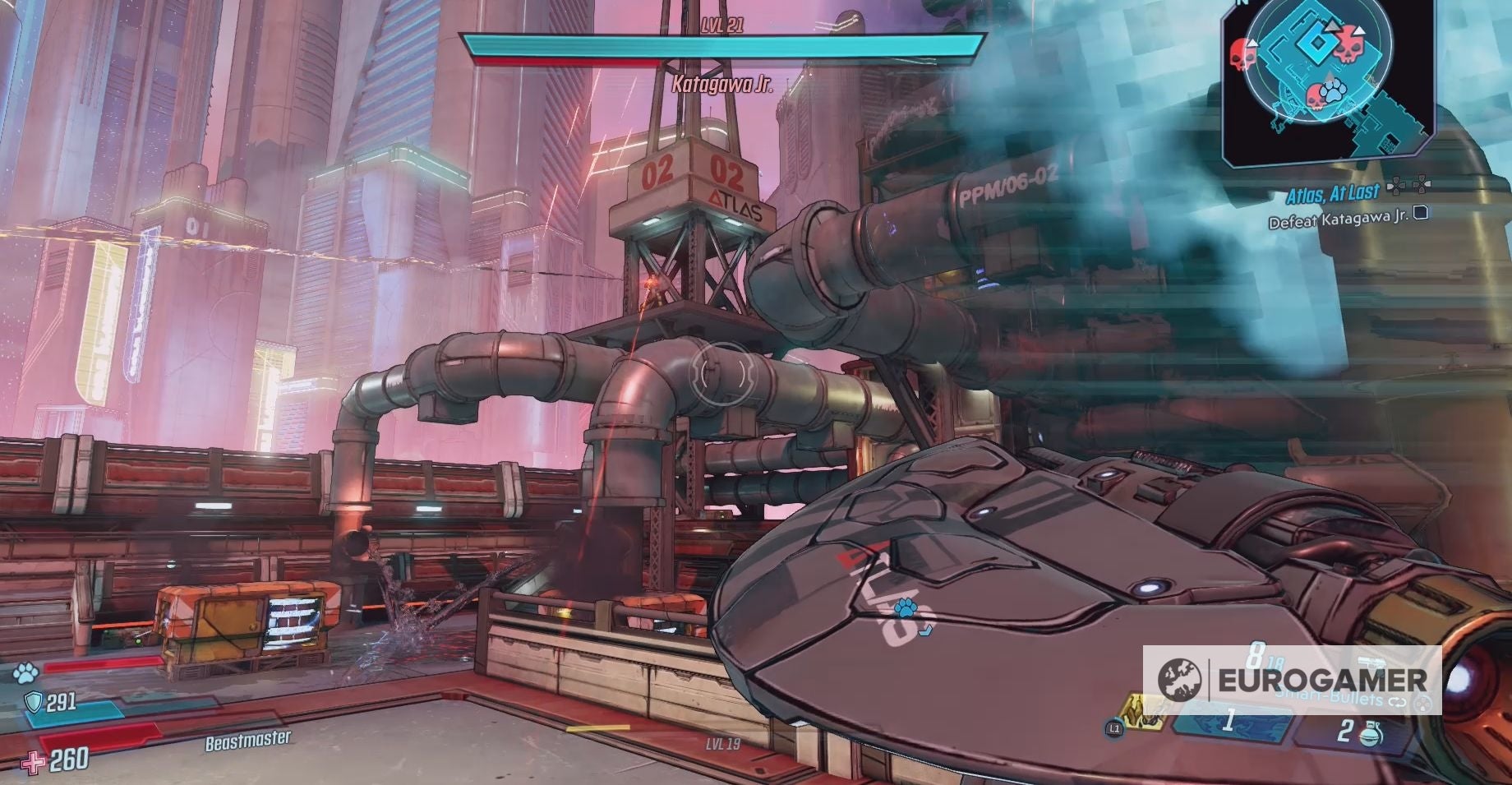 Katagawa Jr. also can also throw grenades at you, which will create a smoke-like force field around you, making it hard to see which enemies are coming to attack you.
This forcefield doesn't have a large radius, so you can simply just avoid it by running to another section of the map.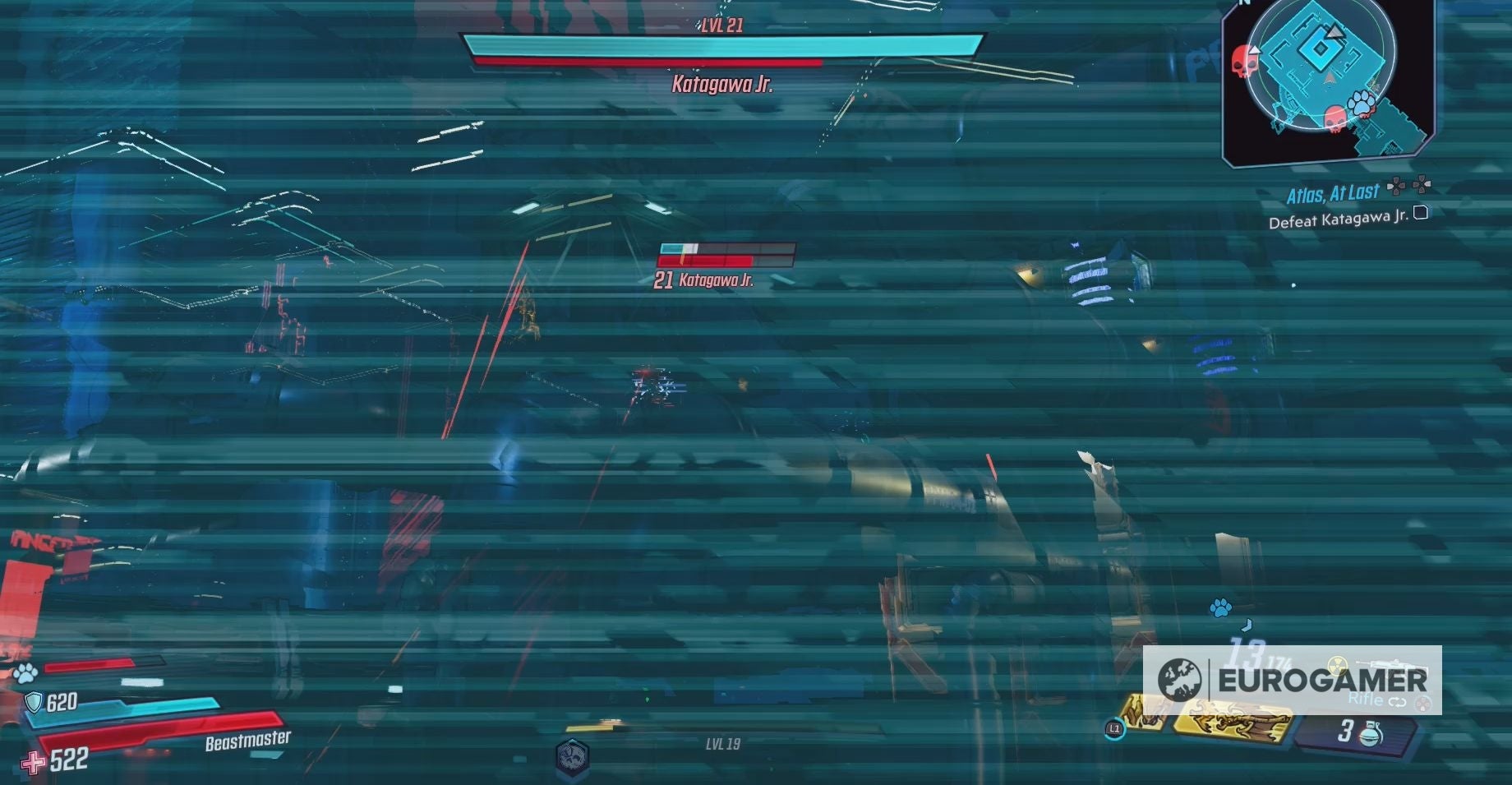 Katagawa Jr. clones will disappear when they start taking Health damage, so get ready to knock down a lot of shields.
This also means that Katagawa Jr's shield recharges quickly. When you do find the real Katagawa Jr. make sure you get in as much damage as possible, because it might be a while till you find him again.
Finally, Katagawa J. will change his attack style when he reaches the last 5% of his health.
During this period he will no longer create any clones, choosing instead to attack you with some quick melee attacks. He will quickly teleport around the battlefield, until you finally manage to bring him down.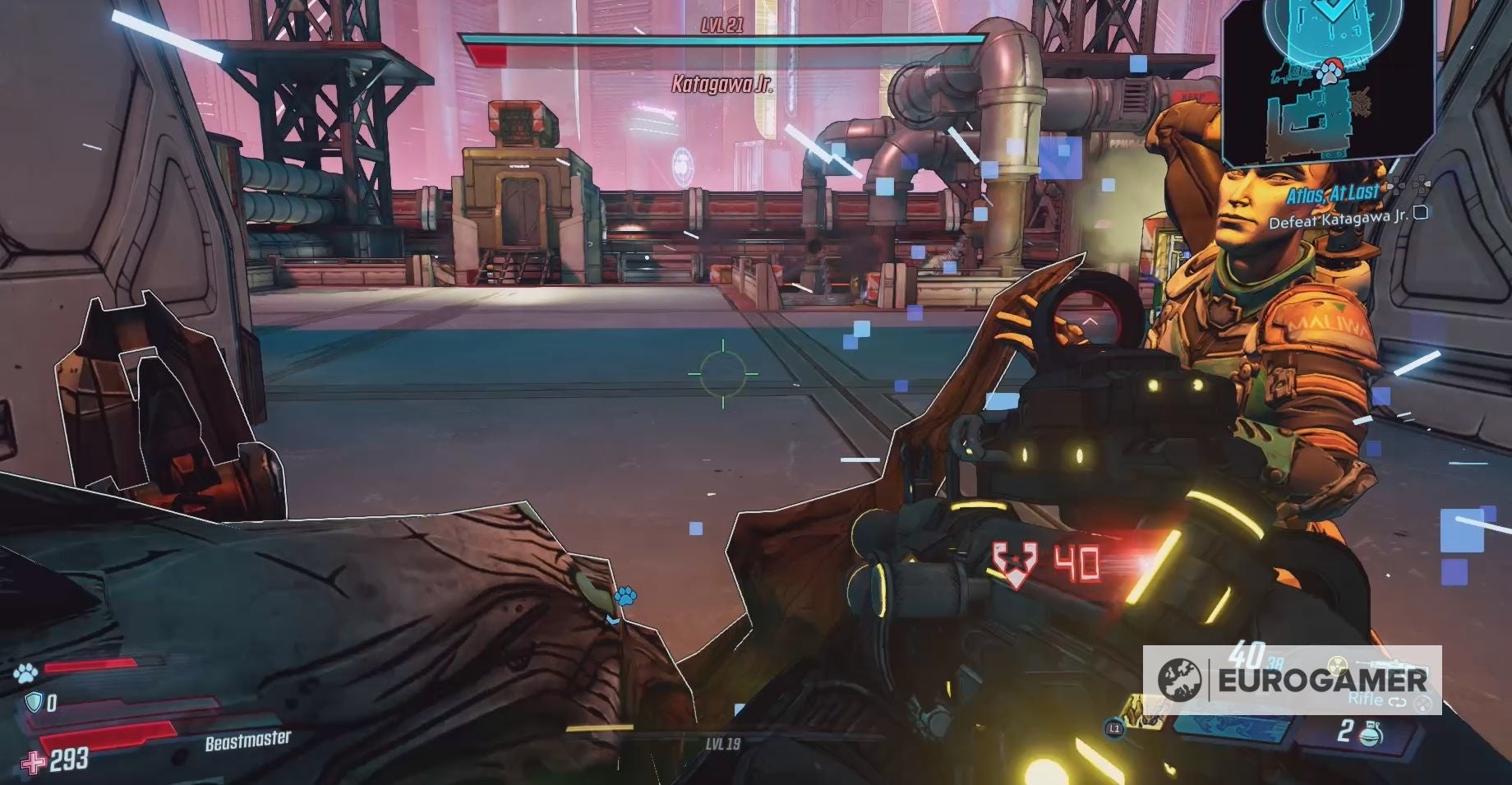 ---
Borderlands 3 has arrived! Check out our skill tree guides for Amara, Fl4k, Moze and Zane.

If you're looking for more challenges to complete, check out our guides on the Dead Claptraps, Broadcast Towers, Eridian Writing,Hijack Targets, Legendary Hunts and Typhon Logs and Typhon Dead Drops. If you want some easy rewards, consult our Borderlands 3 Shift Codes and VIP Codes page.

When you've finished Borderlands 3, visit our guides on Guardian Rank and Rewards, Mayhem Mode and True Vault Hunter mode to learn more about what you unlock in the post-game.
---
Katagawa Jr. boss strategy in Borderlands 3
Before you take on Katagawa Jr. make sure you have both a good short range and long range weapon.
Ideally for long range you'll want a strong Sniper Rifle, while short range could be either a Pistol, SMG or Assault Rifle. You're going to be switching in-between the two very quickly, so make sure you like how they handle.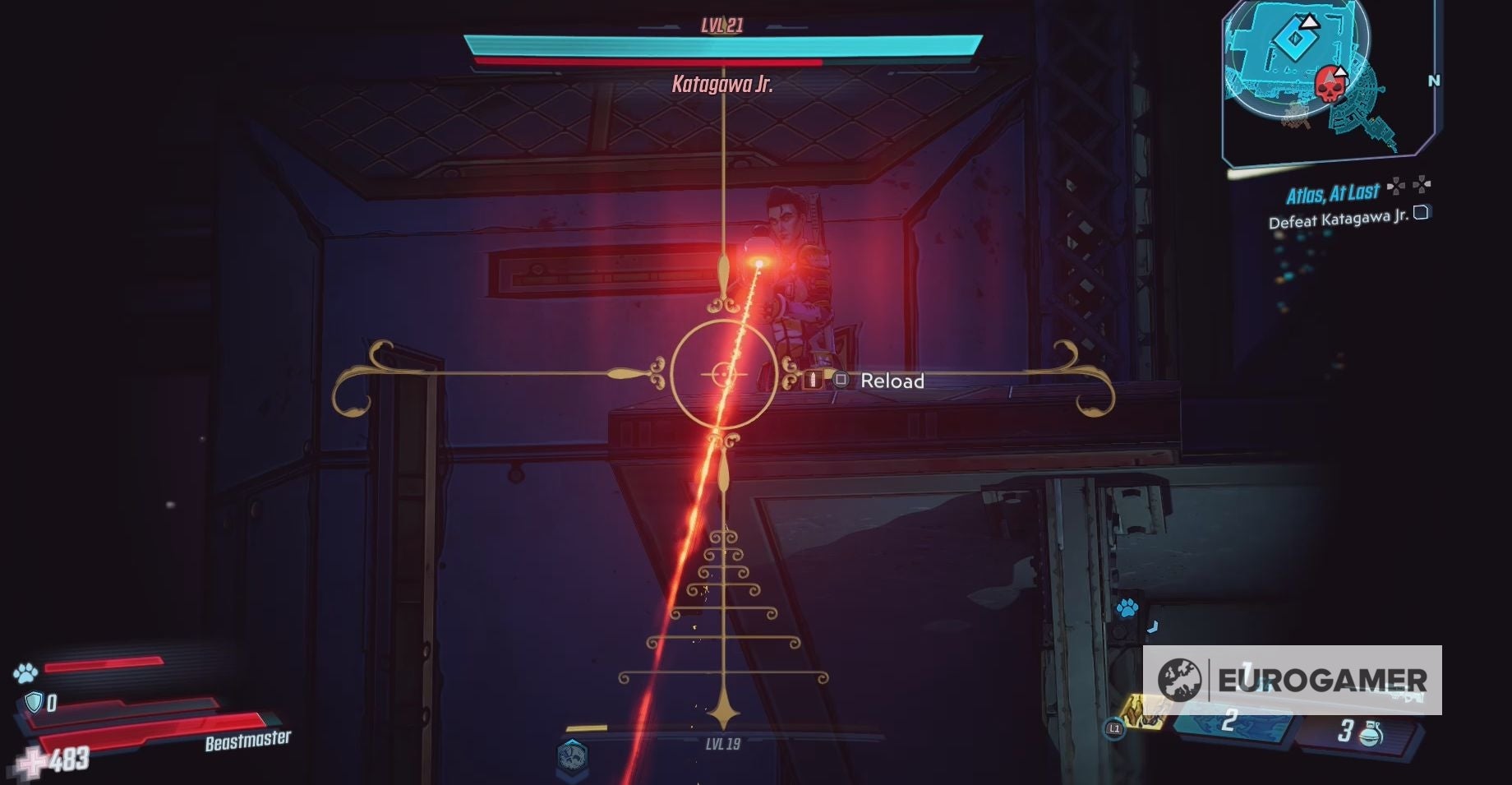 Having a weapon that deals Shock Damage or can quickly take out a shield is also ideal for this boss fight.
To discover whether your gun has one of these abilities, visit your inventory and read the descriptions for your gun collection. If your gun does have a special ability, then it will be found underneath its set of stats.
You will want to take out the clones that spawn with you on the lower floor first. This will prevent you from taking too much damage and because there is always a chance that one of them is Katawaga Jr.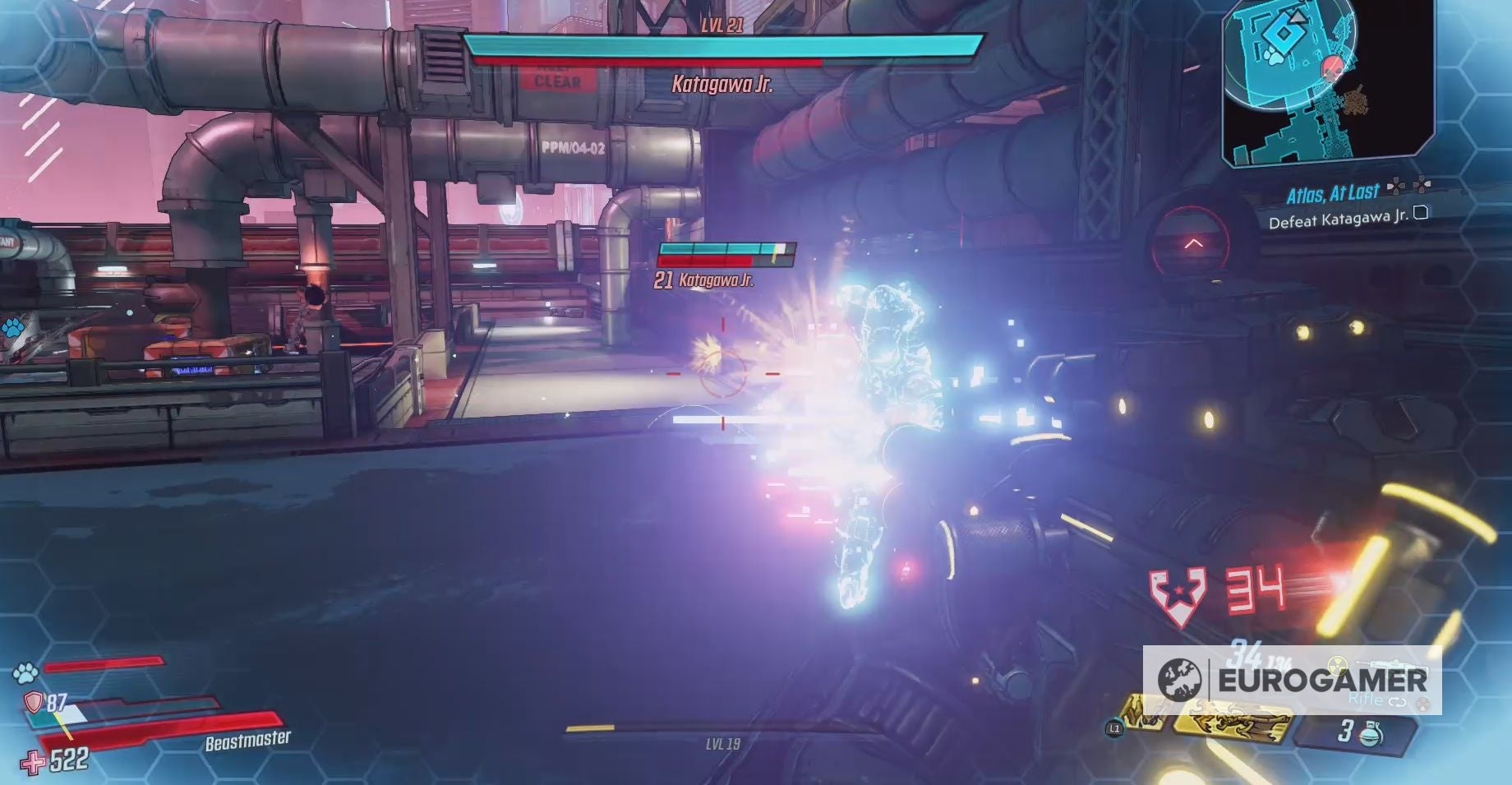 After you've taken out the ground clones, begin shooting at the Sniper Rifle clones with your chosen long range weapon.
Remember - the clones vanish the moment they start taking health damage, so keep an idea on their health metres. The moment one vanishes quickly move onto the next to save both ammo and time.
You will also know when you have the right clone, because the shield and health bar at the top of the screen will start to decrease. This won't happen if you're attacking one of the clones.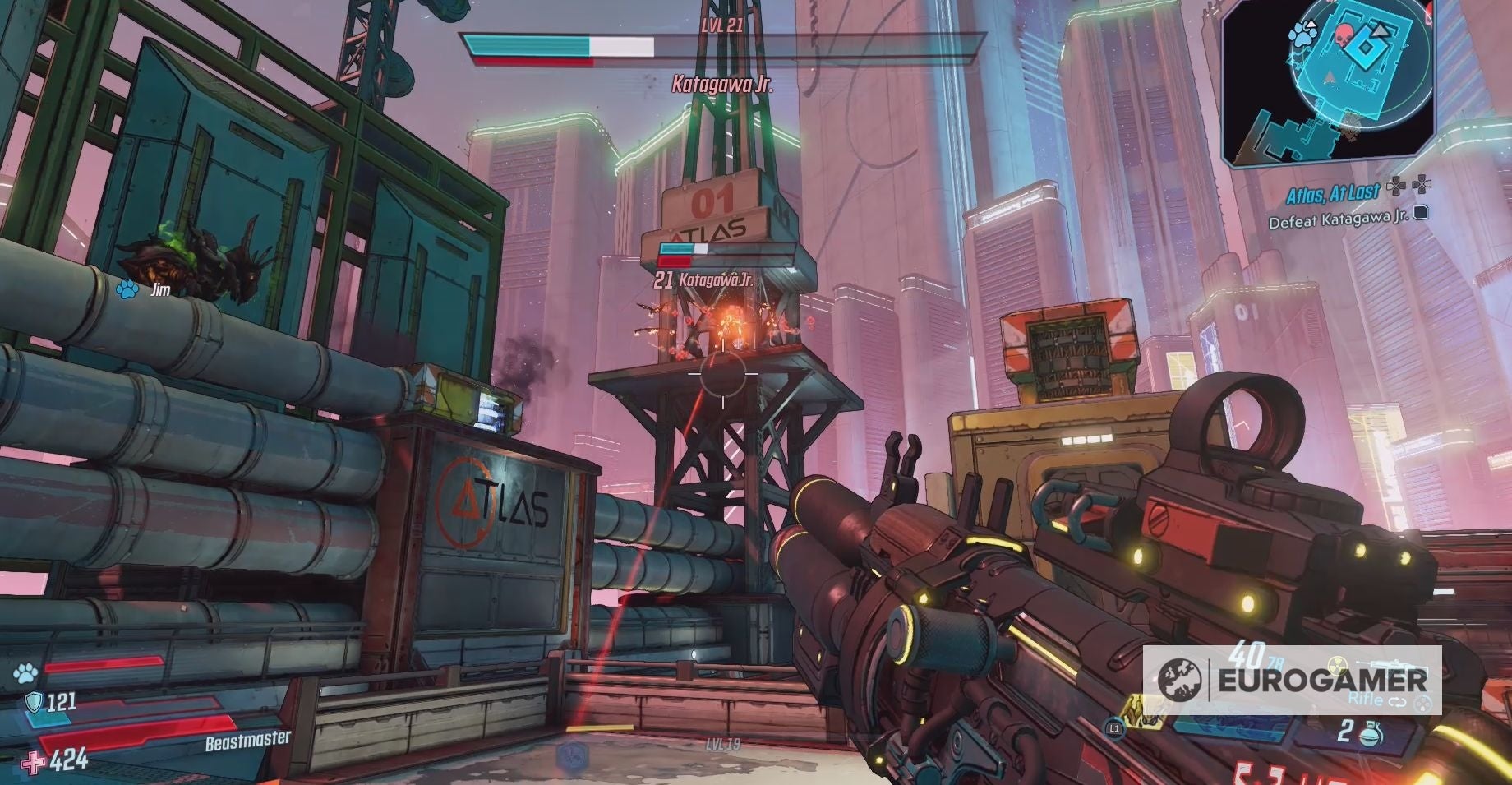 How you use your Action Skills depends on the one you've picked.
If you're playing Amara, for example, using Phaseslam, then this is an ideal move to be used on the ground clones. If you're playing as Fl4k, however, and have Rakk Attack! As your Action Skill, then that can be used on the Sniper Rifles Clones.
Consider whether your Action Skill is used best as a short range or long range attack and then apply it to those clones.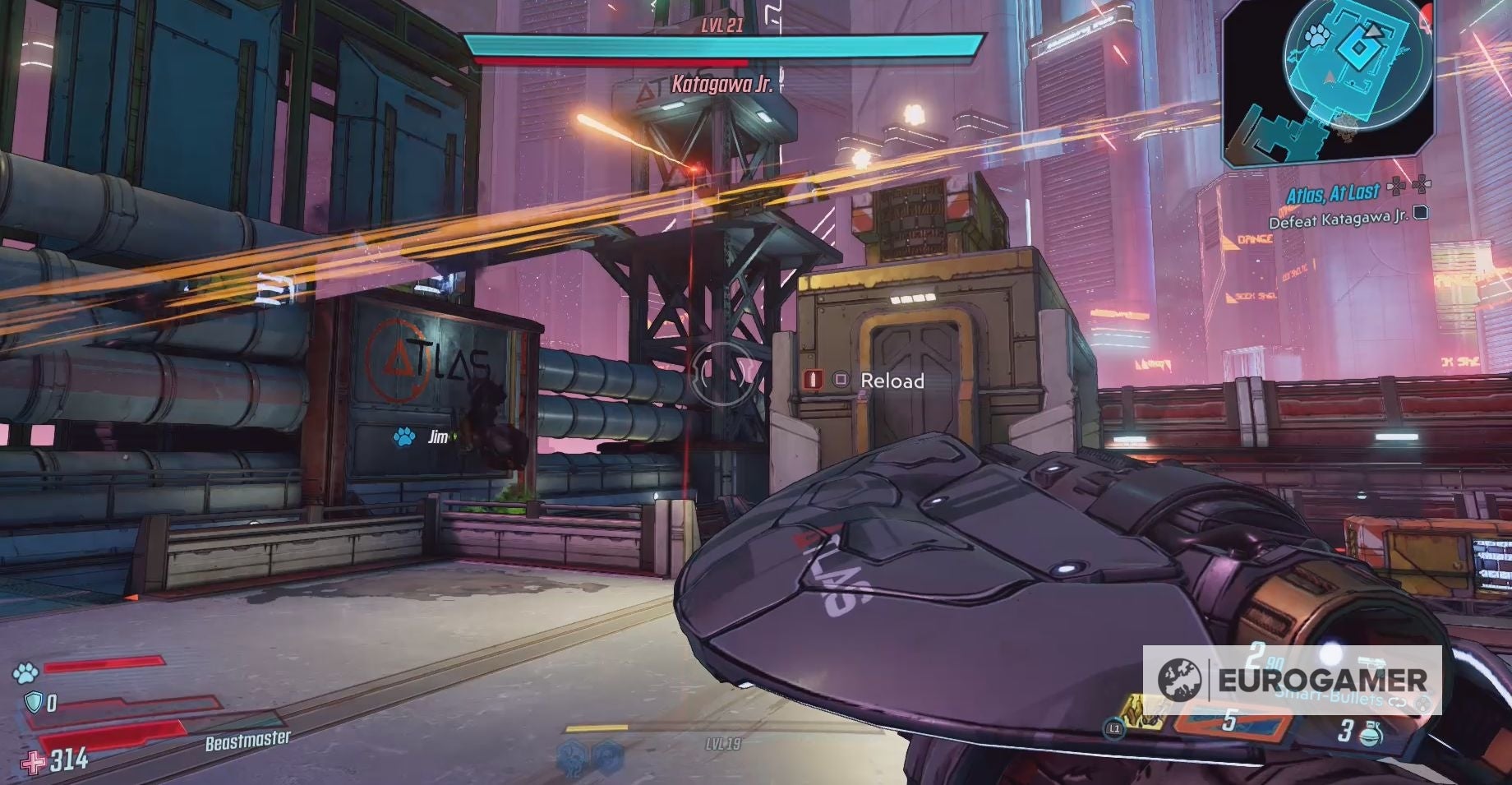 When you get Katawaga Jr. down to the last 5% of his health, he will start teleporting around the battlefield and melee attacking you.
You'll now want to switch to using just your short range weapon. This is also the perfect time to use any gun with a high fire rate.
Fill Katawaga Jr. with bullets the moment he appears in front of you and use whatever Action Skill you have to take him out quickly.
Finally, you can also use the generators that are dotted about the battlefield. Shooting one of these when a Katawaga Jr. clone is standing next to it will quickly decrease his shield.
You can also turn the middle of the battlefield into a death trap by shooting the pipes open. Look for the pipes that have a target like symbol on them to get the water flowing, just like how you did in the Meridian Metroplex Hijack Target task.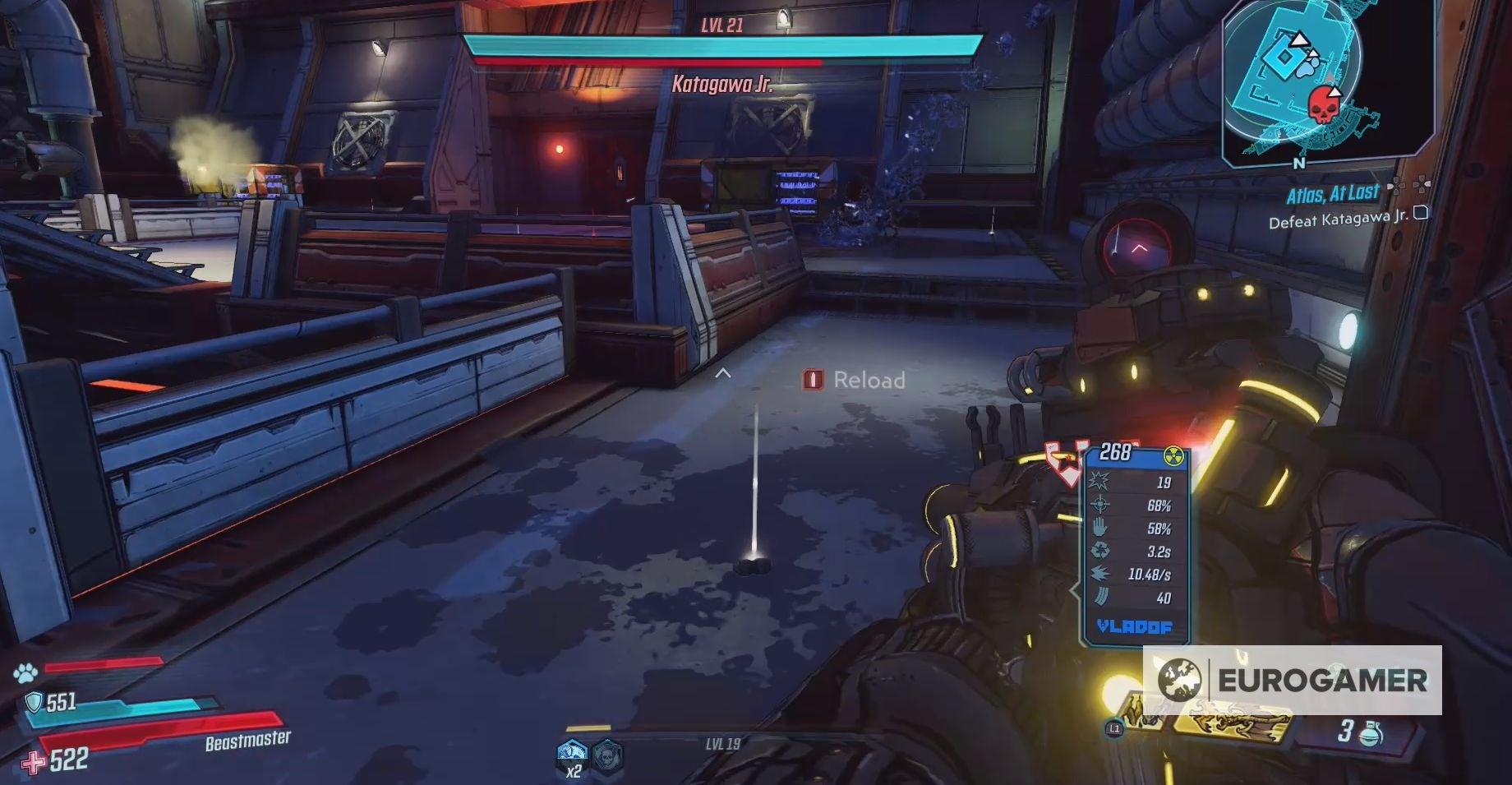 When a clone crosses one of these puddles, you'll be able to use a Shock Elemental Weapon to deal some strong damage. Keep in mind, however, that these puddles can be just as deadly to you as they are the clones.