Borderlands 3 - Gigamind boss strategy
How to make Gigamind brain dead in Borderlands 3.
Gigamind is the third boss you'll encounter in Borderlands 3.
You'll fight Gigamind during Hostile Takeover, the sixth mission in Borderlands 3, as part of your effort to protect the Atlas Cooperation from the Maliwan invasion.
Gigamind might look like it's come straight out of a Saturday morning cartoon, but it definitely packs a punch, so don't let your guard down.
On this page:
If you're looking for more help in the crazy galaxy of Borderlands 3, then check out our Borderlands 3 walkthrough, with links to all of our Borderlands 3 guides.
Everything you need to know about Gigmind and its attacks in Borderlands 3
So Gigamind is some sort of walking, talking, Level 13 brain in a tank.
Gigamind will begin the battle will a shield and will fly about the battlefield, attacking you with small robots.
After losing its shield, Gigamind, will jump to the middle of the battlefield and begin firing bullets at you. You'll know when this attack is happening, because it will summon a bright green ring in front of it.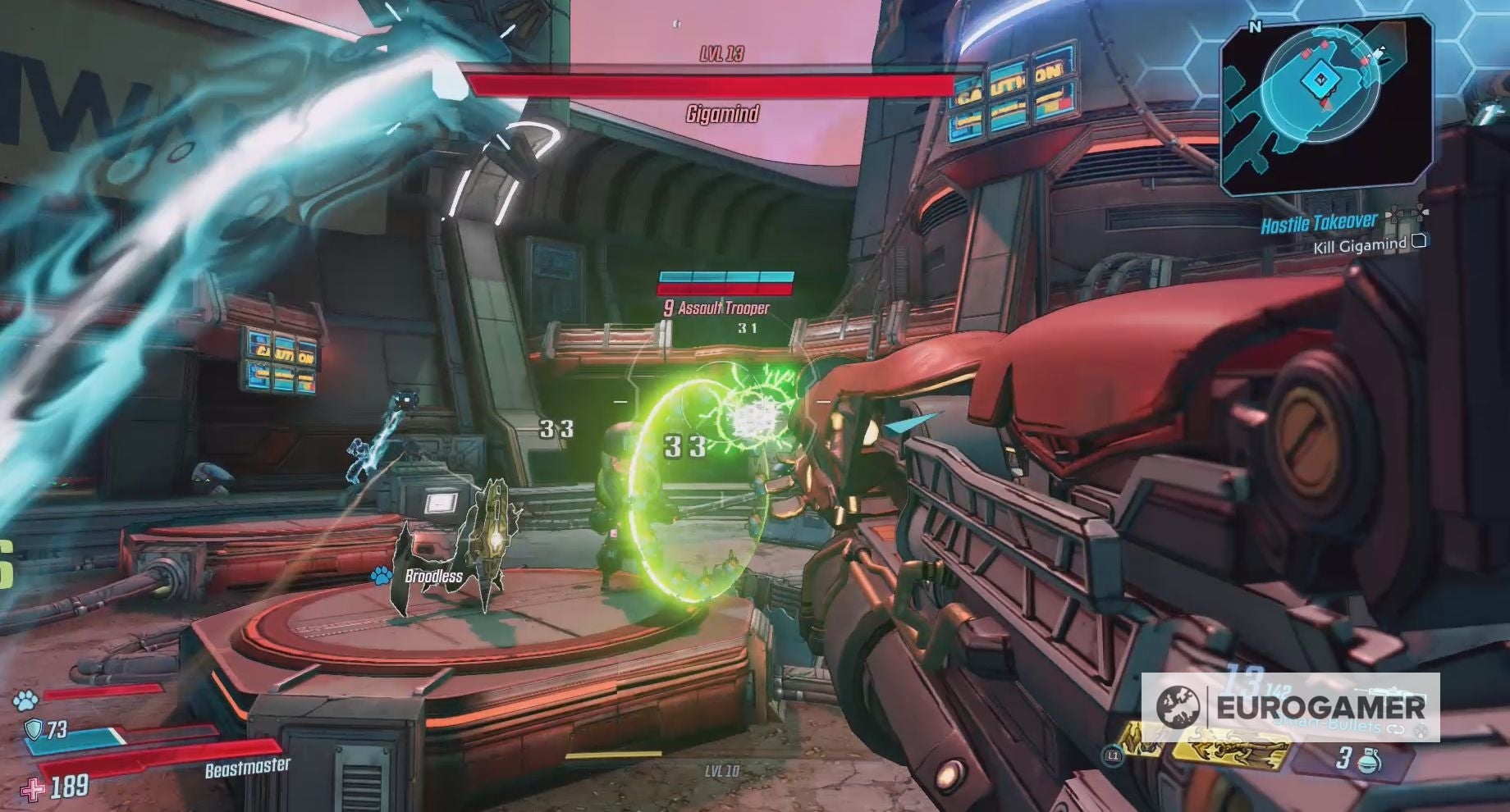 Every so often, Gigamind will jump between two different platforms. When it does this, it will stop firing bullets at you for a while.
As Gigamind loses health, it will start using new attacks. This includes sending floating bombs at you and a twister kind of attack where Gigamind creates a wind tunnel around itself. It will mix and match these attacks, moving around the arena as it does so.
Throughout the battle Maliwan Troopers will come and assist Gigamind in battle. There will be a mixture of shielded Troopers and non-shielded Trooper. Take a couple of these enemies out as you fight, but don't allow them to take your attention away from Gigamind.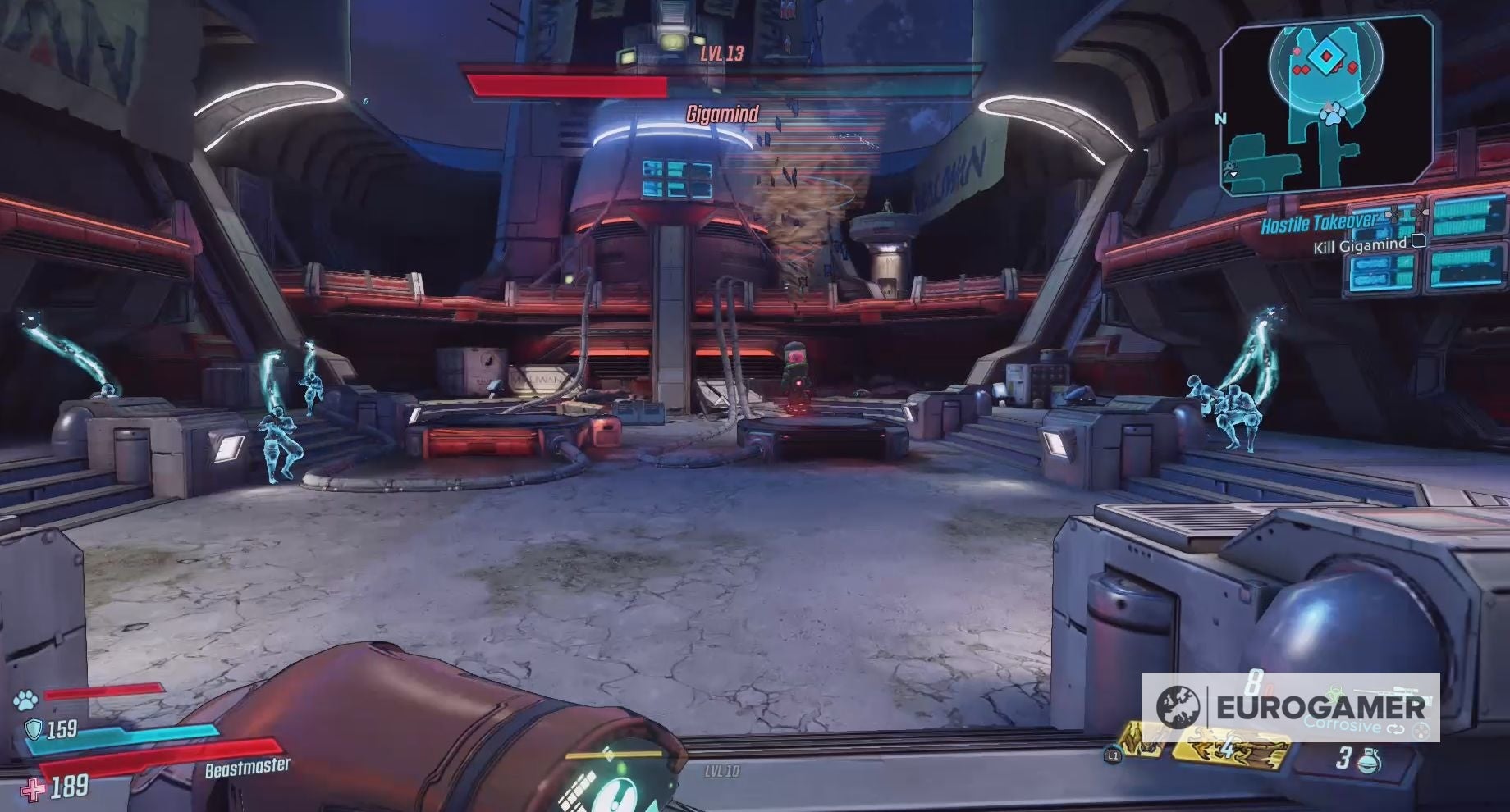 Gigamind's weak spot in Borderlands 3
Gigamind's weak spot is the pink spot on its back and hitting it will deal Critical Damage to Gigamind.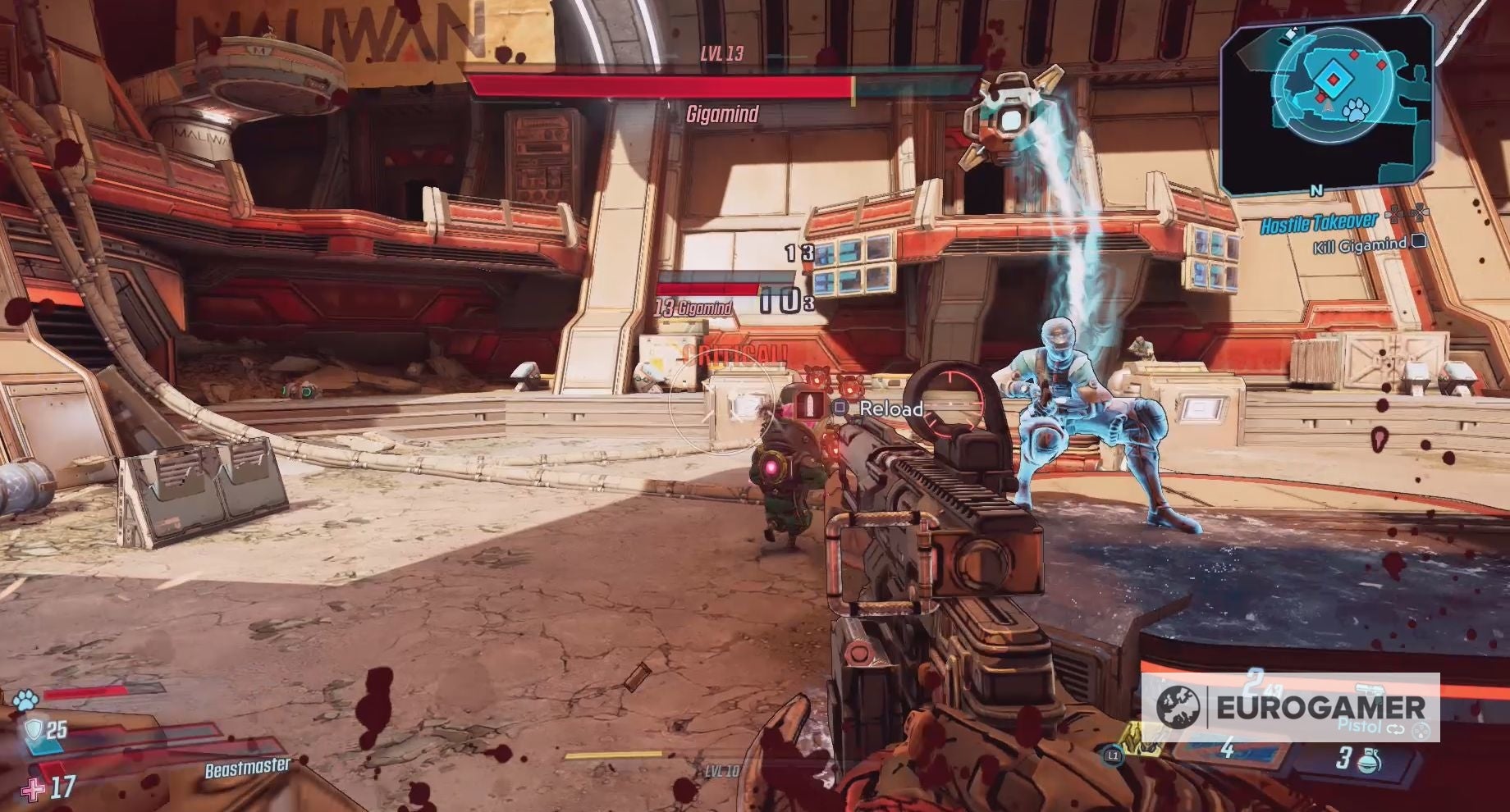 It's also a good idea to use an Elemental Weapon, especially one that deals corrosive damage, because that has the chance of continuing to damage Gigamind, even after you've finished shooting at him.
---
Borderlands 3 has arrived! Check out our skill tree guides for Amara, Fl4k, Moze and Zane.

If you're looking for more challenges to complete, check out our guides on the Dead Claptraps, Broadcast Towers, Eridian Writing,Hijack Targets, Legendary Hunts and Typhon Logs and Typhon Dead Drops. If you want some easy rewards, consult our Borderlands 3 Shift Codes and VIP Codes page.

When you've finished Borderlands 3, visit our guides on Guardian Rank and Rewards, Mayhem Mode and True Vault Hunter mode to learn more about what you unlock in the post-game.
---
Gigamind boss strategy for Borderlands 3
Your first task in the Gigamind fight is to take down its shield. This can be easily done using a gun that deals Shock Damage or one that has been made specifically to deal with shields.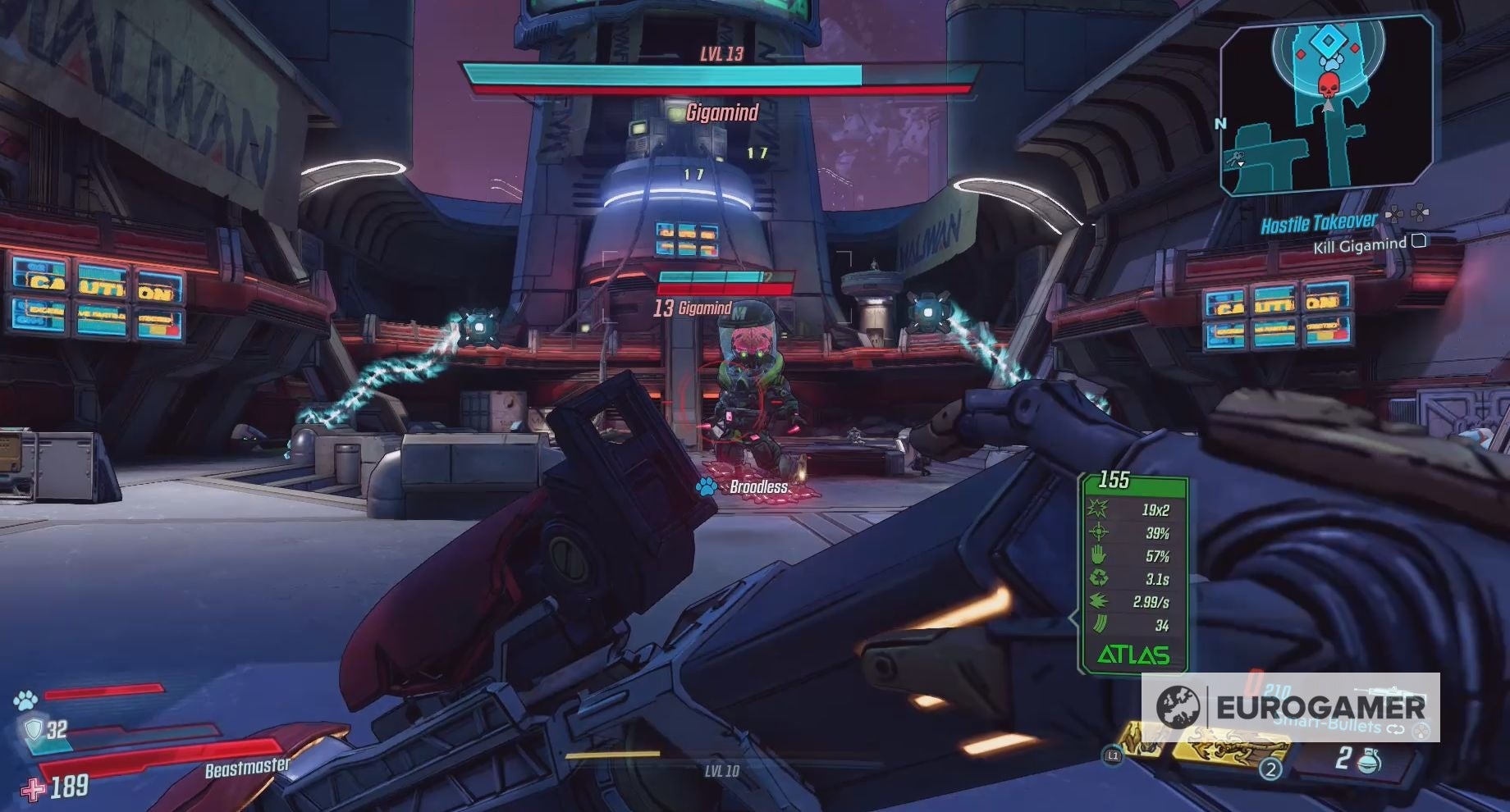 To find out whether any of your guns has either of these abilities, go to your gun inventory and have a look at the descriptions for your various guns. The information about any special abilities a gun may have are found underneath its set of stats.
Either way, you'll be able to quickly take out Gigamind's shield, while dodging the small robots it sends your way.
Once it's shield is down, Gigamind will start firing bullets at you and will, eventually, start alternating its attacks as you continue to decrease its health.
During this time, you should alternate between using your Action Skills and guns to attack both Gigamind and the Maliwan Troopers that appear on the battlefield.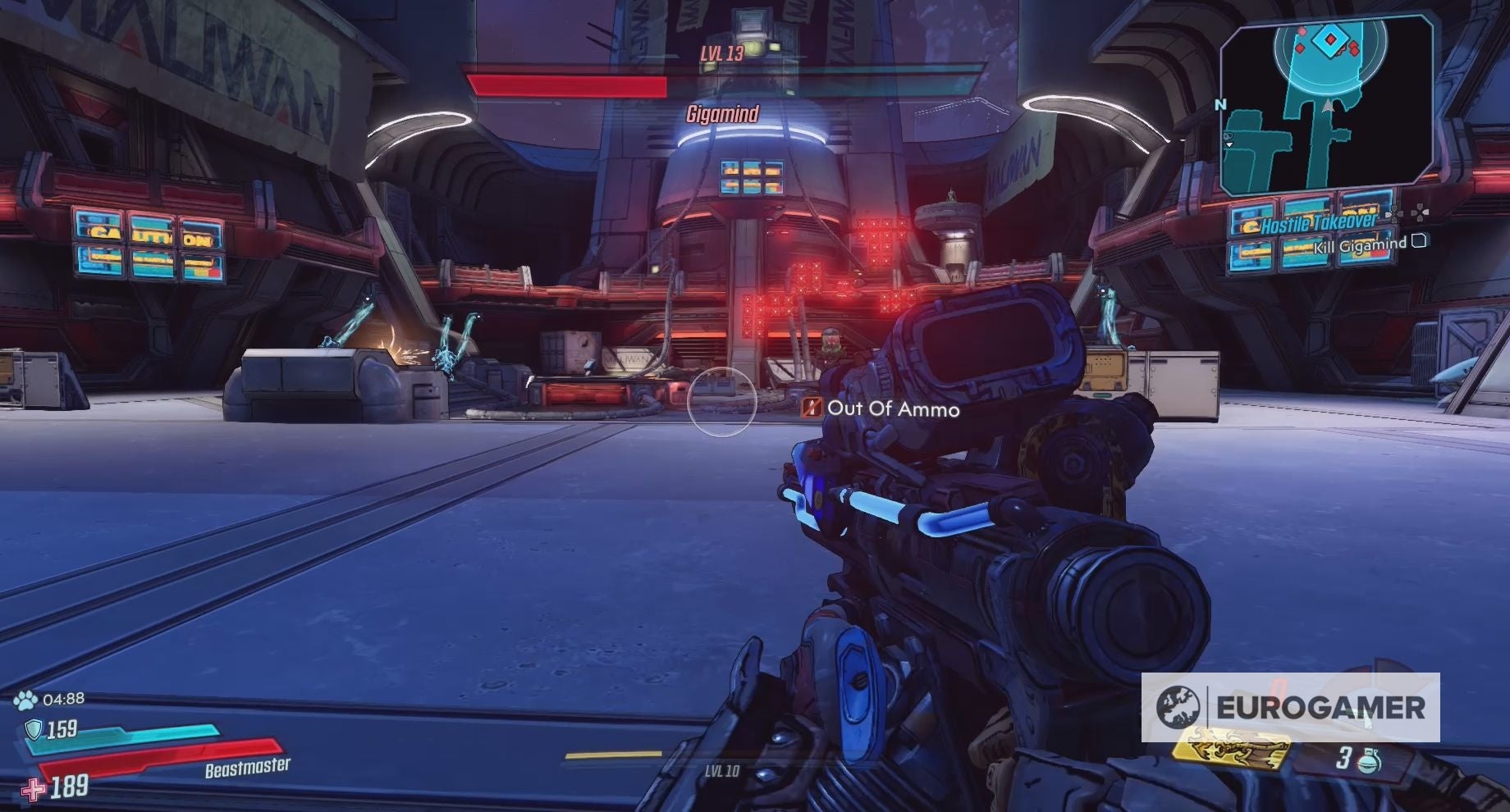 In the case of the Maliwan Trooper, it is worth taking a few out when the battlefield becomes too busy, but avoid putting your focus solely on them. There is no set number of Maliwan Troopers for this battle, so, even if you kill all of them, more will appear.
It's also a good idea to keep a couple of these Trooper alive, but at a low health. That way if you enter a Fight for Your Life you can easily kill one of them off to receive your Second Wind.
There is a chance, however, that Zer0, who is watching you fight, may revive you during a Fight for Your Life, but this isn't a guarantee. Sometimes he will decide to help you, other times he'll leave you to your fate.
If you're having trouble or need to take a moment to let your shield recharge, then head back down the stairs that led you to this area. On the middle landing of these stairs, you'll find a small store room containing some storage boxes.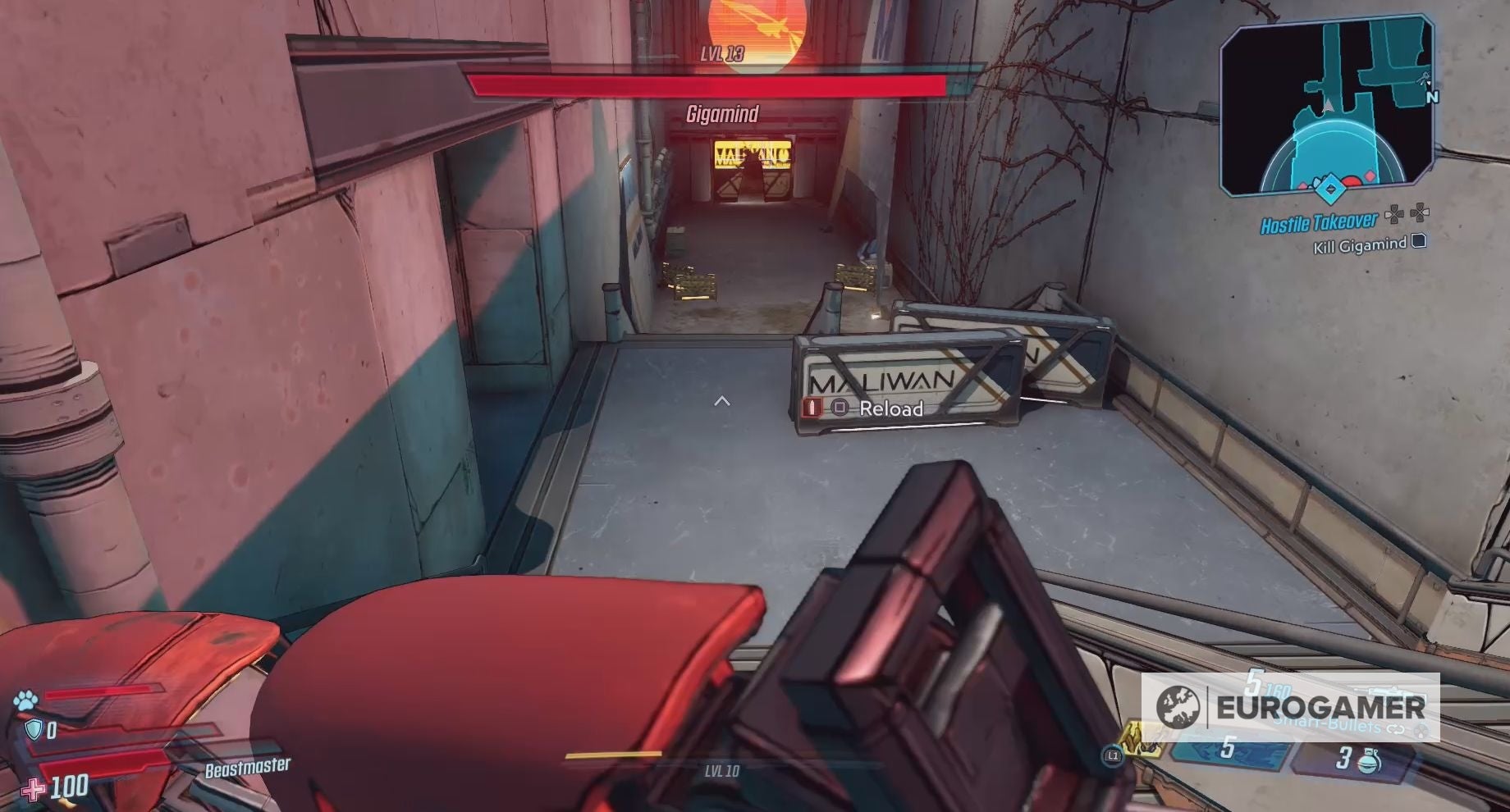 The far corner of this room, along the back wall, are ideal safe spots. You also return to this area at any time during the battle - as long as you can reach it before you die, of course.
Gigamind may take some time, but, with a lot of bullets, you will take him down.