Borderlands 3 Shift Codes and VIP Codes list: How to redeem Shift Codes and VIP Codes for free Gold Keys and other rewards
A list of known Shift Codes and VIP Codes to get your hands on some easy freebies.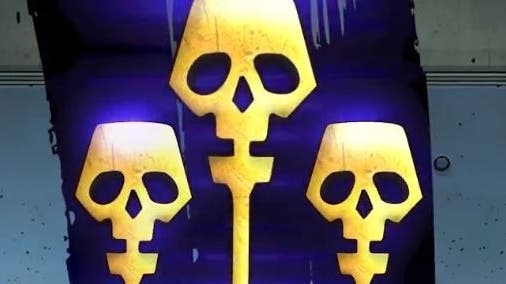 Borderlands 3 Shift Codes see the return of the fan-favourite giveaways from other Borderlands games.
Joining them is the addition of Borderlands 3 VIP Codes, which comes from a variety of sources from the newly added Vault Insider Program.
There are some slight differences between the two, but once you get your head around what goes where, both give you the chance to earn additional loot, provided you have a Borderlands 3 Shift Codes List or VIP Codes List, such as those on this page.
On this page:
What are Shift Codes and VIP codes in Borderlands 3 and how do you redeem them?
Shift Codes return in Borderlands 3 after appearing in previous games in the series, allowing players to earn free rewards, such as Gold Keys, used to open unique chests for rare loot.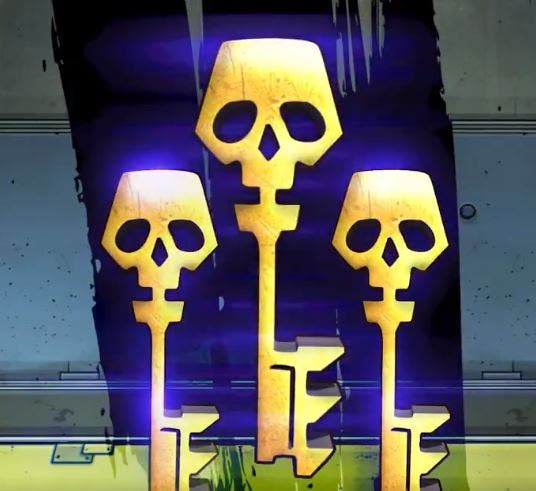 Joining them are a new kind of reward - VIP Codes - which allow you to earn points to be spent on rewards of your choice.
These codes are found from a variety of sources - such as official social media platforms and email newsletters - but the good news is they're not a one code per person deal, meaning there is a list of codes available anyone can use to earn rewards.
You can also earn VIP points through a variety of methods - completing surveys, signing up to the newsletter, recommending friends and so on - but the easiest way is through entering VIP Codes, which this page can help you with.
However you get them, there's a variety of rewards on offer - including more Gold Keys.
How to use Shift Codes and VIP Codes in Borderlands 3
Borderlands 3 Shift Codes and VIP Codes are redeemed slightly differently.
How to redeem Shift Codes in Borderlands 3:
Once you have a Shift Code you want to enter in Borderlands 3, you can redeem it in several ways.
You can redeem a Shift Code online through two different websites. The main one is the Borderlands VIP site, but at launch, some codes also work on the original dedicated Shift rewards website. Remember if you're using the dedicated Shift website, after creating an account, you then need to link your console of choice so when redeeming the Shift Code, you can select the platform so it'll appear in the game. And, once you have created this account, it can be used to log into the new VIP Insider site as well.
You can redeem a Shift Code in-game from the main menu, by going to the Shift Code section and then entering a Shift code. Though it's a little more work, if the Shift Codes aren't redeeming online (they can someone says you have the wrong platform) then this can do the trick.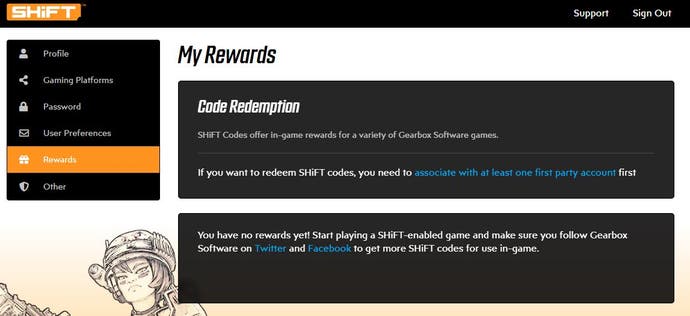 How to redeem VIP Codes in Borderlands 3:
With the arrival of Borderlands 3 is a dedicated VIP site website as part of the Vault Insider Program. This uses the same log in and account as the Shift website above, for those who have made one for previous games.
To redeem VIP codes, head to the Borderlands VIP site and log in using your Shift account. From there, go to 'Insiders' at the top of the site, then 'Redeem Code'.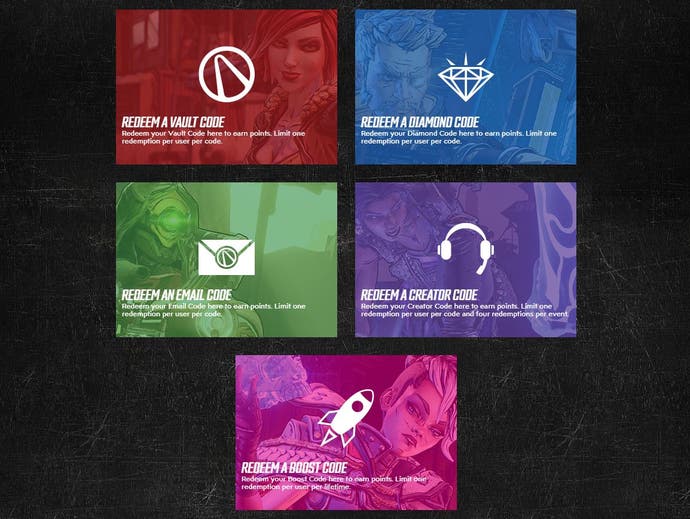 Scroll down to see a variety of rewards you can claim - from Shift Codes to Vault Codes, Diamond Codes, Email Codes, Creator Codes and Boost Codes.
These refer to the different sources of these codes, and all codes will fit into one of these categories, so make sure you select the right one to ensure it'll redeem correctly.
(Note if you have an ad-blocker installed in your browser, some of these might not appear until they have been disabled!)
As with Shift Codes, you can find these online - or specifically below with our VIP Codes list - to start earning points.
Borderlands 3 Shift Codes list
Here's all known Shift Codes for Borderlands 3 (last updated September 16th):
Borderlands 3 Shift Codes list - 1 Gold Key
HXKBT-XJ6FR-WBRKJ-J3TTB-RSBHR
Z65B3-JCXX6-5JXW3-3B33J-9SWT6
ZFKJ3-TT6FF-KTFKT-T3JJT-JWX36
ZRWBJ-ST6XR-CBFKT-JT3J3-FRXJ5
9XCBT-WBXFR-5TRWJ-JJJ33-TX53Z
5SWBT-X93RW-HHRXB-JBJBB-T63JC
Thanks to the_roshark on reddit for the above codes. If they don't work online, then try and redeem them in-game instead.
Borderlands 3 Shift Codes list - 3 Gold Keys
At launch, only the following Shift Code was released in Borderlands 3, and can only be redeemed through the original dedicated Shift rewards website.
ZFKJ3-TT3BB-JTBJT-T3JJT-JWX9H
This is technically an old Borderlands 2 code that also works with Borderlands 3, provided you use it on the original Shift Code site, as explained by Arekkz in the following video:
Borderlands 3 VIP Codes list
At launch, the known working Borderlands 3 VIP Codes are as follows - thanks to the Borderlands subreddit for sourcing some of these, which we've then filtered ourselves by testing and verifying the ones that work.
If they don't work for you, it's possible some will be voided over time, so the sooner you redeem them, the better - for us, it was an easy source of over 10,000 VIP points.
Creator VIP Codes list
bonjwa-bl3launch (200 Borderlands VIP points)
EARLYACCESS (500 Borderlands VIP points)
LARALOFT-BL3LAUNCH (200 Borderlands VIP points)
Email VIP Codes list
2kLove (500 Borderlands VIP points)
ABCEASYAS123 (250 Borderlands VIP points)
ALMOSTTHERE (1000 Borderlands VIP points)
BL3ATE3 (250 Borderlands VIP points)
BL3REVEAL (100 Borderlands VIP points)
BL3WELCOME (250 Borderlands VIP points)
BLOODYHARVEST (250 Borderlands VIP points)
BUILDURSQUAD (250 Borderlands VIP points)
CLAPTASTIC (250 Borderlands VIP points)
Dasherz (250 Borderlands VIP points)
DUCTTAPEMOD (250 Borderlands VIP points)
EDEMONSTER (250 Borderlands VIP points)
FIGHT4SANCTUARY (250 Borderlands VIP points)
FORTNITEXMAYHEM (250 Borderlands VIP points)
FRESHBOOTY (250 Borderlands VIP points)
HEYSUGAR (250 Borderlands VIP points)
ITSHERE (1000 Borderlands VIP points)
JABBER (1000 Borderlands VIP points)
LESSTHANTHREE (250 Borderlands VIP points)
LOOTLOOTLOOT (250 Borderlands VIP points)
MADSKILLZ (250 Borderlands VIP points)
MYMAIN (250 Borderlands VIP points)
ONTHEHUNT (250 Borderlands VIP points)
OVERCLOCKED (250 Borderlands VIP points)
OVERONEBILLION (250 Borderlands VIP points)
POWERUPEMAIL (250 Borderlands VIP points)
RARESPAWNHUNT (250 Borderlands VIP points)
SOHAPPYTOGETHER (250 Borderlands VIP points)
UNBLINKINGEYE (1000 Borderlands VIP points)
YOUCOMPLETEME (250 Borderlands VIP points)
Vault VIP Codes list
AIRLEMAGVIP (250 Borderlands VIP points)
ALLYOURGAMESVIP (100 Borderlands VIP points)
BLOODYHARVEST (250 Borderlands VIP points)
BOLVIP (100 Borderlands VIP points)
CAOSENMGW (500 Borderlands VIP points
DIGISTRUCT (250 Borderlands VIP points)
DREAMLANDVIP (100 Borderlands VIP points)
GAMEMANIAVIP (100 Borderlands VIP points)
GAMEVIP (100 Borderlands VIP points)
INTERTOYSVIP (100 Borderlands VIP points)
JOYPUKE (300 Borderlands VIP points)
JVMVIP (250 Borderlands VIP points)
LOADINGBAR (250 Borderlands VIP points)
MAYHEM (250 Borderlands VIP points)
MEDIAMARKTVIP (100 Borderlands VIP points)
MYCHILIRECIPE (250 Borderlands VIP points)
NEDGAMEVIP (100 Borderlands VIP points)
PLAYERONEVIP (100 Borderlands VIP points)
PWR2PLYRS (250 Borderlands VIP points)
RISENGRIND (250 Borderlands VIP points)
SEVENDAYS (250 Borderlands VIP points)
SMARTOYSVIP (100 Borderlands VIP points)
SPLODEOS (250 Borderlands VIP points)
SPOOKYSCARY (250 Borderlands VIP points)
THEBORDERLANDSAREWILD (500 Borderlands VIP points)
YOURGAMEZONEVIP (100 Borderlands VIP points)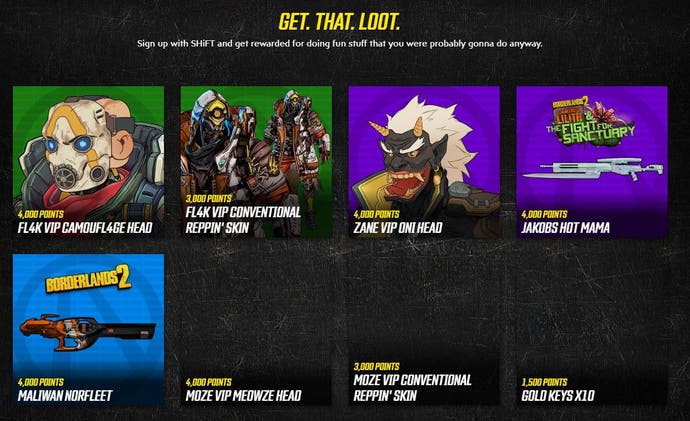 Remember, as well as the above, you can earn other VIP rewards through completing other activites on the Borderlands 3 VIP website, such as:
Linking a 2K Account (750 VIP Points)
Completing your profile (250 VIP Points)
Linking a Twitch account (750 VIP Points)
Completing VIP Surveys (250 VIP Points)
Watching the announcement trailer (250 VIP Points)
Reading more about the Vault Insider Program (100 VIP Points)