Borderlands 3 Captain Haunt boss strategy
We're going on a ghost hunt!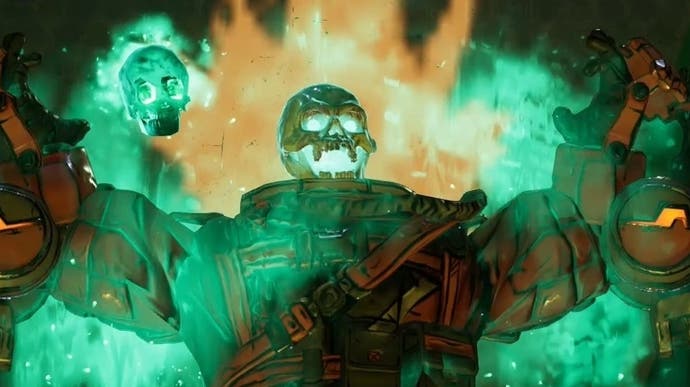 Captain Haunt is the ghastly boss of Descent into Heck, the Halloween themed mission for Borderlands 3.
Defeating the Captain will reward you with a wide variety of loot, including cash, Eridian and maybe even some Halloween themed gear, such as a gun with the Terror debuff.
Fill your pockets with ammo and grab your best guns, because this spectre isn't passing on without a fight.
On this page:
Where to find Captain Haunt in Borderlands 3
Captain Haunt is located at the end of The Heck Hole, which you can access by giving Maurice 25 Hecktoplasm.
Fight your way past the undead Maliwan forces and a horde of Ratch to fight this ghostly Captain.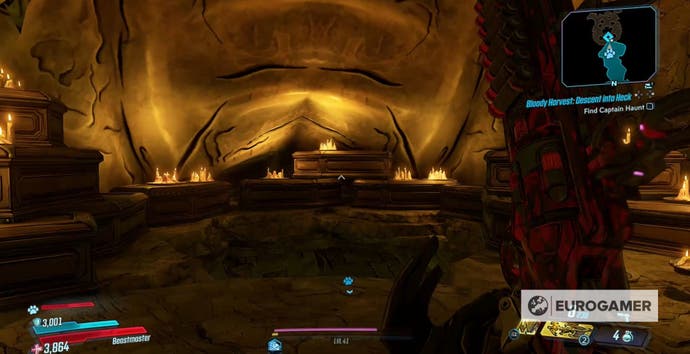 ---
Borderlands 3 has arrived! Check out our skill tree guides for Amara, Fl4k, Moze and Zane.

If you're looking for more challenges to complete, check out our guides on the Dead Claptraps, Broadcast Towers, Eridian Writing,Hijack Targets, Legendary Hunts and Typhon Logs and Typhon Dead Drops. If you want some easy rewards, consult our Borderlands 3 Shift Codes and VIP Codes page.

When you've finished Borderlands 3, visit our guides on Guardian Rank and Rewards, Mayhem Mode and True Vault Hunter mode to learn more about what you unlock in the post-game.
---
How to defeat Captain Haunt in Borderlands 3
Captain Haunt will be scaled to whatever level your Vault Hunter currently is. This means that if your Level 41, then so will Captain Haunt.
Captain Haunt will begin the fight shielded and will attack you using two different types of attacks. This includes shooting jack o' lantern projectiles, which will create pools of lava where they land, and green bullets.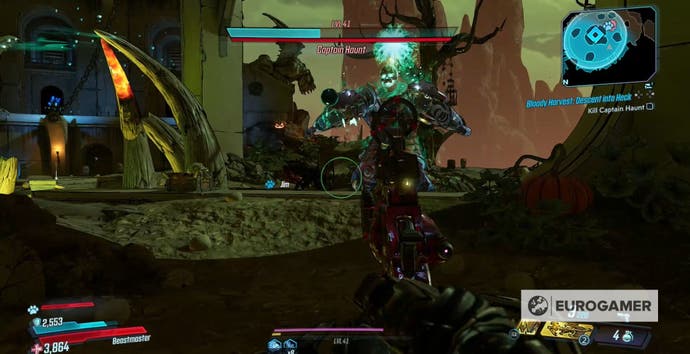 Once the Captain loses his shield, he will begin to change his tactics.
He will start using a new attack that involves summoning a collection of green ghosts to attack you. Make sure you take out these ghosts out quickly or they will be able to inflict the Terror debuff on you, affecting both your aim and vision.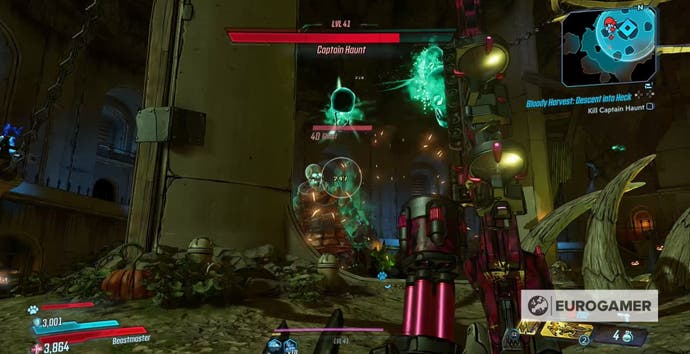 Various undead Maliwan troopers will also start appearing on the battlefield. You can get away with ignoring these troops, only killing them if you enter Fight for Your Life. Don't waste time hunting them down, because, no matter how many you kill, more will begin to appear on the battlefield.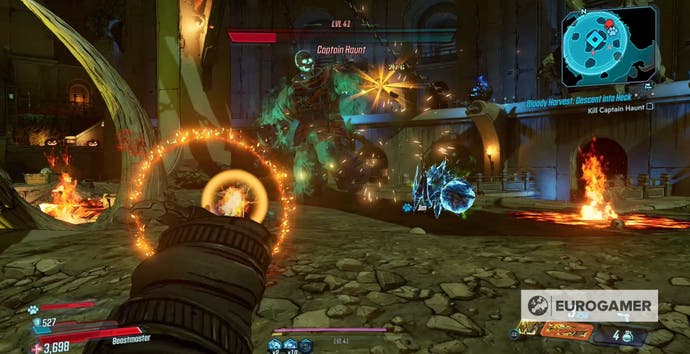 During this stage of the battle, Captain Haunt will also make himself invincible by creating a ghostly shield. During this period, you'll be unable to damage him and his shield will begin to regenerate.
To end this invincibility, you must destroy the two Shielding Phylactery that appear on the map. These are small pillars with glowing balls of green energy floating on top of them.
A Shielding Phylactery can be easily destroyed by bullets. Just make sure you jump or dodge the waves of green energy that each Shielding Phylactery sends out. These energy waves can easily knock down both your shield and health.
Once the two Shielding Phylactery stands are destroyed, you can continue attacking Captain Haunt.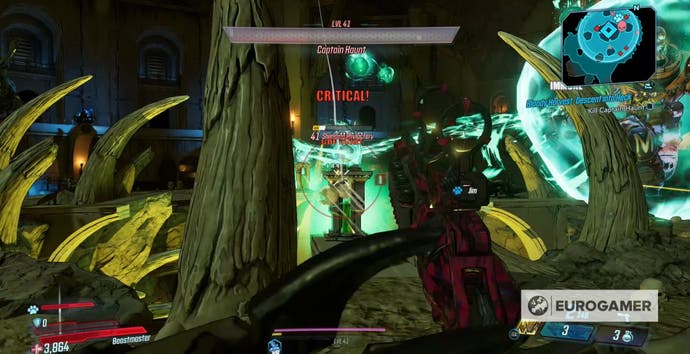 You can attack Captain Haunt with any weapon, grenade or Action Skill. The Captain is also a very large target, so, even if you're been infected with Terror, you should be able to easily hit him.
After killing Captain Haunt, you can collect your loot and then return to Maurice for a cash reward.