Blue Toad Murder Files
From pop quiz to interrogation in one Relentless step.
They might not make games about shooting monsters in the face in post-apocalyptic American cities, but Brighton-based Relentless Software has made a name and a small fortune for itself nonetheless with its hugely popular range of Buzz! quiz games for PlayStation formats. Despite the series' ongoing success, however, the studio's keen to branch out, and the result is the Blue Toad Murder Files, an episodic murder mystery for PlayStation 3 set to start, and be published by Relentless itself, on PlayStation Network this December.
Taking up roles in the Blue Toad detective agency, you and up to three friends are deposited in a quaint little English hamlet, and before long you're on the trail of a murderer most foul, quizzing the townspeople and putting the clues together like a group of friends watching Miss Marple. There will be six episodes in total, and although Relentless is still quiet on an exact release date or price structure for the series, the developer was happy to have us round last week to speak to producer Jade Tidy and design director Paul Woodbridge about how the game is shaping up, and what it takes to unmask a killer in the village of Little Riddle.
EurogamerWhat were you setting out to do with Blue Toad Murder Files?
Paul Woodbridge
We started off saying, "We do Buzz, and Buzz has done really well. But what is Buzz? It's a bit like Trivial Pursuit." And we thought, "Well, what else is there that's a bit like Trivial Pursuit?" And we got onto Cluedo and the whole murder mystery idea. Can we do a social murder-mystery game for a similar crowd to Buzz?
That was the first thought, and we had a few different attempts at it. The first idea was a boardgame, to make the gaming equivalent of Cluedo. But then you start thinking there has to be murders and you get onto Miss Marple, Poirot, and everybody knows Agatha Christie stuff so we thought about making [TV and boardgame] meet. Obviously this is a computer game not a boardgame, so that's important, but also we wanted bits of a TV show. We needed some action.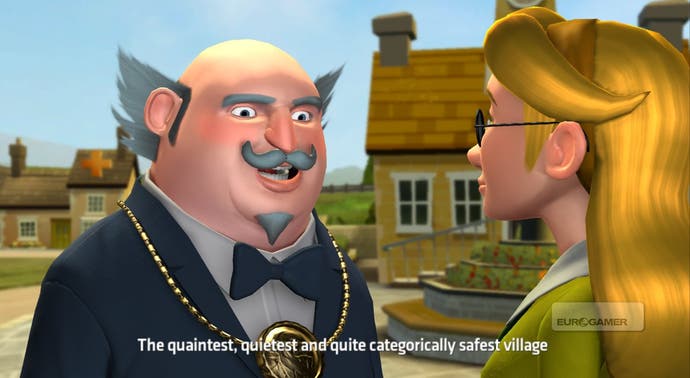 Jade Tidy
The bit inspired by TV was the off-screen interaction between you and your friends in your front room. You playing around and asking "Whodunit?" before it came up. That seemed quite exciting: the fun bit.
Paul Woodbridge
But the problem with a lot of those Agatha Christie things is that it's too hard and no one ever gets it. And if they do get it then it was for the wrong reason. What we've done is make it a little bit easier. We want most people to have a good go at getting it.
EurogamerWhat do we actually do in Blue Toad Murder Files?
Paul Woodbridge
You can play with between one and four players. You choose your detective, all stereotypes: the Miss Marple old lady, the big pompous detective, the Enid Blyton schookid, etc. They're the Blue Toad Agency: this fictional band of detectives who solve murders. They all end up stuck in this little village, and needless to say that within the first five minutes there's a horrible murder and they go investigating who they think did it. The whole game is a deductive puzzle; you get all the information and you make your case. But in between those there are micro-puzzles: put these facts in order, for example. It's a bit like Professor Layton. But unlike Professor Layton these are tied more closely to the story.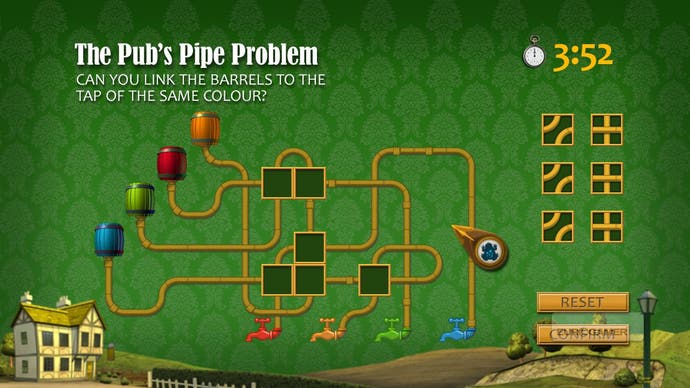 EurogamerHow do we actually collect the evidence, and how do we decide when we have enough to pick our killer?
Paul Woodbridge
Originally we wanted you to go round asking questions, specific questions, from dialogue trees and what-have-you. However, we decided you actually need all the information. Often when you play a game like Monkey Island you select every option anyway - you don't select three and decide that that's enough. So what we ended up doing is creating quite a linear story. Basically, everybody will see everything. And we know what you'll see; we know you've got all the facts you need to make your mind up, and we've organised the story in a way where you won't have all those facts until the end.
EurogamerHow long will we be on the hunt for clues?
Paul Woodbridge
About an hour. Again, that was another of our criteria. Ideally it's going to be played multiplayer, and we want people to be able to say, "I've just downloaded this murder-mystery game, it will take an hour, do you want to play it with me?" It's the same length of time it takes to watch an episode of Poirot or something, rather than a three-hour game where people maybe start to drop out.
EurogamerHow do we move our detectives around the village? What sort of freedom do we have? And once we're there, how do we scout out the information?
Paul Woodbridge
They're pretty railed, to be honest. Occasionally you get options - you can go to the pub or you can go to the train station - but you'll have to go to both of them at some point anyway. [Then] it's basically a cut-scene; you go to the train station, you see the Station Master chatting to an old woman, you join in the conversation. The Station Master wants you to help find the lady's lost bag, and you'll get the interactive gameplay puzzle to find her bag. At the end of that he'll take you to one side and you'll ask him about the murder. And that's basically how the whole game works: little bit of information, puzzle, another little bit of information, etc. Once you've done all of those, you'll be asked, "OK, so who was the murderer?"