Blizzard addresses Diablo 3 account hacks, outlines security measures
UPDATE: Accounts are being compromised through "traditional means".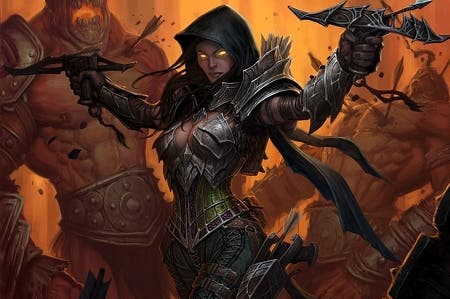 UPDATE: Diablo 3 accounts are being compromised through "traditional means", Blizzard has insisted.
In a post on Battle.net community manager Bashiok said hacks were the result of accounts being accessed using passwords.
"We've been taking the situation extremely seriously from the start, and have done everything possible to verify how and in what circumstances these compromises are occurring," he said. "Despite the claims and theories being made, we have yet to find any situations in which a person's account was not compromised through traditional means of someone else logging into their account through the use of their password."
He added that all reports the company has investigated were into accounts that did not use its Authenticator.
"While the authenticator isn't a 100 per cent guarantee of account security, we have yet to investigate a compromise report in which an authenticator was attached beforehand.
"If your account has been hacked, please view the previous post for information on contacting our support department."
ORIGINAL STORY: Blizzard has addressed reports of Diablo 3 account hacking and outlined the various measures it takes to keep players safe.
Yesterday Eurogamer reported on the increasing number of accounts that had been compromised, taken control of and stripped of items and gold.
The rise in such cases is, Blizzard said today, what happens whenever the company releases a new game - and is in-line with past World of Warcraft expansion launches.
"We'd like to take a moment to address the recent reports that suggested that Battle.net and Diablo 3 may have been compromised," Blizzard said in a statement.
"Historically, the release of a new game - such as a World of Warcraft expansion - will result in an increase in reports of individual account compromises, and that's exactly what we're seeing now with Diablo 3."
Blizzard acknowledged the trouble this had caused some players who, in most cases, have had their characters "rolled back" to a point before any intrusion and as a result lost some progression.
"We know how frustrating it can be to become the victim of account theft, and as always, we're dedicated to doing everything we can to help our players keep their Battle.net accounts safe - and we appreciate everyone who's doing their part to help protect their accounts as well."
Blizzard advised players to use its Authenticator and Mobile Authenticator to shore up their accounts, and to read its Battle.net security page. If you believe you're the victim of a hack, head to the "Help! I've Been Hacked!" tool.
"We also wanted to reassure you that the Battle.net Authenticator and Battle.net Mobile Authenticator (a free app for iPhone and Android devices) continue to be some of the most effective measures we offer to help players protect themselves against account compromises, and we encourage everyone to take advantage of them. In addition, we also recently introduced a new service called Battle.net SMS Protect, which allows you to use your text-enabled cell phone to unlock a locked Battle.net account, recover your account name, approve a password reset, or remove a lost Authenticator. Optionally, you can set up the Battle.net SMS Protect system to send you a text message whenever important changes occur on your account."
Elsewhere, Blizzard said Diablo 3 players may be asked security questions if it believes they are logging in from unfamiliar locations.
"Occasionally, when Battle.net detects unusual login activity that differs from your normal behaviour - such as logging in from an unfamiliar location - we may prompt you for additional information (such as the answer to one of your security questions) and/or require you to perform a password reset through the Battle.net website.
"World of Warcraft players might be familiar with this security method already, and Diablo 3 players may begin to encounter it as well."