Bleszinski: "I'll never make another disc-based game"
"My wife and I are totally hooked on Rust right now."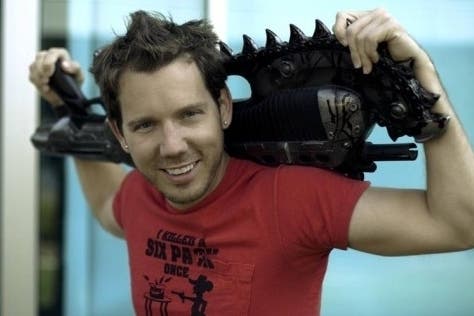 Ex-Epic design chief Cliff Bleszinski has had it with disc-based games.
In a new interview with Gamasutra, the former Gears of War designer said he wanted to make a PC game in the modern online environment that allows creators to have closer relationships with their players.
Why? Traditional game development and publishing, Bleszinski indicated, has had its day.
"The whole 'old guard,' where you get a Game Informer cover and an E3 reveal, is dead," he said. "I'll never make another disc-based game for the rest of my career, and [at E3] they're trying to woo buyers from Target and Walmart?"
Bleszinski is currently hooked on Garry Newman's survival Early Access title Rust, which he pointed to as an example of how to make a PC game in this modern online environment.
"It's not about the 'new user experience'; in these games the new user experience is utter shit, and it's okay," he said. "There are two lessons people have not learned from Minecraft: Get the game out there and build it. Some kid will put out a video. Players will teach each other. You don't need the 'press A to jump'."
Last year the free agent designer mentioned he'd like to create an arena-based first-person shooter on PC. "First-person shooter. It's in my DNA," he said at the time, and he reiterated this desire in this latest interview. He has also indicated he wants to start his own studio.
His motivation for starting again with a new game? "I don't want Gears to be my defining legacy," he said.
"At the end of the day, it's known for being a fun, fantastic franchise. But I'd like to think there's more to my creativity than that."