Black Ops 4 Black Market tiers explained - how to level up tiers and gain Black Ops battle pass levels
What the Black Ops 4 Black Market does and how to increase tier as fast as possible.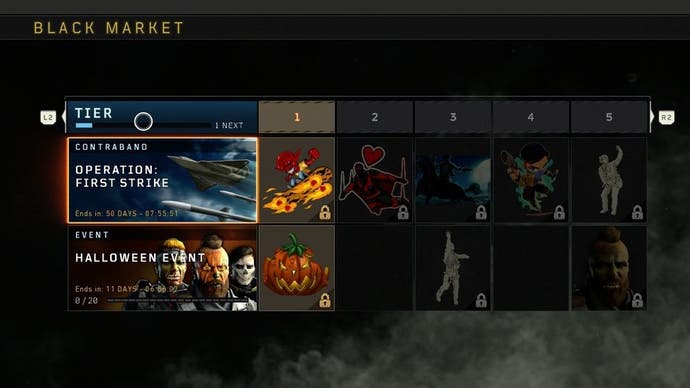 Black Market tiers are Call of Duty Black Ops 4's version of a dedicated Black Ops battle pass. In other words, it's a levelling system that lets you work towards unlocking in-game items like cosmetics just by playing the game.
At launch though, levelling up feels like pretty slow work - very slow work, in fact - so with that in mind this page will explain how to level up Black Market tiers as fast as possible, as well as anything else you should know about how to level up the Black Ops 4 battle pass.
Black Ops 4 Black Market tiers and battle pass explained
Black Ops 4's Black Market will seem pretty familiar if you've played a battle royale game like PUBG or Fortnite before, because as we mentioned above it's essentially another implementation of the popular 'battle pass' concept, where in-game rewards, usually in the form of cosmetics, can be unlocked by playing or achieving various tasks in-game.
With Black Ops 4, the Black Market progression system is completely free - at least at launch, and the time of writing - and that means it's open to all players automatically.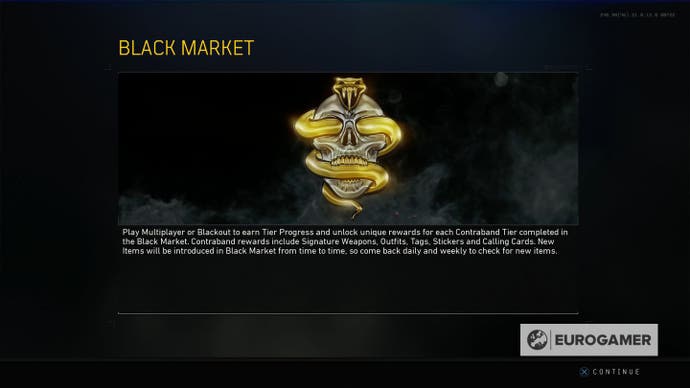 The system itself is split into Tiers - of which there are a whopping 200 - with different rewards unlocked each time you level up. We won't list every single reward here, as they can all be examined from the Black Market menu in-game, but they split into the following categories:
Black Market reward types
Tags - In-game Graffiti, like Fortnite's sprays, which you can spay onto surfaces in-game.
Stickers - Can be used as your Emblem or in Paintshop for customising weapons.
Calling Cards - Like a profile 'banner', that displays behind your gamertag or name in various menus.
Gestures - In-game emotes for your character to use.
Reserves - These seem to be a kind of 'loot box', granting you one item at random. It's not clear what those items could be, what their exclusivity is, or if Reserves can be paid for through microtransactions in the future, as Black Ops 4's microtransactions system has yet to have gone live. It seems as though this will be the only way to obtain them, as the official blog post regarding Call of Duty's incoming microtransactions only mentions items available through 'direct purchase'.
Outfits - Character skins for your player character in Multiplayer, usually tied to a specific operator.
Warpaint - Essentially face-paints, these seem to be Event-only, so for instance the current Halloween Event has several up for grabs via the same tier system as the regular Black Market.
Signature Weapons - An already-available weapon, but with a unique visual design and some further unlockable rewards attached to its own 'progression package'. These include things like flashy alternative skins, in particular.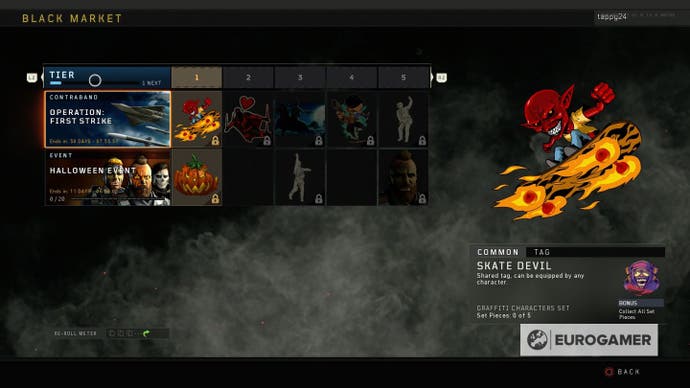 The other main thing you might have spotted is the second row of rewards. These relate to Black Ops 4's limited-time Black Market events. Currently that's for Halloween, and it's only around for a little while longer, until Friday 2nd October.
---
Operation Grand Heist is here, and so are four new Blackout character unlocks. If you're only just getting started, our Black Ops 4 Blackout tips and tricks can help, as well Mystery Box and zombie locations for useful loot and how to get Merits fast to level Eschelons. We also have a Blackout Challenges and Black Ops 4 Dark Ops list. Meanwhile, here's how to unlock Create a Class in Black Ops 4 multiplayer, and finally, the best Blackout weapons, guns and multiplayer weapon damage stats.
---
How to level up Black Market tiers and gain levels in the Black Ops 4 battle pass
Interestingly, it seems like there are a few ways to level up your Black Market tiers, but none of them do it particularly quickly.
You can gain progress towards it by playing Multiplayer or Blackout modes, but it's specifically based on just one factor: your time spent in-game.
That means that, as far as we can tell, there's no way you can influence the speed at which you progress with your performance. Instead, you'll simply need to put in the hours to either Blackout or Multiplayer modes - and with that in mind, the best way to progress through the Black Market tiers is to simply survive for as long as possible in Blackout, minimising the amount of time spent in menus between games in the process.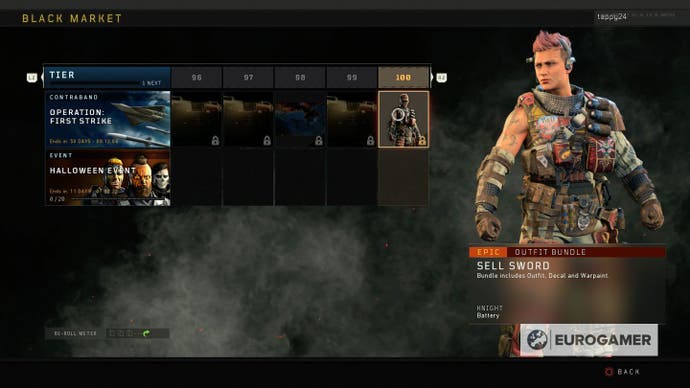 It's still an almighty grind though - one reddit thread estimates the total time it would take to unlock all 200 tiers to be approximately 400 hours - meaning a total of eight hours per day of actual in-game time until the end of this Black Market season on December 11th 2018.
Barring any kind of XP boosts that might arrive with Black Ops 4's microtransaction shop in November then, don't expect to get your hands on those fancy top-tier rewards any time soon.