Black Lives Matter
We won't be posting any stories today.

We are appalled by the violence, oppression and injustice suffered by Black communities around the world. In common with many other organisations, we won't be publishing any content today, to allow other voices and more important issues to be heard.
Here's a statement co-signed by Eurogamer and many other sites in our network: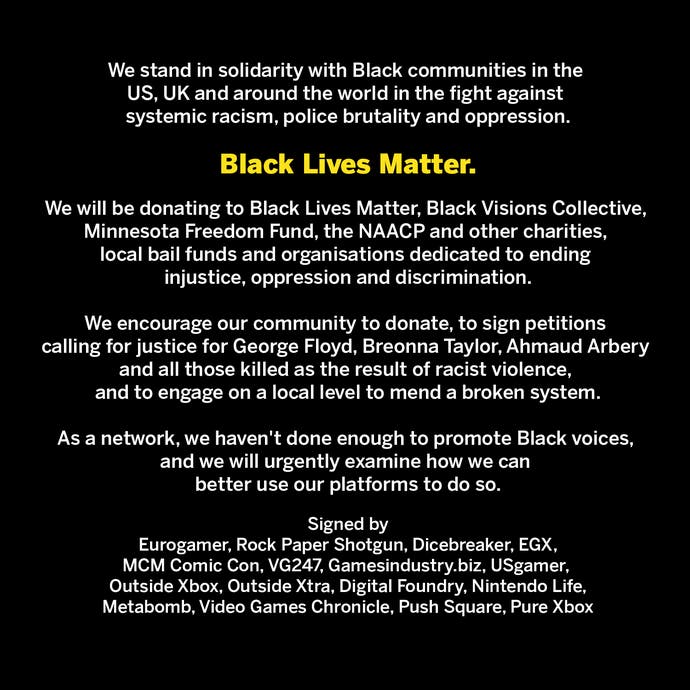 It reads:
"We stand in solidarity with Black communities in the US, UK and around the world in the fight against systemic racism, police brutality and oppression.
"Black Lives Matter.
"We will be donating to Black Lives Matter, Black Visions Collective, Minnesota Freedom Fund, the NAACP and other charities, local bail funds and organisations dedicated to ending injustice, oppression and discrimination.
"We encourage our community to donate, to sign petitions calling for justice for George Floyd, Breonna Taylor, Ahmaud Arbery and all those killed as the result of racist violence, and to engage on a local level to mend a broken system.
"As a network, we haven't done enough to promote Black voices, and we will urgently examine how we can better use our platforms to do so."
"Signed by Eurogamer, Rock Paper Shotgun, Dicebreaker, EGX, MCM Comic Con, VG247, GamesIndustry.biz, USgamer, Outside Xbox, Outside Xtra, Digital Foundry, Nintendo Life, Metabomb, Video Games Chronicle, Push Square, Pure Xbox."
You can make donations to many relevant organisations here: secure.actblue.com/donate/ab_mn
Here are links to the petitions mentioned:
We'll be back tomorrow, but this isn't about just one day. We know we ourselves at Eurogamer can do much better at promoting black voices and we'll be working hard towards that goal. We stand in solidarity with those affected.