BioWare's overlooked martial arts game Jade Empire hits iOS
Closed Fist pump!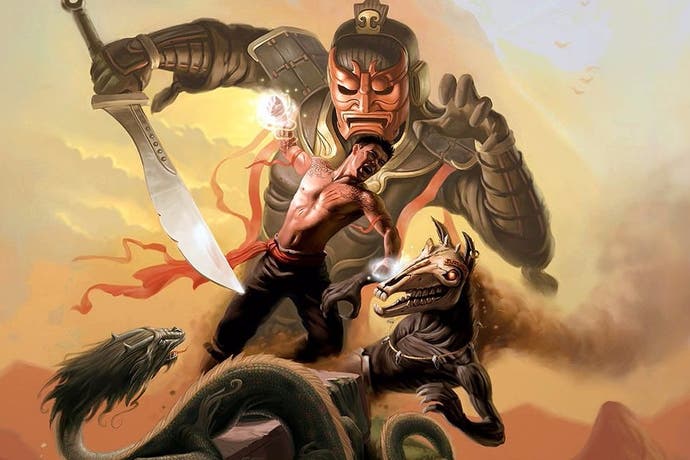 Before Mass Effect, BioWare made Jade Empire, an oriental fantasy about Kung Fu and mythical power. It's a game now largely forgotten, you absolute monsters, yet in 2005, Jade Empire was BioWare's big thing - an Xbox blockbuster.
Now, in 2016, Jade Empire can be played on an iPhone 5. Amazing, isn't it? The rumours of a Jade Empire iOS release were true.
Jade Empire: Special Edition arrived today on the App Store priced £7.99. Compatible devices include Macs, third generation iPads, second generation iPad Minis, the iPad Air, and iPhone 5s or newer. The game won't run on older devices.
The Special Edition is the enhanced PC edition, which came out in 2007. This added new game content, such as new fighting styles, new enemies, and new difficulty levels; and spruced up the game's looks.
Jade Empire had all the BioWare hallmarks: a big 'I am special' story, good and evil, and a growing ensemble of companions to chat with and romance if you so wish.
But where it stood apart from other BioWare games, and where it was criticised, was in combat. Jade Empire tried to be a kind of action game, you see, with real-time combat and kicks and punches and the sort of thing that's appropriate to a game about martial arts. The problem was that it was a bit shallow.
Nathan Grayson wrote us a Jade Empire retrospective a few years back that will tell you more.
Worth also pointing out that the BioWare game that preceded Jade Empire, the renowned Knights of the Old Republic, is also available on iOS. The company behind both ports is Aspyr.
Dan Whitehead reviewed Knights of the Old Republic on iPad and praised the conversion. "It's a true classic," he wrote, "not only one of the best games ever to carry the Star Wars brand but one of the best RPGs of all time. The ability to carry this classic with you and play it wherever and whenever you choose is proof that we are, indeed, living in amazing times."