BioWare resurfaces with first progress report on Anthem's major overhaul
"This is going to be a longer process".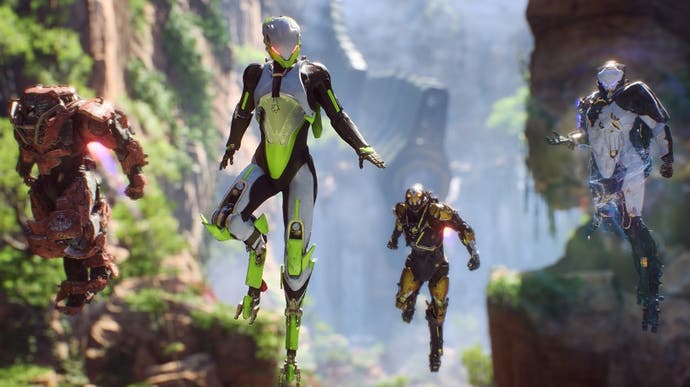 After confirming it would be giving its beleaguered online shooter Anthem a thorough retooling earlier this year, BioWare has finally resurfaced to reveal more of its plans.
Announcing Anthem's "substantial reinvention" in February, BioWare's general manager Casey Hudson explained the goal was deliver to a "more satisfying loot experience, better long-term progression, and a more fulfilling end game", with a focus on improving the core gameplay loop with "clear goals, motivating challenges and progression with meaningful rewards".
And now, three months on, studio director Christian Dailey has offered a progress report on that ambitious overhaul, revealing the team (said to total around 30 people) is currently at the incubation stage of development and "starting to validate [its] design hypotheses".
"Incubation...essentially means we are going back and experimenting/prototyping to improve on the areas where we believe we fell short," explained Bailey, "and to leverage everything that [players] love currently about Anthem." Those hoping to see a radically new-look Anthem any time soon may be in for disappointment, however. "This is going to be a longer process," warned Bailey, "the whole point of this is to take our time and go back to the drawing board."
Bailey acknowledged there were "tough challenges to tackle" in overhauling Anthem's much-maligned systems, but said the team wanted to be "open and honest with where we are at and what the expectations are with where we are going". To that end, BioWare intends to begin communicating more regularly again in order to keep players informed of its progress, whether that be through blog post, livestream, or social media.
"The reality is you will see things that look awesome but end up on the cutting room floor," he continued, "or things that you might think suck that you feel we are spending too much time on - but in the spirit of experimentation this is all OK. We really want to provide you all the transparency we can because of your passion and interest in Anthem. But, with that comes seeing how the sausage is made - which is not always pretty by the way."
Bailey said the studio will share more of its plans soon.