BioShock: The Collection spotted for PC, PS4 and Xbox One
Would you kindly look at the box art?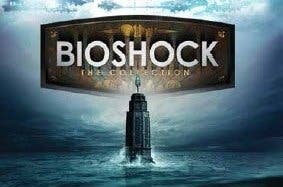 It looks like the oft-rumoured BioShock: The Collection is nearing release.
Xbox Live Arcade watchdog Lifelower spotted a listing for the unannounced compilation on a Taiwanese game rating website. Accompanying the listing is box art and mention of PC, PlayStation 4 and Xbox One as launch platforms.
Based on the box art, we expect The Collection to include BioShock, BioShock 2 and its associated downloadable content, and BioShock Infinite. Clever image, isn't it?
What we don't know is the scope of the porting work. Have these games been remastered, or simply ported to work on the latest consoles?
It looks like we'll find out soon enough.